Ignominy
Every now and then I get these fits (and those who have seen them will testify that 'fits' is really the best word) where I have to get rid of stuff.  Blame my peripatetic childhood, blame years spent in tiny apartments, blame the stars.  Sometimes I just must.throw.things.away.right.now.  It works for us.  It lets us live in a smaller-than-average house and still have plenty of space.
I was in the middle of one of these fits the other day, and my attention fell on my craft closet.  I have recently realized that I just don't care for spinning.  Heresy, I know.  I tried.  I was fixated for a few weeks, but in the long run, it's just not for me.  That meant the spinning fiber had to go.  Now I'll find a home for the nice stuff, but the crappy practice fiber and lumpy bumpy early attempts are not things I need to keep.
Or so I thought until Barry came along.  Barry is my cat (er, one of my two cats), and doesn't exactly feature on the website.  Somehow having excess kitten on a knitting blog seems just a wee bit too close to the cliche, so I generally avoid it.  But today, I have no choice.
One of my random sacks of fiber destined for the trash contained some…stuff.  I have no idea what it's really called.  It's super curly.  It looks sort of like individual clumps of very curly sheep tendrils.  Some of it was dyed, some of it was sheep colored.  It is er…unprocessed…enough that it has the occasional twig or leaf, and it makes your fingers feel greasy if you touch it.  It reminds me of mermaid hair.  I have no idea why I bought it.  I was more than happy to throw it away.
Barry had other plans.  He's always had a fondness for sheep-scented things, and this stuff drove him nuts.  He desperately wanted to spend some deeply personal time with it.  I could not dash his tiny kitten hopes.  I also could not just give him the wodge of fluff in its original state.  He would eat it, strew it all over the house, or both (likely in that order).  So I wadded up a handful of it, stitched through it a bunch of times to hold it all together, and turned him loose on it.
Massive kitten glee ensued.   I was powerless in the face of such cuteness, I had to take a picture.  Apparently, I am also unable to keep the picture to myself.  I must share.  May I present Barry, stripped of all his noble kitten dignity, reduced to helpless abandon by a very smelly wool pet.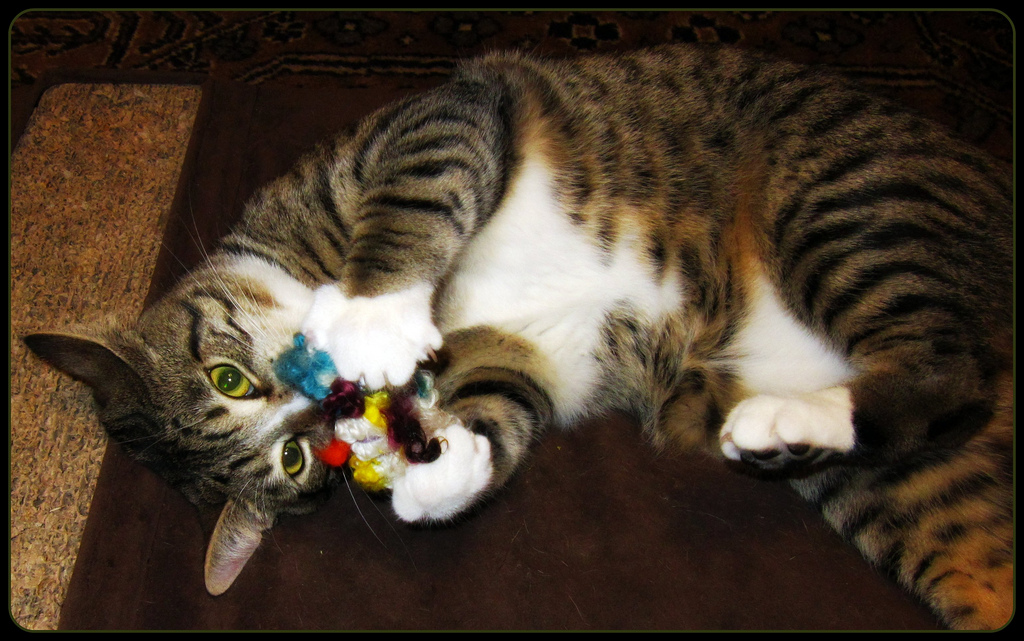 Mailing List
Want to hear when a new pattern comes out or something fun is going on? Sign up below!
Patreon
Want to support the content I create, get nifty bonus material for some of my favorite patterns, or get every new release delivered right to your inbox? Head over to patreon and sign up!
Search
Archives