A Surprisingly Knitterly Place
Being now armed with a toe, Socky felt ready to venture out on more explorations.  Having enjoyed Ironworks Distillery on Wednesday, he was interested in finding another similar facility.  Before we set out to locate such a place, we decided to stop in to the grocery store.  You see, a hurricane was coming.  Earl had decided he really wanted to visit with us, and he was willing to come all the way to Nova Scotia to do it.  He was due to arrive Saturday, so we thought we'd lay in some provisions.  We were staying in a lovely little cabin, and we had a kitchen, so we planned to just hunker down and watch the storm (we had cleverly stopped by a game store on the drive up from Baddeck and bought a board game).  That's more fun with snacks, hence the grocery store run.  Imagine my surprise when I saw this.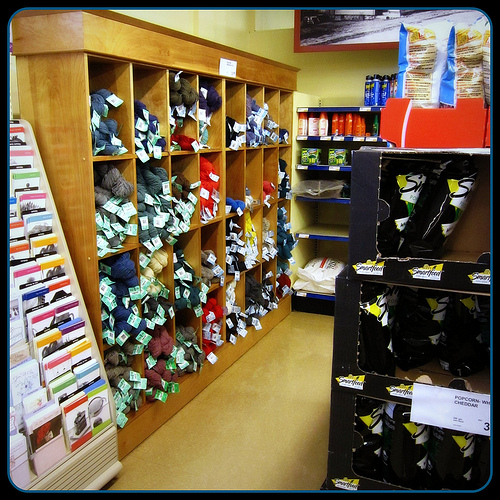 In case my less-than-stellar picture doesn't make it clear, that's a wall of yarn…in the grocery store.  It's right there between the greeting cards and the bug spray and across from the popcorn.  It's important to note that this was a small grocery store.  There was more shelf space devoted to yarn than to, say, cereal or cookies.  This speaks to a much greater commitment to a fiber-rich lifestyle than is generally found where I live.  Socky and I were both suitably impressed.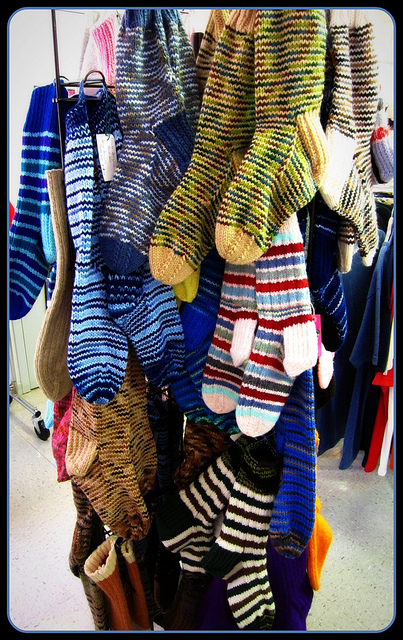 After laying in our stores, we headed over to Glenora Distillery (Socky seems to have become something of a lush).  While at the distillery, he decided to pose in the stream running through the property.  Alas, those pictures have been judged not to portray him in his best light and so have been censored.
Next, we headed up the coast in search of lunch and found ourselves in Cheticamp.  By this point, I was (of course) working on another sock (you can see him over there in the On The Needles section, more about him soon).  Our waitress was most intrigued.  She even brought over some of the other folks working there to take a look.  It turns out they were knitters too!  Not only that, but the store next door to the restaurant carried some of their work.  There was an entire rack of warm, wooly, hand-knit socks.  I'd never seen anything quite like it.  There were also lots of hats, slippers, and baby sweaters.  It was marvelous to see all that lovely knitting right there beside the tshirts and post cards.  (Though I have to say I thought the prices were too low.  The socks were priced between $12 and $20.  That doesn't seem quite fair for something that takes several days to make.)
So far, my small survey seems to indicate that knitting and other yarn-based pursuits are much more accepted in Nova Scotia than they are back home.  The lovely lady at Ironworks reeled off a list of yarn stores when she heard I was a knitter.  Our waitress the first night in Baddeck stopped to ask how hard it was to learn to knit (I tried to get her to sit down so I could show her but had no luck).  The grocery store had yarn.  The gift shop had hand-knit socks.  It might explain why it seems to be such a lovely place.  I'm smitten.
Mailing List
Want to hear when a new pattern comes out or something fun is going on? Sign up below!
Patreon
Want to support the content I create, get nifty bonus material for some of my favorite patterns, or get every new release delivered right to your inbox? Head over to patreon and sign up!
Search
Archives