Not Quite According to Plan
You'll recall my friend Alphonse.  He's been a perfect house guest for the the last several weeks.  Doesn't make a mess, doesn't eat all the chocolate, doesn't hog the washing machine.  Totally charming fellow.  It's time I put him to work.
Yesterday, I cast on for my entry in the ongoing 'fluffiest hat in the history of the world' contest.
Now because I am a reasonable and responsible knitter, and because this was a new yarn, and because I wanted the end result to fit my head, I had dutifully done a swatch before I cast on.  Admittedly it was on the small side, but it was still perfectly respectable.  Swatch in hand, I did the required planning and math and confidently cast on.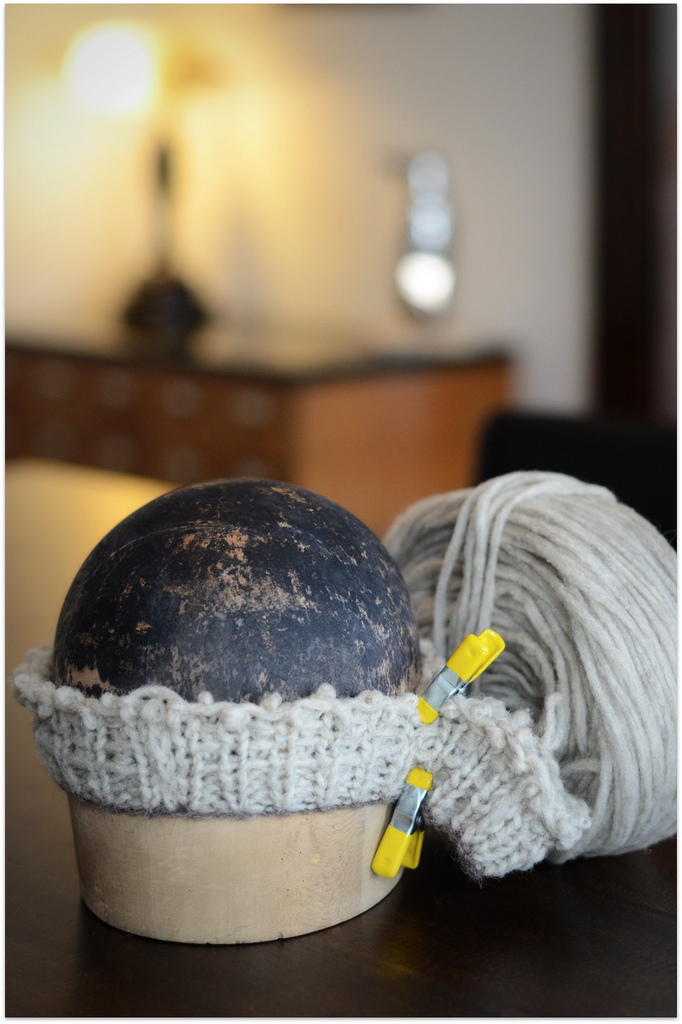 I knit an inch or so of brim.  The pencil roving took a bit of getting used to, but the overall effect was charming. I was quite pleased.
I knit a bit more.  Things started to look a tad…off.  The hat seemed large.  Alarmingly large.
I rechecked my gauge.  Everything seemed to be on track, so I carried on.  Hats always look funny to me.  I've yet to have one that didn't look to be either way too big or way too small at some point during the knitting.  I figured I'd just trust the gauge and not worry about it.
A few more rounds and I could no longer ignore it.  It was not an illusion.  The hat was huge.  Alphonse here will demonstrate.
Now admittedly his head is 2 inches smaller than mine, but that hat is a good 6 inches too big for him, so there's no way it will work for me.  Not even a little.  Not even if it's a fluffy hair day.
I have no idea how it happened, but the solution is pretty clear.  Alas, ripping out pencil roving is dreadful.  It may take me a while to gather up the necessary fortitude.
Mailing List
Want to hear when a new pattern comes out or something fun is going on? Sign up below!
Patreon
Want to support the content I create, get nifty bonus material for some of my favorite patterns, or get every new release delivered right to your inbox? Head over to patreon and sign up!
Search
Archives