Sock Summit Part V, In Which Yarn is Obtained
I always feel a bit of a need to apologize for the yarn that I buy.  I feel like I should justify it or explain it or excuse it.  But really, that's silly.  This is my business, and it requires yarn.  So I bought some.  I have a suspicion you might like yarn too, so I thought I'd share it with you.  And just so you know, Barry is not generally allowed on the table, but I was feeling guilty about having been gone, so I couldn't bear to shoo him down.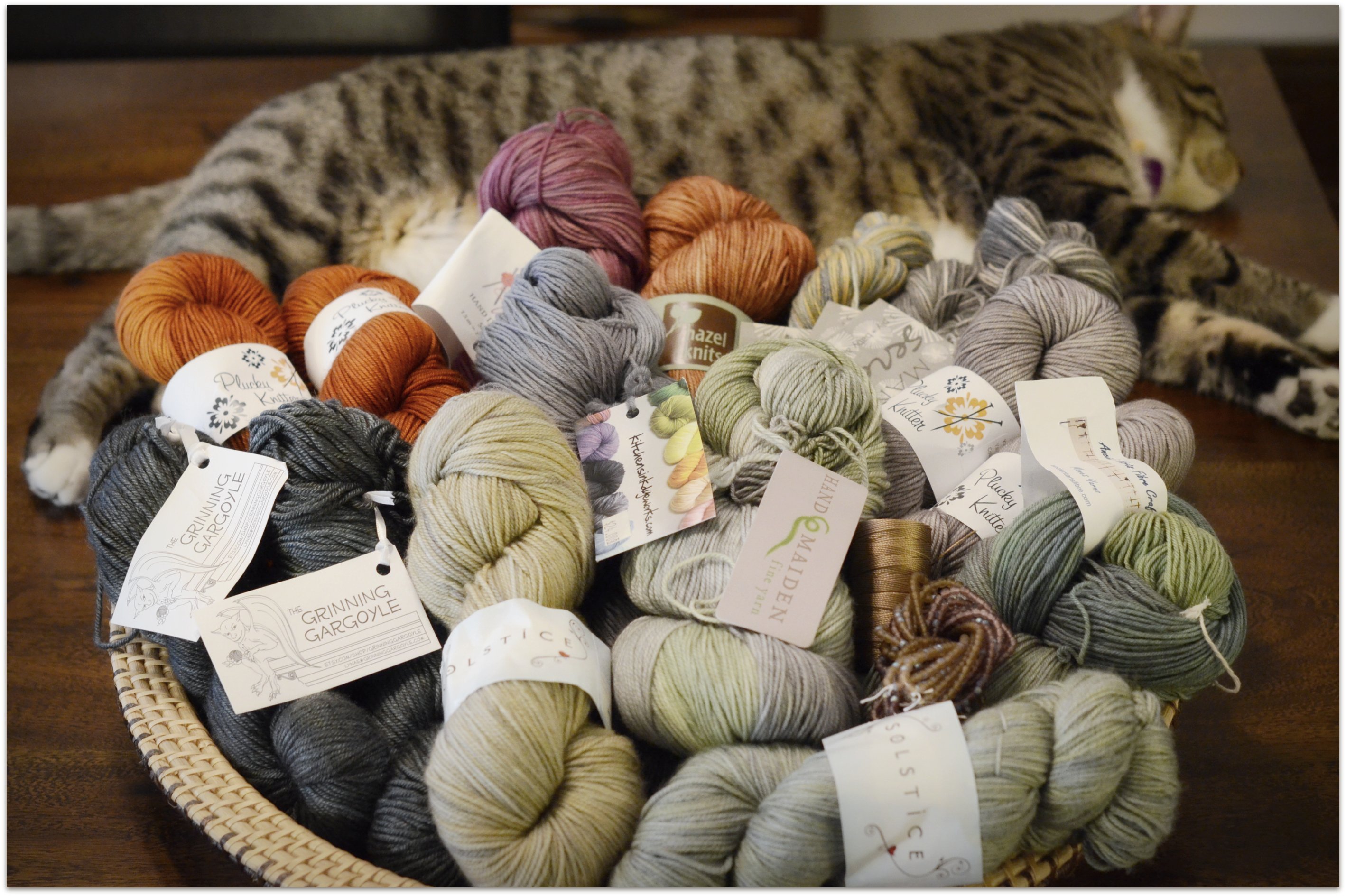 The picture gets alarmingly big if you click on it, so if you're trying to squint and see which yarn is which, you could just click instead.  Unless noted, all of this came from the market at Sock Summit.
First up, four skeins from Plucky Knitter in her MCN Primo base (two orange ones in Sticky Toffee on the top left and two gray ones in Barely Birch on the top right).  Plucky Knitter was a new-to-me dyer and she had fabulous semi solids.  This is a nice heavy sock weight yarn, just the sort of thing I love.  The gray ones are destined to be guy socks, and the orange going to be all mine.  I might just do some little bit of colorwork with the two together if I have enough leftovers.
Next up, two skeins from Solstice in their Midsommar Sock base (one sage green in Sea Mist on the bottom right and one sandy beige in Hay on the bottom middle).  I think Solstice is the yarn line done by the Portland yarn store, Dublin Bay.  The Midsommar sock is a merino, cashmere, silk blend that I've not seen before and am looking forward to trying.  I also picked up a skein of my old favorite, Casbah (in the color Peridot between the Solstice skeins), by Handmaiden in their booth.
I also snagged two skeins of Grinning Gargoyle's Seda DK (both dark gray in Storm on the bottom left).  This is a 50/50 merino silk blend in a nice fat base.  The Boy picked out the color, and these will be socks for him.  I had the pleasure of meeting Lynae at Silk Retreat last year and am just delighted she and her yarn were at the Summit.
A skein of Kitchen Sink Dyeworks Smooth Merino Fine (the gray one peeking up the middle there in the color Dexter) also followed me home.  This is another of those bases with lots of tiny plies (like Wollmeise or Dream in Color Everlasting) and I tend to love those beyond all reason.  I have a suspicion this one will be no different.
Also new-to-me was Ancient Arts Fiber Crafts and her 4 Ply Sock Weight (the green one on the far right in the color Enchanted Forest).  Caroline is an amazing spinner and spinning instructor (the lovely spinning goodies first lured me into the booth).  But she's also got a tremendous eye for color.  I'm not sure if this will turn into socks (the yarn is a bit thinner that what I like for socks) or something else, but I'm pretty sure it will be lovely.
And, in a break from the rather subdued color palette of the other yarns, I picked up a skein of Anzula's Squishy (the purple — yes purple — one at the top in the color Boysenberry).  This is another merino, cashmere, nylon mix (it seemed everyone had at least one) and the color is just lovely.
The final marketplace yarn is Hazel Knit's Entice (the slightly more subdued orange one at the top middle in the color Hazel Knuts).  I knew I loved her yarn going in (it's going in Book the Second after all) but seeing it all in one place made me a bit weak in the knees.  It's seriously nifty stuff.
I also swung by one or two yarn stores as we wandered around Washington and Oregon after the Summit.  I usually managed to resist (I'd just done the Sock Summit market after all, any yarn store would be hard pressed to compete with that), but I found one little treat that needed to come home with me.  We stopped into Canvas Works in Olympia Washington.  It was an absolutely delightful store.  They had great yarn, fabulous fabric, plenty of space and light, and a very welcoming staff.  They even assumed The Boy knit too rather than assuming he was there to either fund or carry my shopping.  While I was there, I found Manos del Uruguay's Serena.  I got three skeins (two gray ones in the color 7311 and one multi-colored one in the color 6976R, all in the top right corner).  This is a 60/40 alpaca cotton mix, a blend I've never seen before.  The gray ones will become a hat for The Boy, and the multi-colored one will likely be a pair of outrageously cheerful mitts for me.
The final set of goodies didn't come from a yarn store at all.  In Port Townsend, there is a building called Victorian Square.  It's home to a variety of lovely little stores including Diva Yarn & Trim.  Last time I was there I picked up a bit of yarn.  This time, it was the bead store, Wynwoods Bead Studio, that I couldn't resist.  I grabbed a few strands of beads (I blame Laura…she's totally a bad influence) and some interesting cord-y…stuff that I plan to play with.  I'm not quite sure what it will all turn into, but I have an idea or two I want to experiment with.\
So, what should I cast on first?
Mailing List
Want to hear when a new pattern comes out or something fun is going on? Sign up below!
Patreon
Want to support the content I create, get nifty bonus material for some of my favorite patterns, or get every new release delivered right to your inbox? Head over to patreon and sign up!
Search
Archives