Ran Away, Part 3
When last I left you, The Boy had spotted the Schaefer outlet sign, informed me of this discovery, and graciously redirected the car.  We pulled up and saw the yarn waving at us through the open doorway.  Someone was out front working in the garden.  I asked if we could go in, and stepped inside.
Should you ever be in this part of the world, I highly recommend you find a way to do the same.
The room is tiny, but it's packed floor to ceiling with lovely yarn.  One of my favorite things about Schaefer is the wide array of bases they offer.  Lace weight to bulky…wool, cotton, or silk…smooth, fuzzy, or down right bumpy…you're sure to find something to inspire.  And of course the colors are fabulous.  I think (though I'm not 100% sure) that the yarns in the outlet are sometimes a bit different from their regular colors.  The two skeins I got have tags identifying the base but not the color, and I don't see corresponding colors on their website.  I snagged a skein of Nichole (a long-time favorite) in a lovely green and gray.  I also got a skein of Stephanie (which is brand new and not available anywhere but the outlet for the moment) in a lovely blue and green.  I have concocted plans for both already.
As I was petting all the yarn, I got to talking.  I asked the person who had come in with us if she was Cheryl (as in Cheryl Schaefer who runs the place) and she said she was.  At this point I may have made a little squeak and done that peculiarly modern thing where you introduce yourself in person to someone you've known for a while online.  For you see, when I say I really like Schaefer Yarn, I rather mean it.  I used their yarn in Silk Road Socks (Khotan) and in Knitter's Curiosity Cabinet (Dianthus superbus socks and cowl) and in Rabble Rousers (Fracas hat and cuff).  Cheryl has been nice enough to feed my habit, and it was lovely to finally put a face to the name.
As we were leaving, she asked if I wanted to take a peek in the dyeing barn.  Um, yes?  Yes please?  I hadn't realized all the yarn was dyed right there in the next building over.  I pictured some sort of massive facility with corridors of shelves and bins stretching off into the hazy distance, each bursting with a different kind and color of yarn.  The reality was somehow even more impressive.  All that yarn comes out of a fairly small building.  It's a hugely efficient space.  I don't want to give away any secrets, but I did grab a few pics (with Cheryl's permission of course).
We've got some yarn: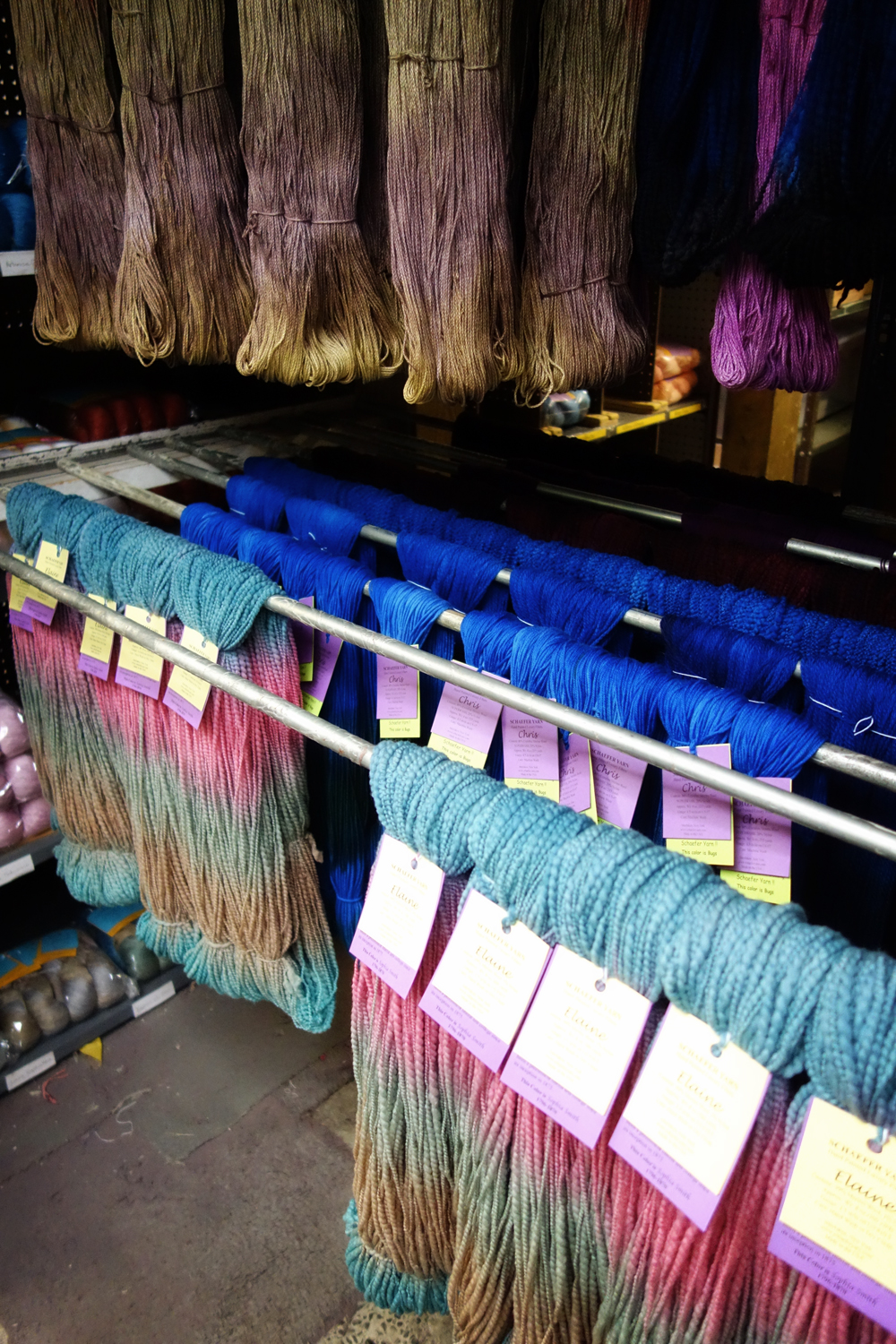 And a bit more yarn (it was all over the place, hard not to notice it really):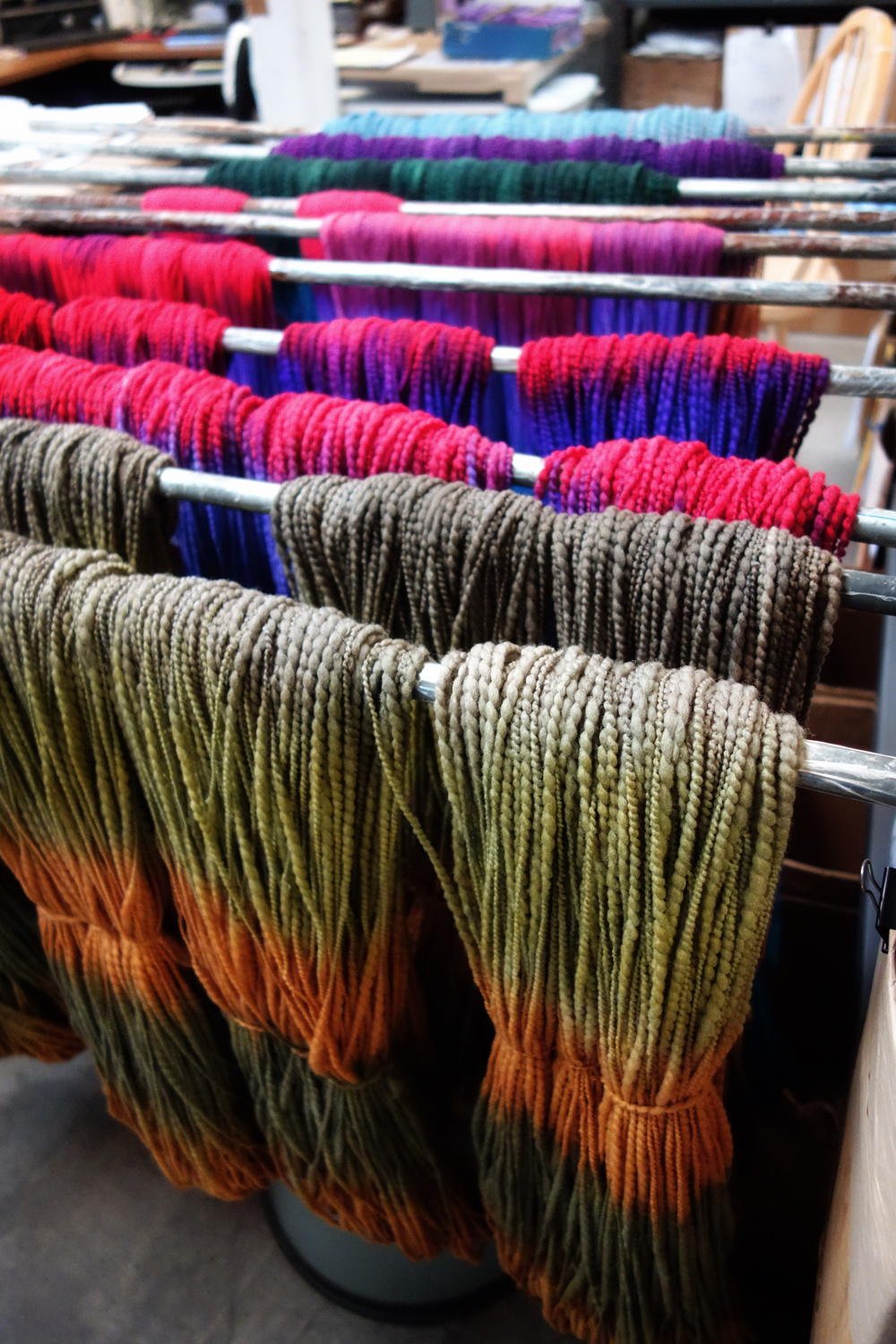 A lovely bit of machinery (I think for winding the yarn off into hanks, but I'm not sure…I was too busy wondering if I could find a way to disassemble it and take the end bit home and hang it in my living room as art):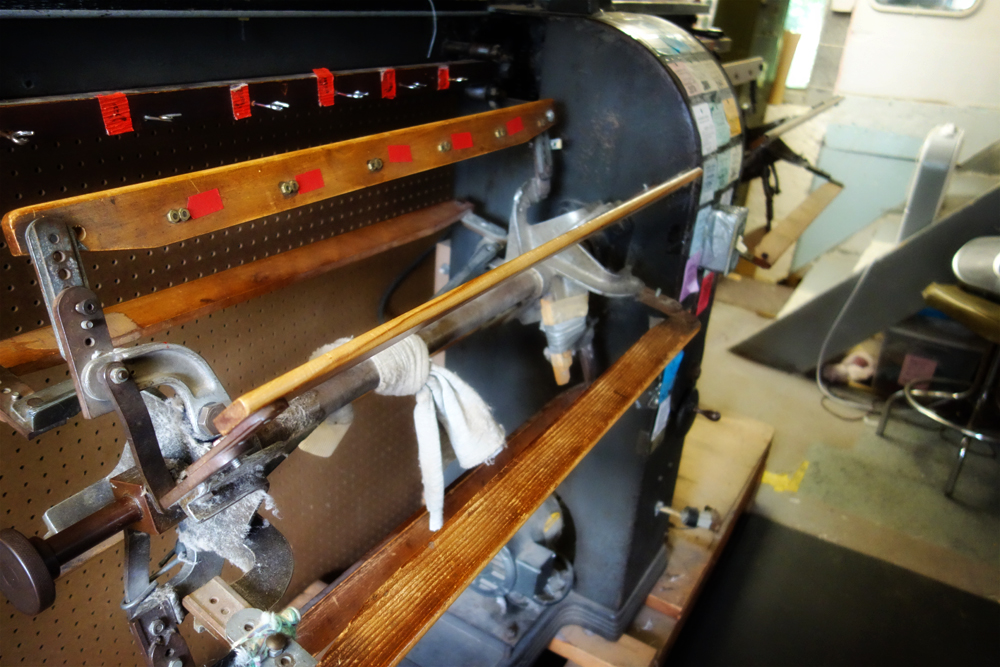 And this magical little box of tags, which just amused me to no end.  I loved seeing them there ready to go out with their yarns and conquer the world: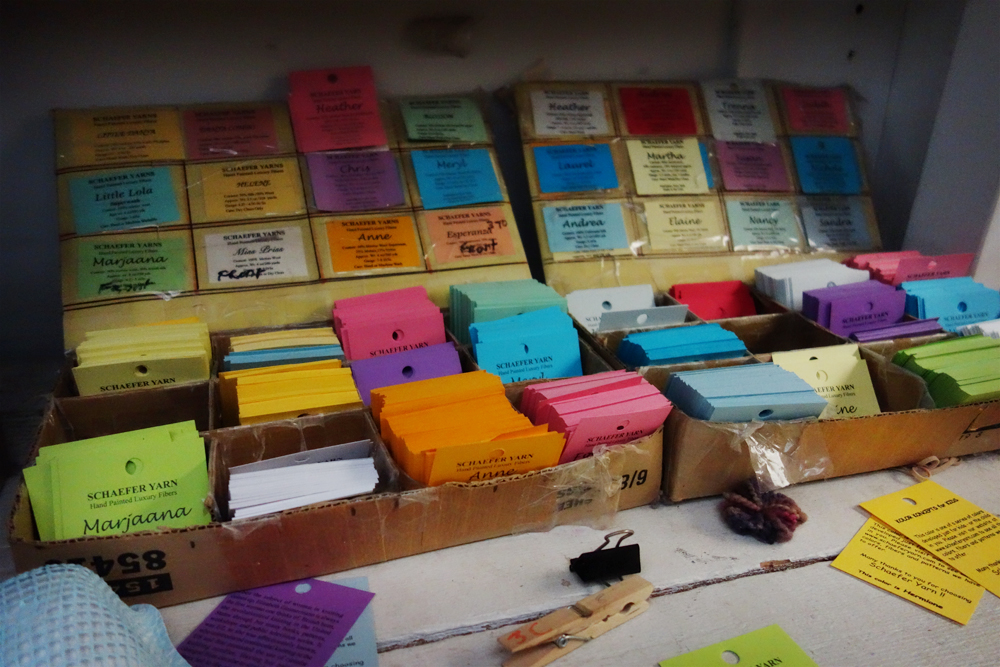 And once again, this has grown to shameful lengths and I will have to come back and do more tomorrow.  I swear it's taking me longer to tell you about it than the trip itself took.  This excursion just ended up having a far higher knitting quotient that I was expecting, and it makes for good blog fodder!
Mailing List
Want to hear when a new pattern comes out or something fun is going on? Sign up below!
Patreon
Want to support the content I create, get nifty bonus material for some of my favorite patterns, or get every new release delivered right to your inbox? Head over to patreon and sign up!
Search
Archives