Chop chop chop
I took a chunk of the celebratory day off (the reward for getting the next mini book off to the printer) and spent it making herb salts.  You see, the herb garden is a bit overgrown.  This is because we take a hands off (read 'deeply lazy') approach to our gardening.  After we stick plants in the ground, we let them fend for themselves, save the occasional splash of water if it's really dry.  This year, the herbs rather took to this treatment, and it's a bit of a jungle out there.  We can't eat that much fresh, something had to be done.  Herb salts are the answer.
I listen to the Splendid Table podcast, and it recently featured an interview with Sally Schneider about making herb salt.  I'd been meaning to do something with the herbs (and I still do intend to do some massive batches of herb butter before the first cold snap hits), and that was the prompt I needed.  Yesterday was the day.
I'll show you what I did, but you should likely watch the video for more thorough instructions if you want to do this yourself (especially the bit about why the garlic won't strike you down with botulism).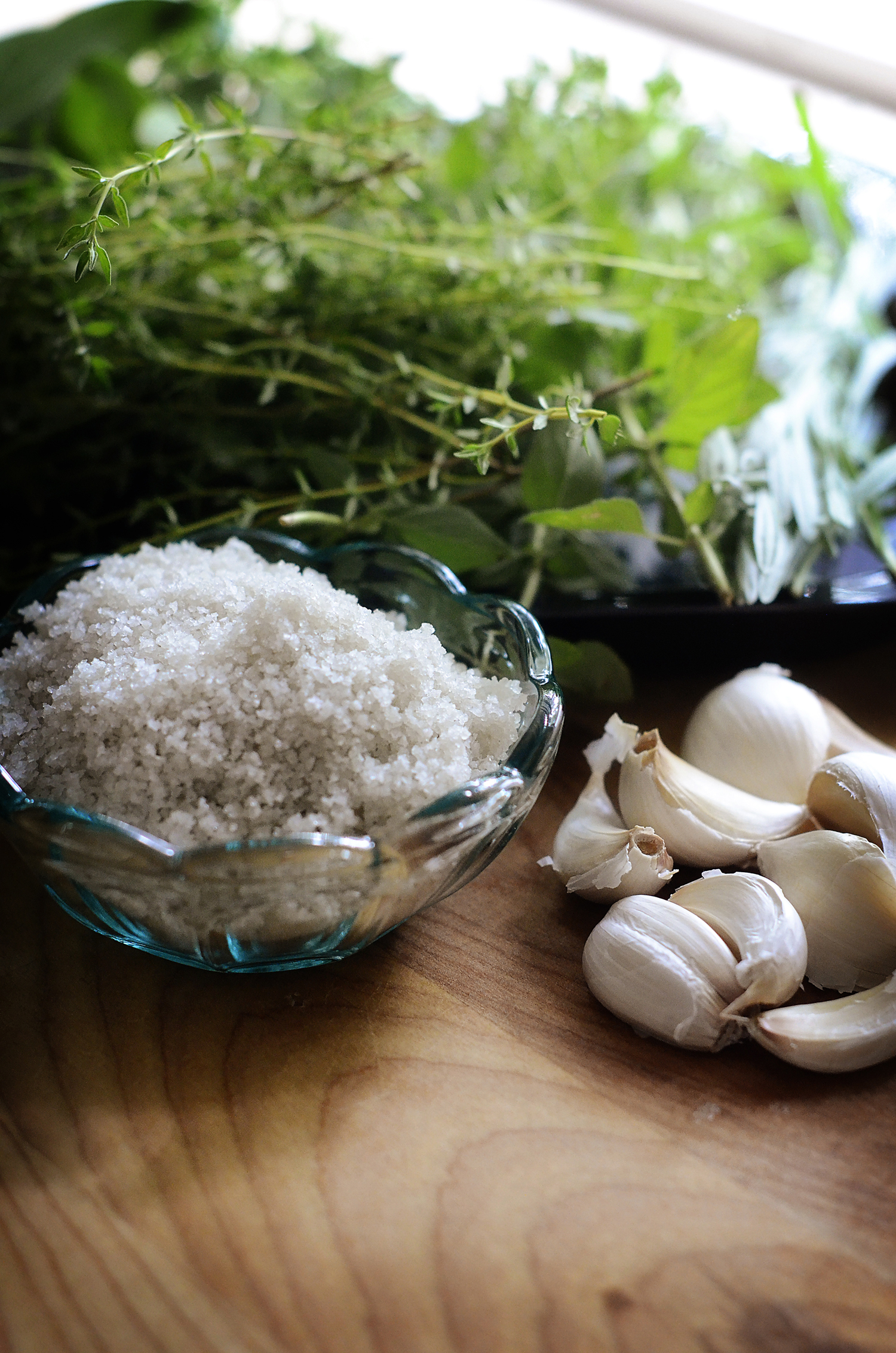 1) Gather supplies: I grabbed a tray full of herbs from the garden.  I've got sage, oregano, thyme, lavender, and rosemary.  (I've also got basil in the yard, but I wasn't sure how that would fit with the rest of the mix, so I left it out.  I may well make just a basil salt later in the week.)  I also grabbed garlic and salt.  The salt is Penzey's gray sea salt, which is a household favorite.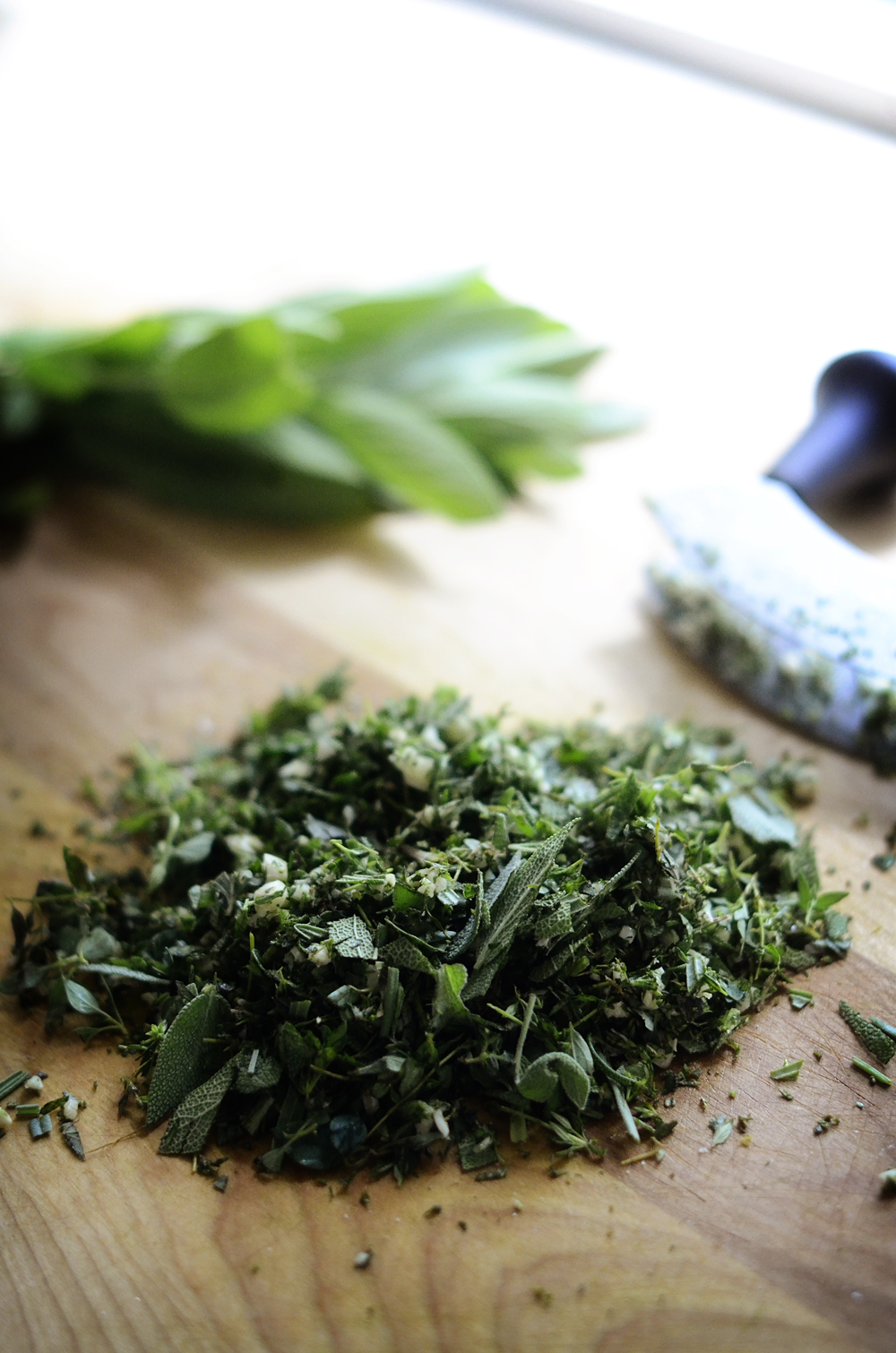 2) Chop chop chop chop: I chopped the wet stuff (meaning the herbs and the garlic) ahead of time.  Chop chop chop chop chop chop chop.  I went at it with the mezzaluna until I didn't feel like I was making any more progress.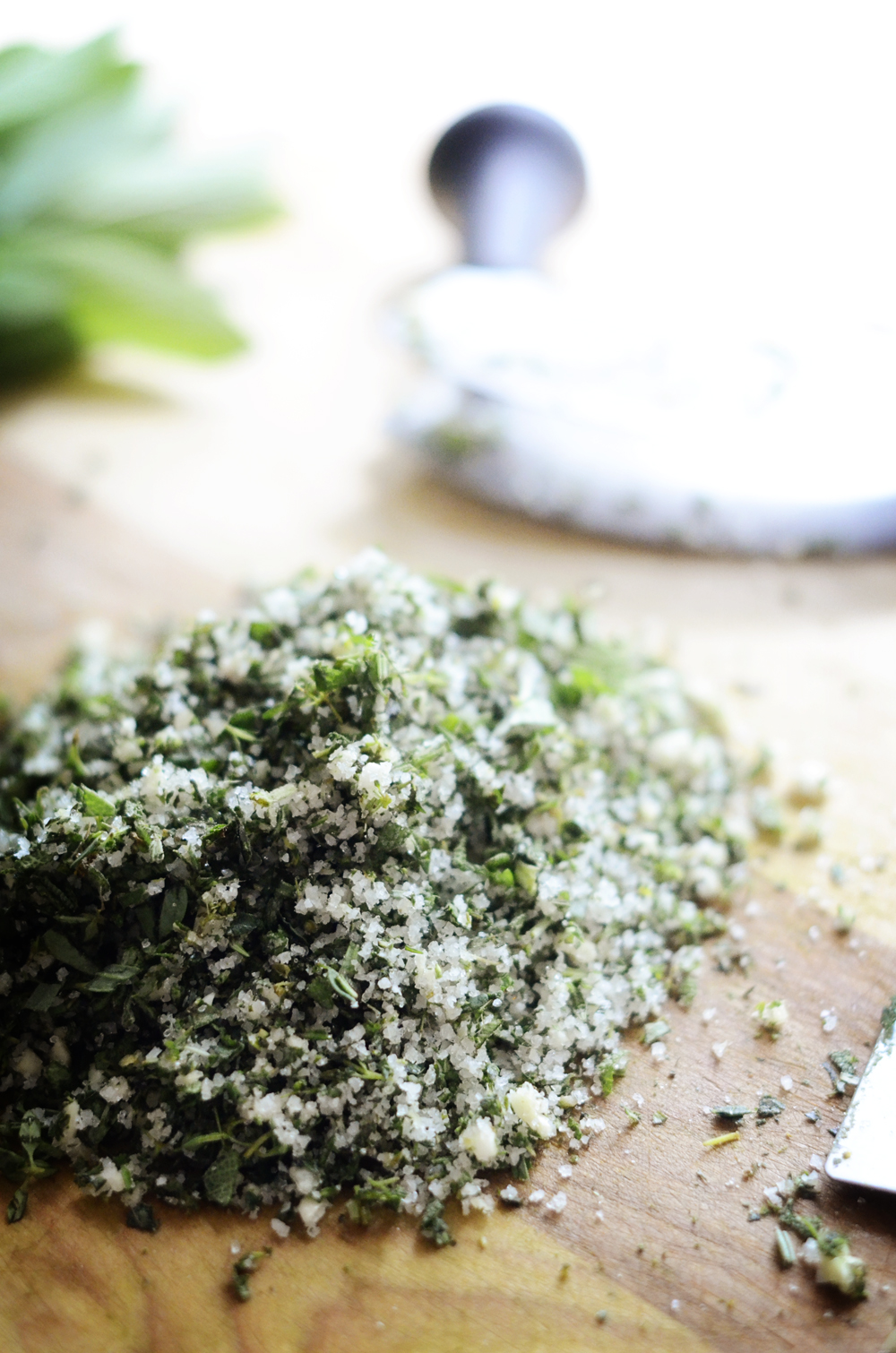 3) Stir chop stir chop: I added in a bit of the salt, maybe about a third of what I intended to use.  I stirred it up and chopped some more.  The salt seemed to help me chop stuff up more finely.  Then I had another chopping fit until I again didn't feel like I was making any more progress.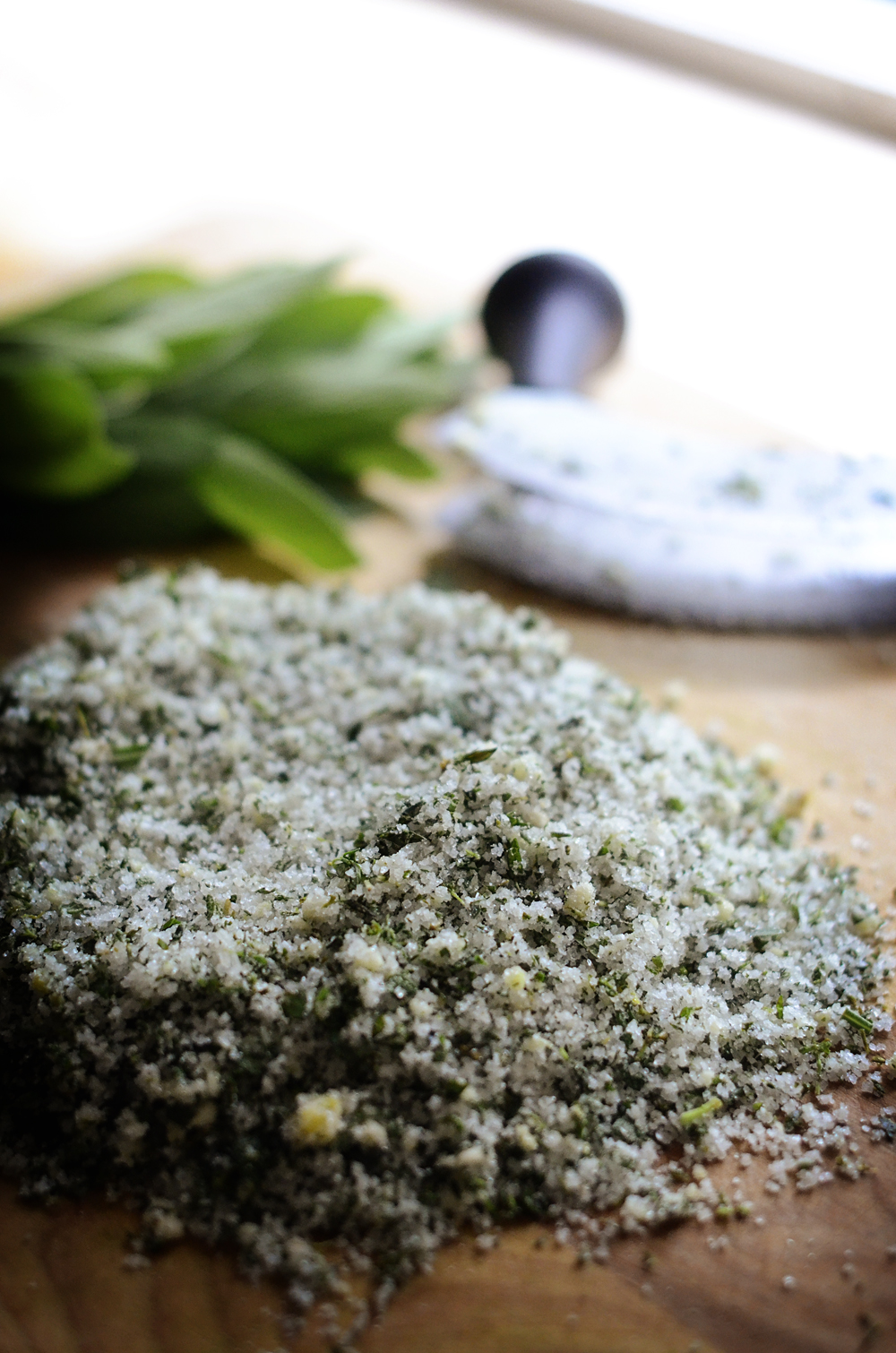 4) Stir: I mixed in the rest of the salt.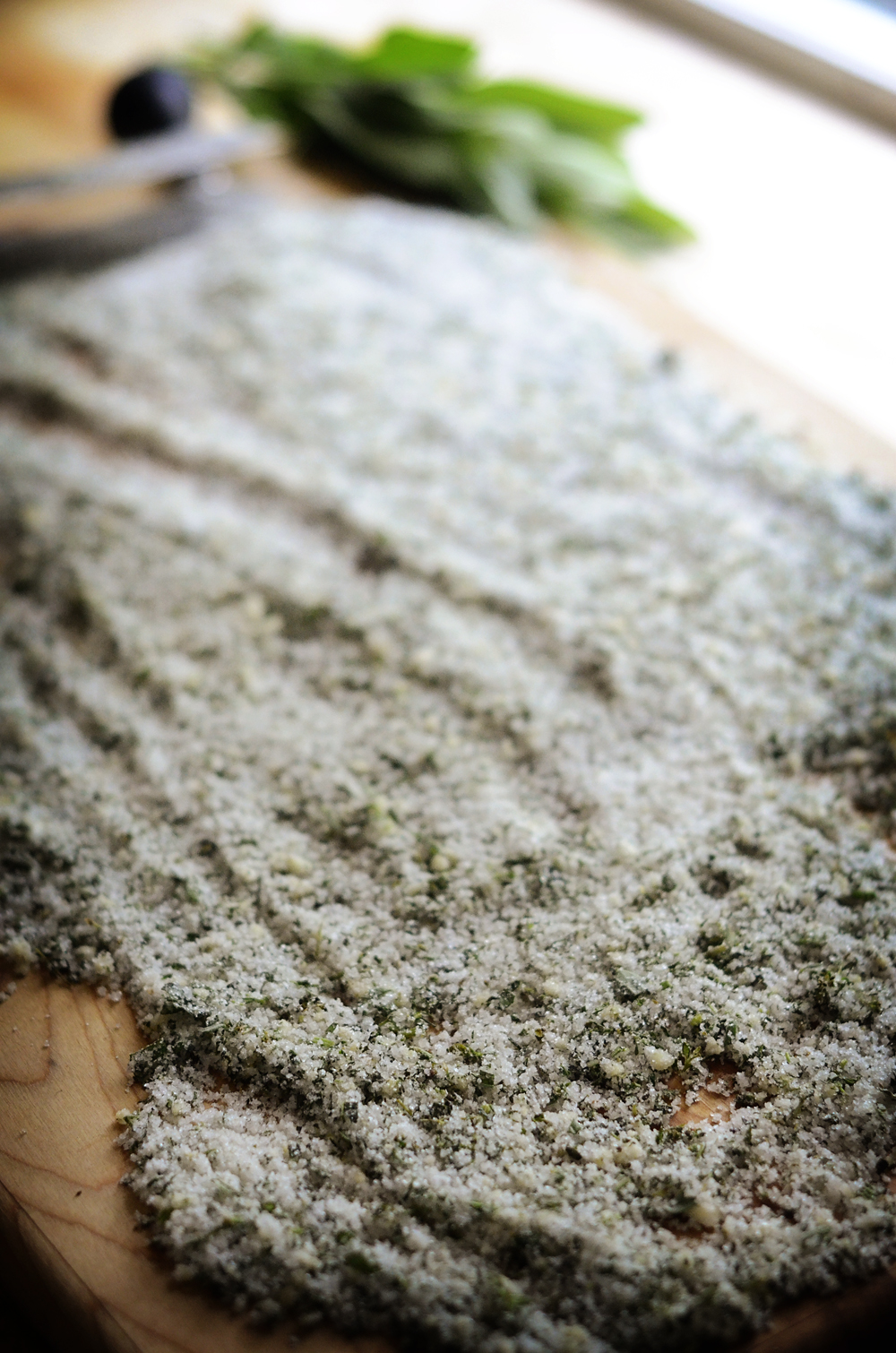 5) Spread: And finally, I spread it all out to let it dry.  If I were feeling paranoid, I'd spread it on a cookie sheet and cook it at the lowest temp my oven had for an hour or two, but I've decided to live on the edge and just let it air dry (edit: I ended up cooking it for an hour, not out of fear, but out of impatience.  It's humid here today, and I was tired of waiting for it to dry.)
I did three different flavors.  The first was just lavender (done first so that the cutting board would not be covered in garlic).  The second was garlic, rosemary and sage (as mentioned in the video).  The third was more of a free-for-all and had a bit of everything in there.  That's the one I showed here (and the one I made the most of).  I have a suspicion it will turn out to be the best.
The Boy has already graciously agreed to put the garlic ones to the test on the next steak that finds its way onto our grill.  I'm planning to use the lavender one in some shortbread sometime soon. I will report back with the results of this test when the time comes.
Mailing List
Want to hear when a new pattern comes out or something fun is going on? Sign up below!
Patreon
Want to support the content I create, get nifty bonus material for some of my favorite patterns, or get every new release delivered right to your inbox? Head over to patreon and sign up!
Search
Archives