Basil Brown Sugar Iced Tea
Our yard got off to a slow start this year.  Normally by this point, I'd have giant handfuls of herbs to throw in anything I felt like cooking.  This year, we're still a few weeks away from that.  But just to be contrary, my basil plants are starting to flower.  Now, you don't want to let them do that.  You need to pick those flowers off (so the plant will keep making the tasty leaves).  But I can't bring myself to throw them away.  And so, Basil Brown Sugar Iced Tea was born. Three ingredients (I suppose four if you count water), five minutes, damn tasty.  You should have some too.
Step 1) Put the kettle on.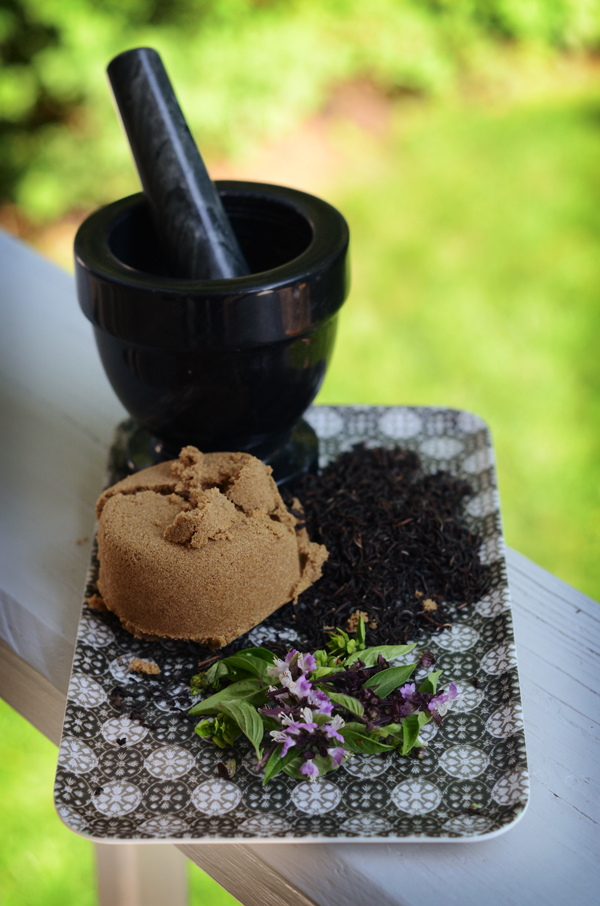 Step 2) Gather your supplies.  I use about a half a cup of sugar, about a quarter cup of loose tea (I like this one, but you should use your favorite…and yes you can use several tea bags as long as you promise not to tell me about it), and whatever basil flowers (other herbs work too) you need to find a use for.  This is about a tablespoon of herb flowers, the product of three small plants.  Later in the season I'll get this much off one plant in one day, but we're early yet.   All these amounts can be adjusted to taste.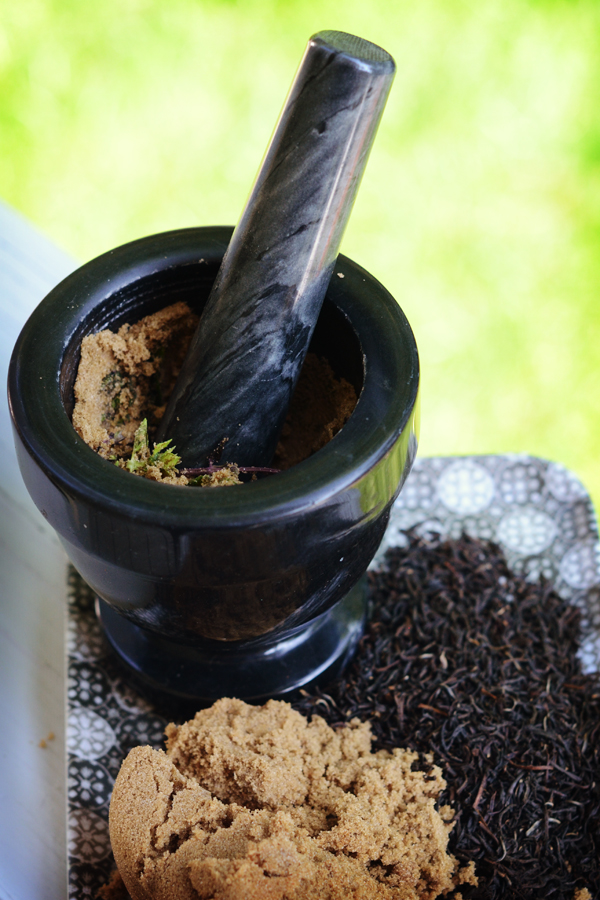 Step 3) Put all your herbs and a big pinch of the brown sugar in the mortar and pestle and grind it up for about 30 seconds.  Really mash it up hard, you want to break the basil down as much as you can.  It will smell divine, try not to eat it all.  If you don't have a mortar and pestle, you can use a bowl and the back of a spoon, but it's harder.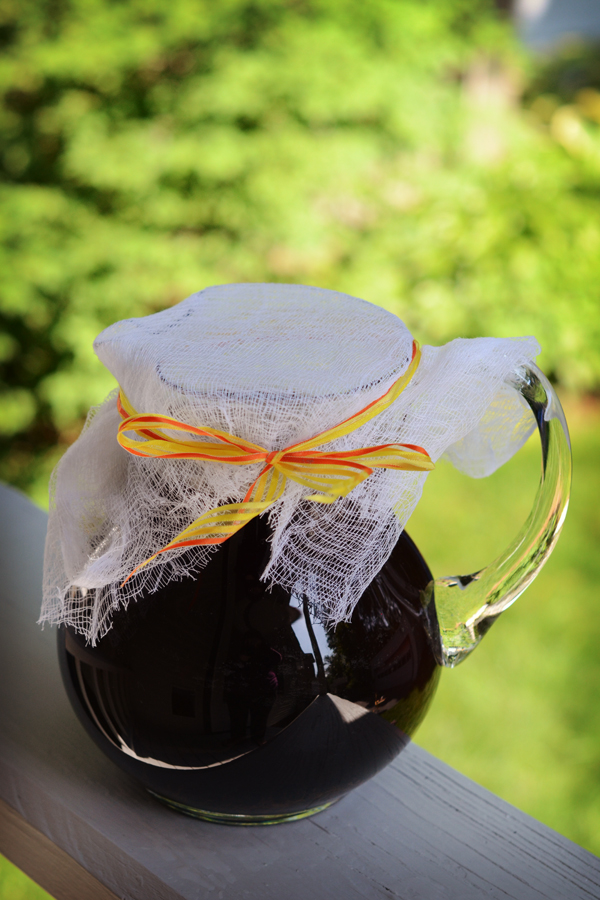 Step 4) Dump it in a pitcher, pour boiling water over it, and wait (this is where I caution you to be reasonable about pouring hot water on glass…use a pitcher you trust).  Let it sit (sunshine optional but preferred) till it's cool.  I put cheese cloth over it to discourage visitors (seeds…bugs…either is distasteful).  Now to be honest, normally that cheese cloth is held on with a rubber band stolen off a bunch of celery.  But I couldn't find a rubber band and I had ribbon sitting by the back door, so I used it for this.
You can pour right through the cheese cloth (to catch the tea leaves and flower bits).  This makes strong tea, so I pour it over a giant glass of ice.
Now if you'll excuse me, I'm going to retire to my back patio and read while I wait for this to be ready.  It's been a rather busy (if exciting) week, and I think I deserve a little break!
Mailing List
Want to hear when a new pattern comes out or something fun is going on? Sign up below!
Patreon
Want to support the content I create, get nifty bonus material for some of my favorite patterns, or get every new release delivered right to your inbox? Head over to patreon and sign up!
Search
Archives