Tiny giants
We're having a KAL for Palpitation, and I'd be delighted if you joined us!  I find I want to knit a few more of these, but it feels like some sort of breach of etiquette to knit in my own KAL.  So I'm going to pretend that what I'm doing is using a few more hearts as a way to talk about some finer points of making these.  But we all know what I'm really doing is indulging myself and making a few more.  But don't tell anyone, ok?
[pexcirclecta pex_attr_small_title="knitalong" pex_attr_title="PALPITATION" pex_attr_button_text="Join Us!" pex_attr_button_link="https://www.ravelry.com/discuss/pantsville-press/topics/3737683″ pex_attr_button_link_open="new" pex_attr_button_color=""][/pexcirclecta]
Now I know Valentine's day has come and gone, and perhaps now the fascination with the fuzzy hearts will fade and we'll all come to our senses.  But just in case any one is still playing (or in case any one wants to do these next year), I had one more thing I wanted to talk about.
One of the things lots of folks wanted to do was to make either giant versions of the hearts (think couch cushion sized!) or tiny ones (I swear some would fit on a quarter).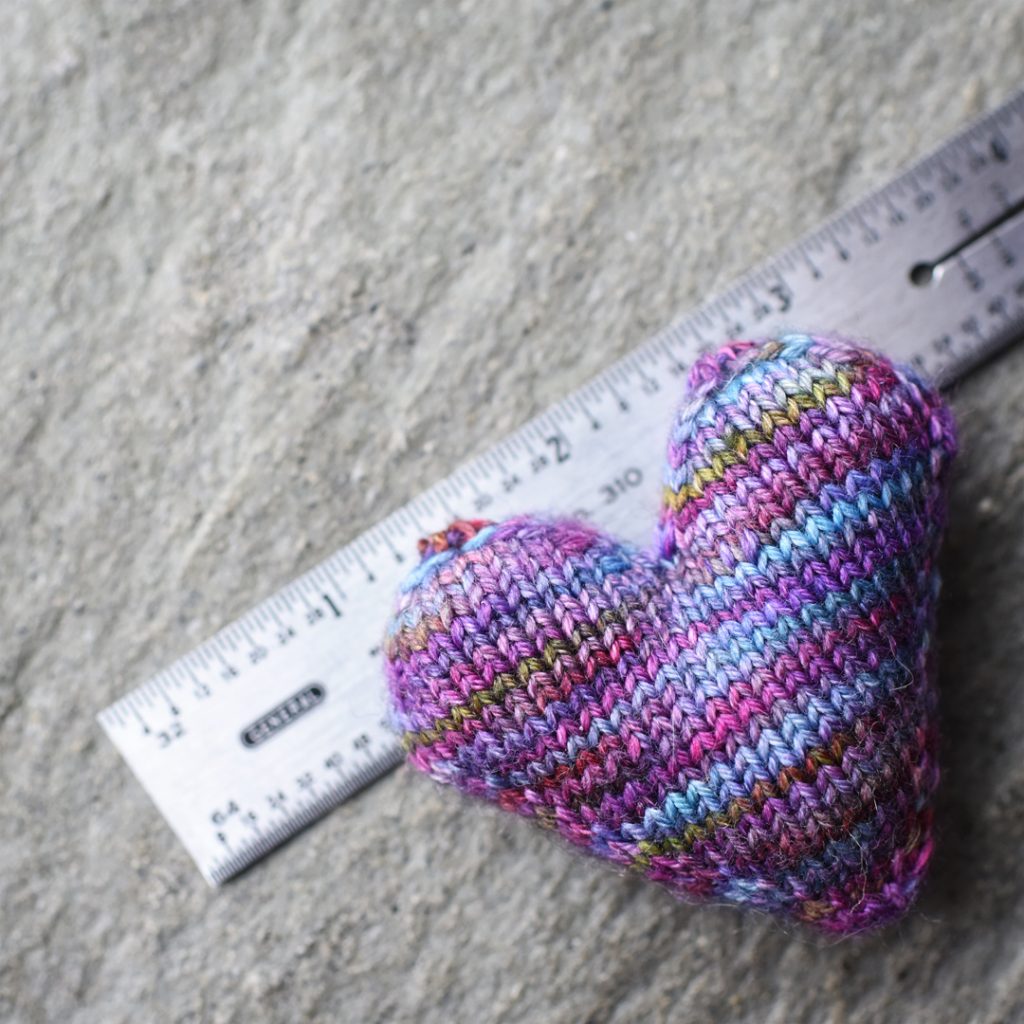 I didn't go for the giant option (I'm lazy…very very lazy…I do not love you enough to knit a cushion for a blog picture).  But I did find myself indulging in a tiny heart.  Mine is just a hair over two inches (which is small enough to be adorable, but in no way the smallest one I've seen in the KAL).
Now there are two ways to change the size of something.  Change the size of your stitches, or change the number of stitches.  You can do either (or both) on the hearts.
For the giant ones, reach for the biggest yarn you can manage.  Some folks were using bulky, and some were using several strands of bulky held together. For the tiny ones, go the opposite direction.  I saw some done in lace weight and some done in crochet thread.  Whichever way you go, you'll want needles to match (I did my tiny one on 000s).  Just remember you want to make a tight enough fabric that your stuffing doesn't show through.
But in addition to changing your yarn/needles, you can also change your stitches.  The pattern comes in three stitch counts.  But they're all aimed at being sort of hand/pocket/envelope sized.  Even with a super bulky yarn or a lace-weight yarn you may not be able to get as large or as small as you'd like if you're aiming for something dramatic.
Luckily, the pattern is easy to modify.  You can continue to increase until you get to the size you want if you're going big  Or you could work fewer increases to go smaller.  In either case, be sure you're increasing or decreasing by multiples of 8 from the stitch counts the pattern gives you.  And of course, if you make changes, your stitch counts will be different from what I give in the pattern.  You'll just want to work your knit front/back on the middle stitch, and then divide left and right for the top of the hearts.  If you change the bottom, you may need to do a bit of experimenting to make sure you like the shape and proportions you're getting on top, but from what I've seen, they all come out adorable!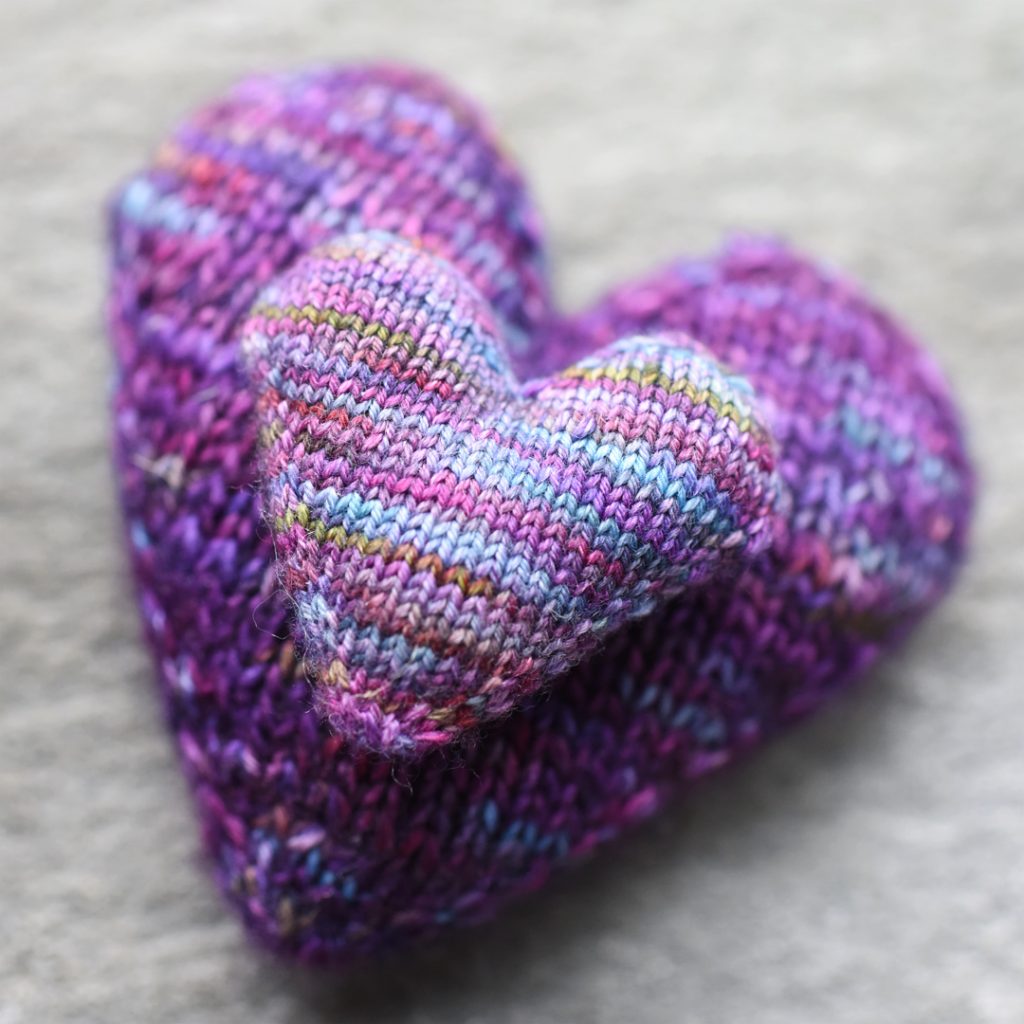 Mailing List
Want to hear when a new pattern comes out or something fun is going on? Sign up below!
Patreon
Want to support the content I create, get nifty bonus material for some of my favorite patterns, or get every new release delivered right to your inbox? Head over to patreon and sign up!
Search
Archives