Just knits and purls (plus giveaway)
You know that thing we tell new knitters when we're trying to be reassuring?  That thing about how knitting is just knits and purls (and that really those are just the two sides of the same stitch)?  And that's true.  Of course it is.
But there's also that thing that happens when there aren't any skittish looking new knitters around to scare.  That thing where you say you just spent 45 minutes trying to figure out which of six subtly different decreases you like best.  Or you tried three different cast ons to see which was prettiest with your ribbing.  Or you tucked your decreases inside a cable and you're feeling ridiculously pleased with yourself.  And you tell another knitter about these escapades and their eyes light up and they totally get it.  And then they regale you with the thing they're working on that's every bit as nuts nifty.
Well, if you're past the point where you want reassurance that it's all easy and you'll have it down in ten minutes flat, and have moved on to the point where you're excited at the idea of there being a bunch of ways to accomplish your goal (because you get to find the one that's just perfect for your project…and you might even get to learn a new one), then what you need is a reference book (or maybe a few reference books…they tend to multiply if you're not careful).  The folks at Vogue have just sent me a copy of their updated and rereleased Vogue Knitting: The Ultimate Knitting Book, and it could be just what you're looking for (as always, amazon links are affiliate links)!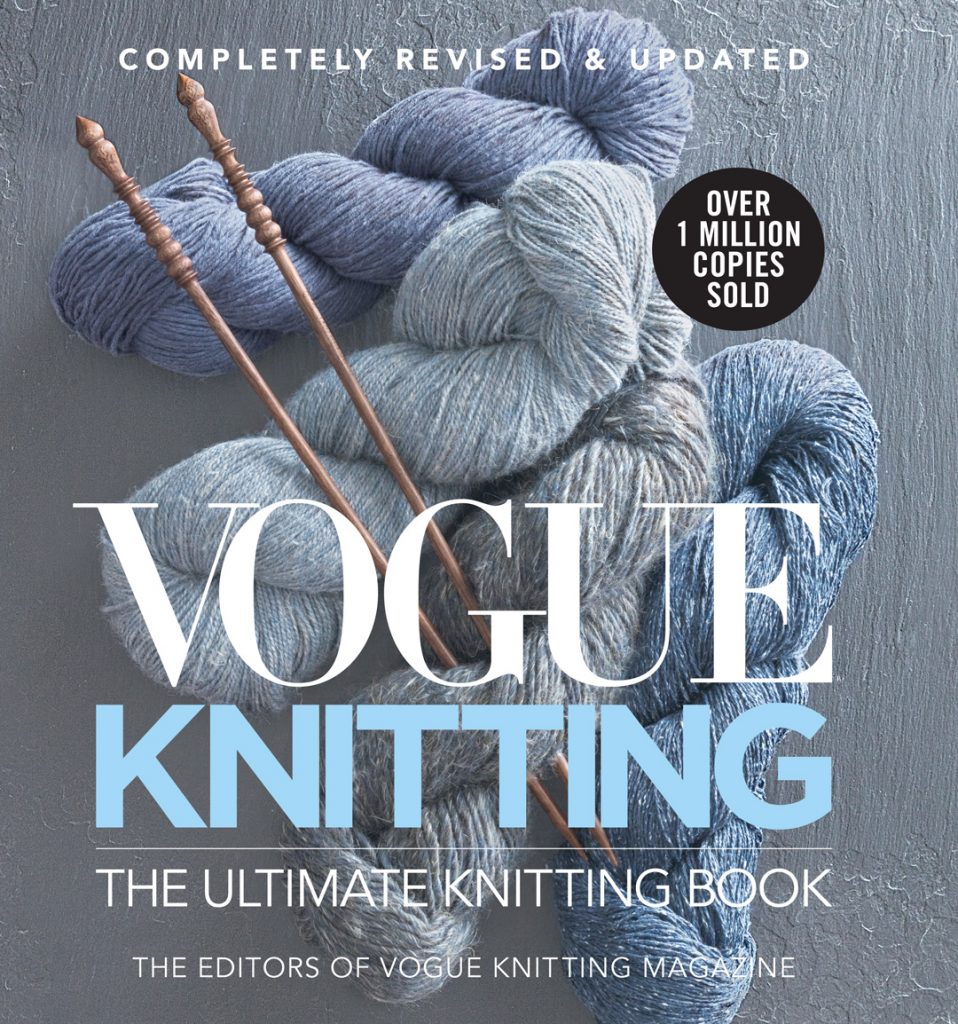 So let's talk a little bit about reference books.  If we're being honest, very few folks are going to sit down with a big book (and this is a marvelously big book), start at page one, and read all the way through to the end.  I know I don't.  I generally pull them out when I want to look something up (I will never remember the provisional cast on right on the first try…and it's more efficient if I double check how to graft in garter rather than just swearing at it for an hour and then giving up and checking anyway).  And that means that the organizational structure of a reference book matters a lot.  The folks putting this one together paid a lot of attention to organizing this in a way that makes it easy to find what you're looking for.
There's a general table of contents and index of course, but they've taken it quite a bit farther.  Each chapter starts with another mini table of contents (so if you're going to the chapter on lace, you can look at the chapter table of contents to figure out where the section on blocking is).  The chapters are also color coded (with a stripe on the edge of the page), which makes it easy to see 'oh, the cable chapter is blue, let me just flip to the blue pages.'  And, on many pages, there's a little cross references section at the bottom that points you to related things you might want to know.  So on a page about grafting, it says hey…did you need to double check what slipping knitwise or purlwise meant? Those are over here. Or maybe you want to brush up on right side and wrong side? They're over here.  The result is a book that's easy to use.  And since reference books are meant to be tools, that's really important.
There are chapters on things like supplies (yarn, needles, tools), basics (casting on, knitting, purling, increasing, decreasing, binding off), lace, cables, colorwork, and what they call advanced techniques (brioche, double knitting, dropped stitch patterns).  There are also chapters on understanding patterns (because really…most patterns make a lot of assumptions about general knitting knowledge), correcting errors, finishing your projects (meaning how to put them together, not how to actually get around to knitting the last few rows), and caring for your knits.  And finally, a set of chapters on designing sweaters, shawls, and accessories.  Each of the chapters gives a solid introduction to the topics without providing so much information as to risk being overwhelming, and that's a hard balance to strike.  It's easy to do a cursory explanation, and it's easy to do a Massive Brain Dump.  But finding a balance between the two, especially across such a wide range of topics, is impressive.
Now, no single reference book is going to be a perfect fit for every single knitter on every single topic (and if it tried, it would be 2,400 pages long and too heavy to lift).  And there is a tiny list of things I'd tweak a bit.  There are few increases and decreases I felt were missing, I wish they'd explained that chart symbols vary widely from pattern to pattern rather than suggesting that standard symbols were a thing, and I'd have loved to see recommendations for books to read if you want to learn more about a particular topic (one of these days I need to make this myself…).  But those are very minor quibbles.  And if we're being honest, I'd have a similar list of tiny tweaks for any book that tried to do this much in one volume.
But if you're at the point in your knitting where you're past the need for the 'no really, it's super easy, if you can tie your shoes you can do it' pep talk and ready to have dig a little deeper, this will totally help you do it!
The good folks at Vogue are letting me send a copy of the book off to two of you.  We'll give one away here, and one over on this instagram post (it's totally fine to enter in both places).  To enter here, just leave a comment on this post telling me your very favorite reference book.  Is it a fabulous stitch dictionary? Or maybe a really great cookbook?  Or maybe you have a soft spot for the Chicago Manual of Style?  There's no right or wrong answer (and it totally doesn't have to be a fiber book…), it's just awesome to know what you guys go back to again and again.
Comments left between now and the end of the day (eastern time) Friday, March 30, 2018 will be entered to win.  I'll pick a winner, contact them to get their addresses, and arrange to send the book their way.  Be sure to use a real email address so I can contact you if you've won (I won't do anything with those email addresses besides notify the winner).  If I do email you, I need to hear back from you within 72 hours or I will pick a new winner and contact them. Sorry, but I can only ship physical prizes to US or Canadian addresses.  Oh, and for anyone playing along at home, the picture of the book cover is Vogue's, but they said I could use it.
Mailing List
Want to hear when a new pattern comes out or something fun is going on? Sign up below!
Patreon
Want to support the content I create, get nifty bonus material for some of my favorite patterns, or get every new release delivered right to your inbox? Head over to patreon and sign up!
Search
Archives