If it bleeds…
The piece on top is the mitt, not yet blocked. The piece on the bottom is the hat, already blocked.⁠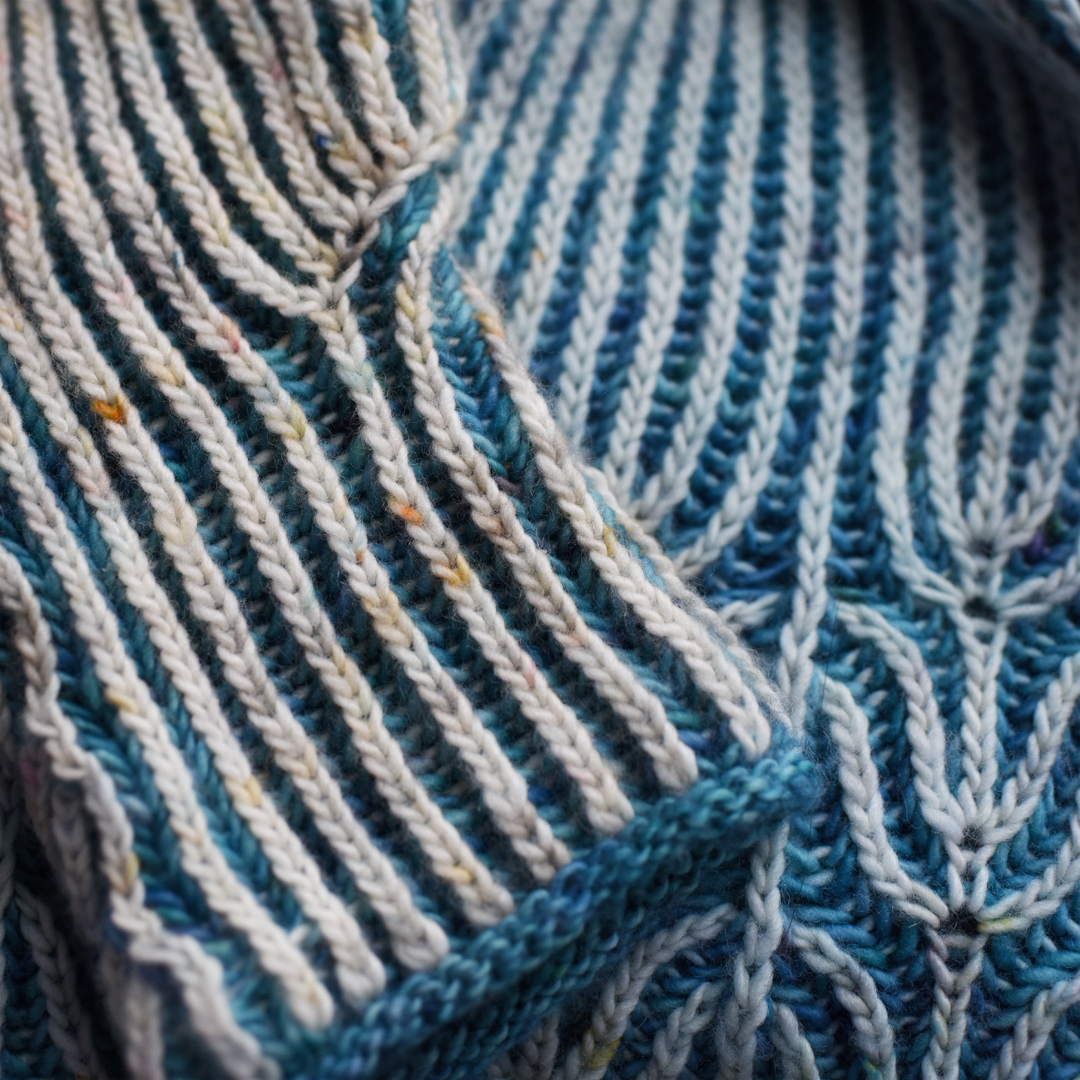 ⁠See how they're different colors even though they're knit from the exact same skeins of yarn? That's because a little of the dye came off the turquoise yarn and landed on the white yarn when I soaked the hat.⁠
So, let's talk about that.⁠
First, in this case, it's not a problem. I love how the hat looks, that's how the mitt will look after it gets soaked and blocked, so it's totally, totally fine.⁠  But, I can think of situations where I wouldn't want that to happen, and there are a few things you can do about it.⁠
Your best bet is always to knit a big swatch then soak and block your swatch. If you're worried about dye running, soak your swatch in a small amount of water (a white coffee mug is great) rather than in a whole sink full. That will make it easier to see if you've got dye coming off the yarn.⁠
If the yarn doesn't run, or you like how your fabric looks after it's dry (as I do here!), then don't fret. You swatched, you learned things, and now you can get on with your project.⁠
But if you see dye running and you're not crazy about that, you can try rinsing that yarn to see if you can get the last of the dye out (tie it off in several places first). It can be helpful to rinse it with synthrapol, which is a magic detergent that helps keep loose dye in the water, not redeposited on your material, you want it in your bag of tricks (amazon links are absolutely affiliate links).⁠
If it's really running, there are some chemistry tricks you can try (this is a good place to start, google refixing dye for more), but I almost never need to do that.⁠
And if you somehow forgot to swatch, or you didn't notice the bleeding on your swatch, don't panic. You can wash your finished knit with synthrapol (in lots and lots of water) and it will help keep any extra dye in the water (not on your white yarn). You can even do the chemistry magic to finished knits.⁠
And really, don't yell at dyers for this. It's always a risk with saturated yarn next to light yarn. Your swatch will tell you if it'll be an issue. And if it is, you can usually fix it with a bit of prep work.
Mailing List
Want to hear when a new pattern comes out or something fun is going on? Sign up below!
Patreon
Want to support the content I create, get nifty bonus material for some of my favorite patterns, or get every new release delivered right to your inbox? Head over to patreon and sign up!
Search
Archives