Madewell's response
After I posted about mending the terribly made Madewell sweater on twitter, I got an automated response from Madewell's customer service twitter account asking for more info. I've been generally reluctant to reach out to them (you can look back on some of the other posts about this process for more on why), but I figured since they reached out to me, I'd answer (again, you can see more of this on instagram).
They asked for my order info, so here's what I sent (with my order number and email address redacted):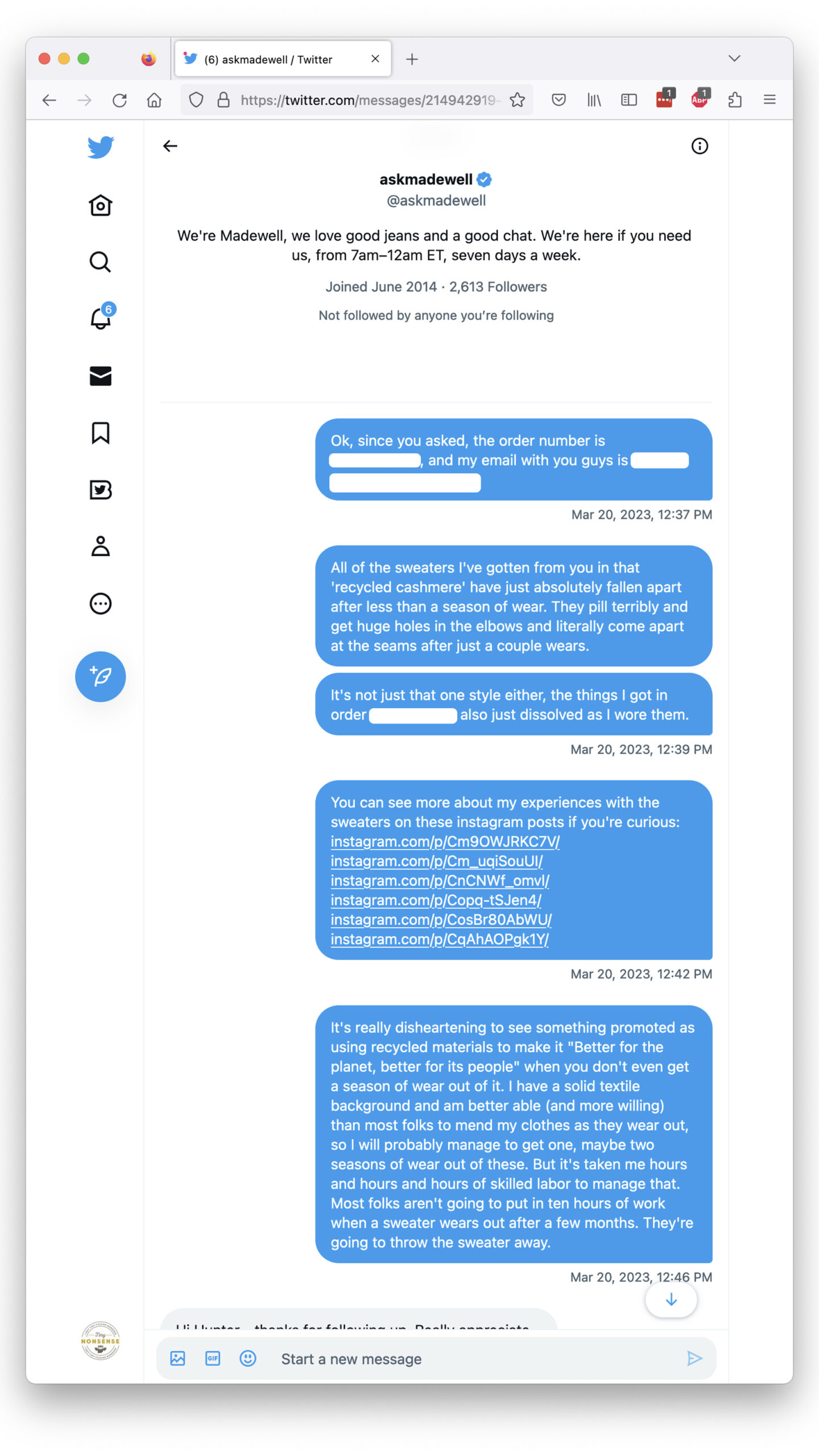 Ok, since you asked, the order number is (redacted), and my email with you guys is (redacted).

Mar 20, 2023, 12:37 PM

All of the sweaters I've gotten from you in that 'recycled cashmere' have just absolutely fallen apart after less than a season of wear. They pill terribly and get huge holes in the elbows and literally come apart at the seams after just a couple wears.

It's not just that one style either, the things I got in order (redacted) also just dissolved as I wore them.

Mar 20, 2023, 12:39 PM

You can see more about my experiences with the sweaters on these instagram posts if you're curious: https://instagram.com/p/Cm9OWJRKC7V/ https://instagram.com/p/Cm_uqiSouUI/ https://instagram.com/p/CnCNWf_omvl/ https://instagram.com/p/Copq-tSJen4/ https://instagram.com/p/CosBr80AbWU/ https://instagram.com/p/CqAhAOPgk1Y/

Mar 20, 2023, 12:42 PM

It's really disheartening to see something promoted as using recycled materials to make it "Better for the planet, better for its people" when you don't even get a season of wear out of it. I have a solid textile background and am better able (and more willing) than most folks to mend my clothes as they wear out, so I will probably manage to get one, maybe two seasons of wear out of these. But it's taken me hours and hours and hours of skilled labor to manage that. Most folks aren't going to put in ten hours of work when a sweater wears out after a few months. They're going to throw the sweater away.

Mar 20, 2023, 12:46 PM
Someone from Madewell replied: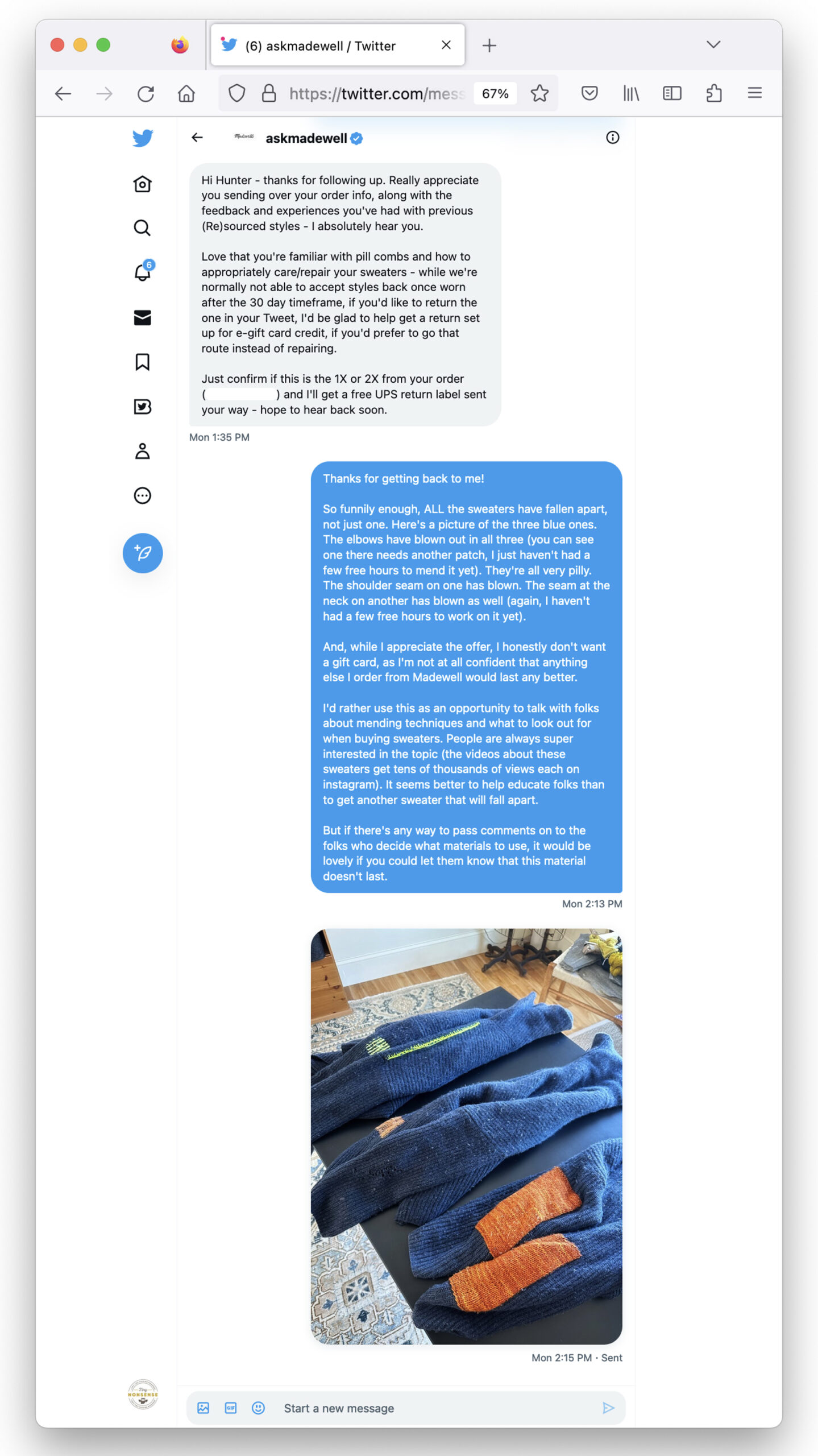 Hi Hunter – thanks for following up. Really appreciate you sending over your order info, along with the feedback and experiences you've had with previous (Re)sourced styles – I absolutely hear you.

Love that you're familiar with pill combs and how to appropriately care/repair your sweaters – while we're normally not able to accept styles back once worn after the 30 day timeframe, if you'd like to return the one in your Tweet, I'd be glad to help get a return set up for e-gift card credit, if you'd prefer to go that route instead of repairing.

Just confirm if this is the 1X or 2X from your order (redacted) and I'll get a free UPS return label sent your way – hope to hear back soon.

Mar 20, 2023, 1:35 PM
And my reply to them:
Thanks for getting back to me!

So funnily enough, ALL the sweaters have fallen apart, not just one. Here's a picture of the three blue ones. The elbows have blown out in all three (you can see one there needs another patch, I just haven't had a few free hours to mend it yet). They're all very pilly. The shoulder seam on one has blown. The seam at the neck on another has blown as well (again, I haven't had a few free hours to work on it yet).

And, while I appreciate the offer, I honestly don't want a gift card, as I'm not at all confident that anything else I order from Madewell would last any better.

I'd rather use this as an opportunity to talk with folks about mending techniques and what to look out for when buying sweaters. People are always super interested in the topic (the videos about these sweaters get tens of thousands of views each on instagram). It seems better to help educate folks than to get another sweater that will fall apart.

But if there's any way to pass comments on to the folks who decide what materials to use, it would be lovely if you could let them know that this material doesn't last.

Mar 20, 2023, 2:13 PM
There was no other reply from Madewell.
I have to say the more I read their initial response, the more disappointed I am. They didn't say that they were sorry or surprised their sweaters fell apart. They didn't say it shouldn't have happened. They didn't say they'd look into it.
Instead they said "I absolutely hear you" (when it seems pretty clear they don't). And they said they would make an exception to their usual policy and send me a gift card for one of sweaters if I wanted to return it to them. I find myself ever more unimpressed. It seems the best thing I can do is try and make these last as long as I can and tell as many folks as I can about what happened to my sweaters.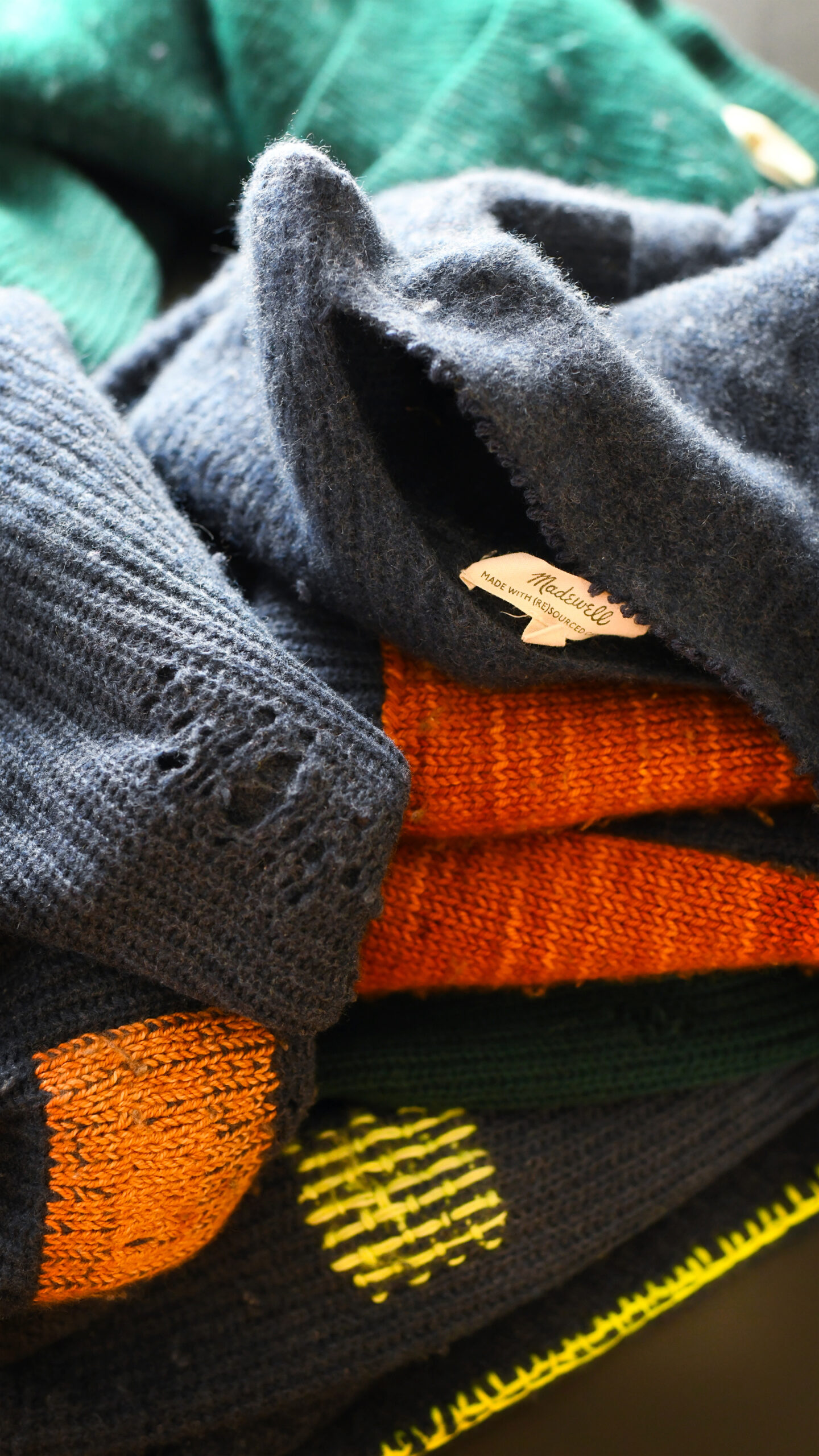 Because well made clothes do not look like this after one season of wear.
Mailing List
Want to hear when a new pattern comes out or something fun is going on? Sign up below!
Patreon
Want to support the content I create, get nifty bonus material for some of my favorite patterns, or get every new release delivered right to your inbox? Head over to patreon and sign up!
Search
Archives