Sparkle Pony Supply List
I've been showing off the sparkly little needlebook over on instagram (you can see it here and here), and I wanted to run through a little supply list before the pattern comes out later this week! To make these you need a sheet of material, a strip of something to use for a closure, and some sewing thread. That's it! (See the note below for the obligatory angst over links.)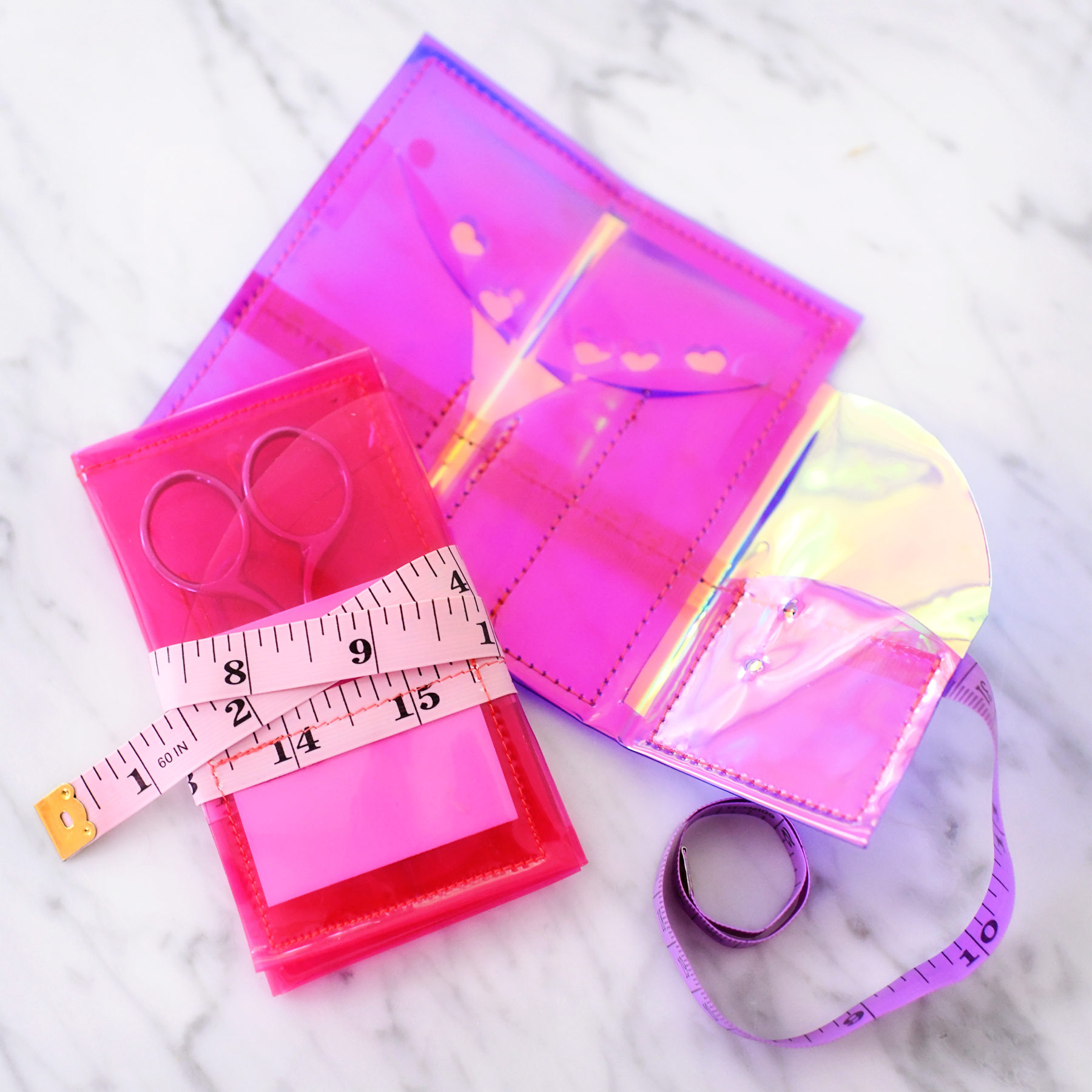 For the material, you want one sheet (about the size of a piece of printer paper) of something that's sturdy, thin enough to cut with scissors and sew through, flexible enough to easily fold, and that won't fray when it's cut.
My initial plan was felt, but that turned out to be way too delicate. My next thought was leather, and that worked well, but something inside me kept yelling about how if I was going to use leather, I needed to take a class on leatherworking and learn how to do it the proper way (if you don't have that voice, that's great, please totally feel free to use leather!). The next thing I tried was plastic that was trying (and alas, failing) to look like real leather, and cork fabric, both of which were ok, but not spectacular.
And then, then I discovered the absurd sparklefest that is fake leather for craft projects. It comes in a truly astonishing array of colors and textures. I found some that look like jelly bracelets from my childhood (in both clear and frosted versions), some that look like the oil slick on a gas station puddle, some that look like iridescent snake skin, and lots more.
I realize this will not be to everyone's taste! But it fills me with unrestrained glee, and I'm not saying no to that these days (and there are more sedate options if you prefer).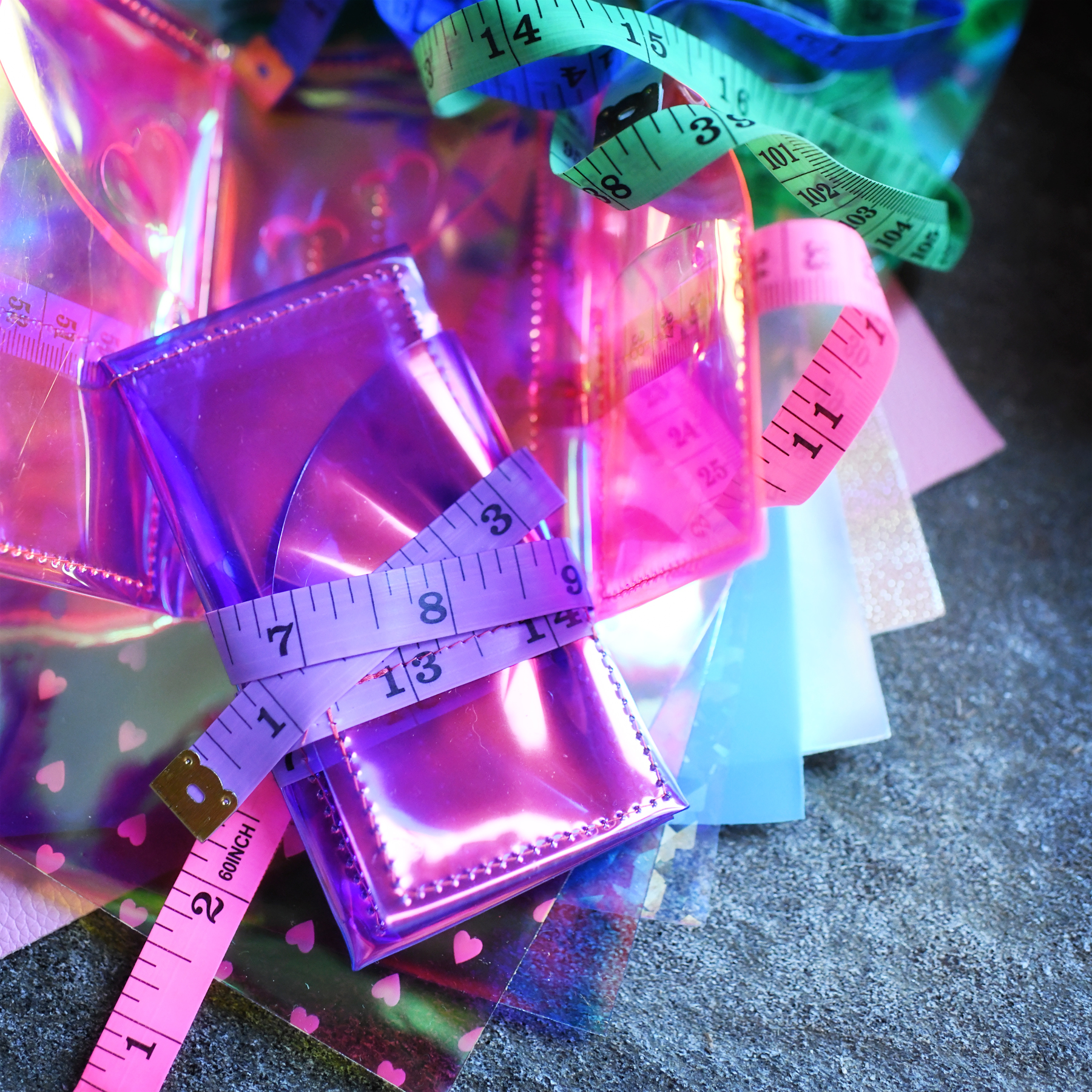 The secret search term is "faux leather sheets." Put that into your search bar of choice (possibly with words like "holographic" or "sparkly" or "textured" or "transparent," depending on what you're looking for) and you'll be absolutely overwhelmed with choice! I will warn against using any of the ones with loose glitter (the kind that comes off on your hands if you touch it) in your sewing machine. But otherwise, it all seems to work beautifully!
For the closure, you need about two feet of something long and skinny to wrap around. You could use ribbon or twill tape, but I prefer to use a piece of tape measure. The only trick was finding them in good colors. I searched for "colored tape measure" and found bright ones and pastel ones and even a few black ones.
For the thread I just used regular sewing thread, whatever cotton or polyester stuff was kicking around in the back of my drawer and looked like a good match for the color of my material.
And that's really all you need! The pattern for these will be going out to Utter and Rampant Nonsense patrons later this week, so soon we can all be just absolutely swimming in sparkles!
Obligatory disclaimer. Those links up there are amazon affiliate links. We all know amazon is hot garbage, so if you can get this stuff somewhere else, I totally encourage you to do so! But here's the thing…I live out in the country. If I tried to go to a couple of craft stores to find this stuff, it would be at least 3-4 hours of driving. And there wouldn't be nearly as big a selection. So yeah, I bought this stuff on amazon. And I know I'm not the only one in that situation, so I know some of you will too. And I know sharing those links is the easiest way to show you what I got so you can find what works best for you. And if I'm going to do that, I'm ok using an affiliate link so that amazon pays me a little bit of the money they make from those sales. If you don't wanna buy it there, that's totally cool! I think I gave you plenty of info to find it on your own somewhere else! But we're all just trying to survive under late stage capitalism, and this is the balance that feels doable to me today.
Mailing List
Want to hear when a new pattern comes out or something fun is going on? Sign up below!
Patreon
Want to support the content I create, get nifty bonus material for some of my favorite patterns, or get every new release delivered right to your inbox? Head over to patreon and sign up!
Search
Archives