The Plan
Here's The Plan (read on if you have or are planning to get these, because we're doing things a little differently):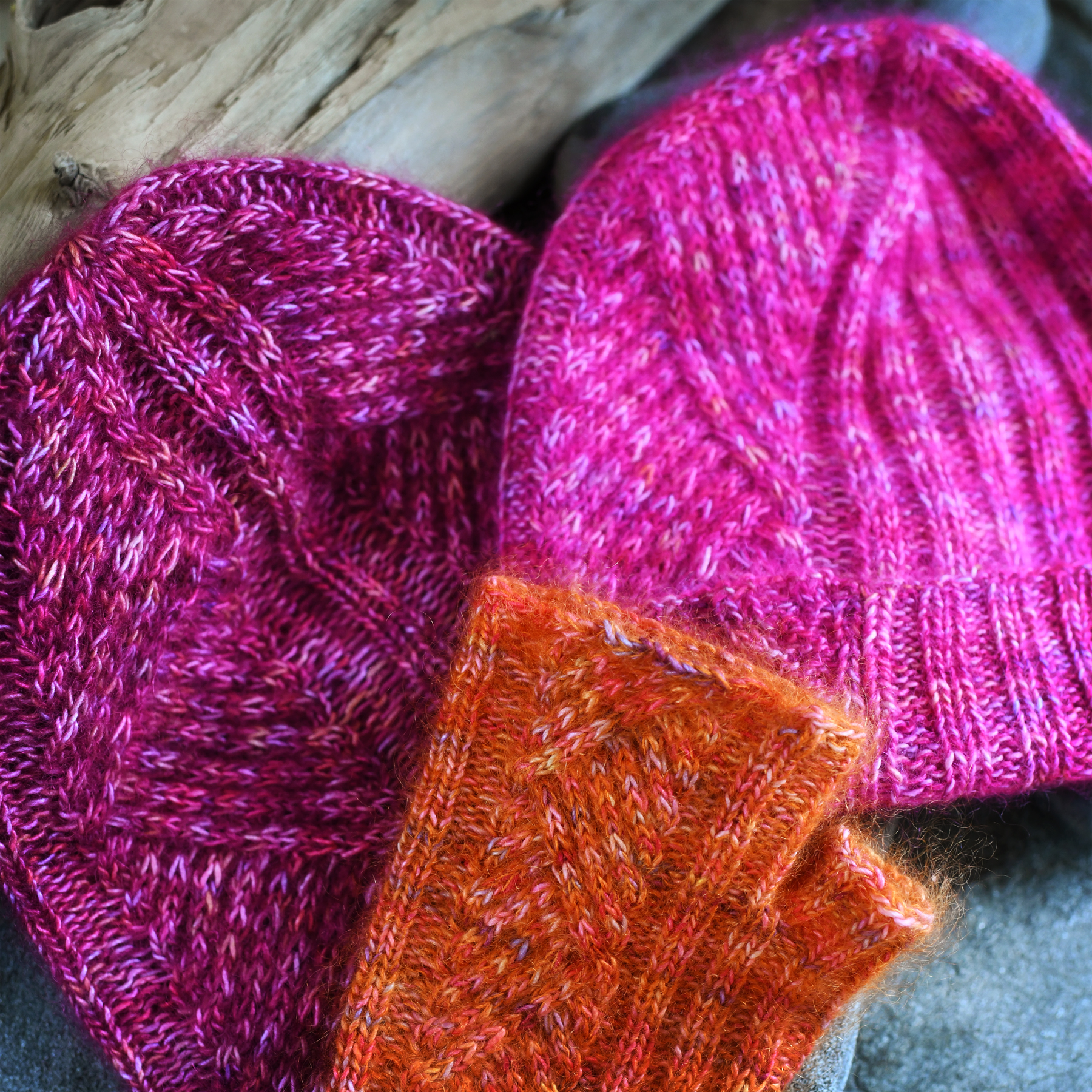 Remember how I've spent the last year and a half restructuring my business so it's more manageable and less overwhelming? (That's why most of the old patterns are retired and only available a couple of days a year.) Well as part of that process, I realized is that listing the individual pieces of sets like this as stand alone patterns creates A Whole Damn Lot Of Extra Admin Work. And one of the goals of restructuring was to minimize admin work.
So I'm not doing that any more.
Instead, I'm putting sets like this into little collections. The patterns will only be available in the collections, not individually. I did that with both Decorum & Comportment and Correlation & Causation when they came back, and it convinced me that this is what's manageable for me.*
But, those were older patterns that were coming back, not brand new patterns. This set here is a little different. The mitts are an earlier pattern (Tacit), but the hats are new.
Now, I always work really hard to make sure anyone who bought a pattern from me gets the new version if I update it! And a whole bunch of folks had earlier incarnations of Tacit. So last week I released the new version (and sent out updates to folks who had an earlier version). But starting next week, when the hats come out, these two patterns will only be available together as a set.
If you already have the mitts and want the hats, don't panic! We'll make that happen (I'll have you grab a word from the mitt pattern and use it as a code to get the set at a discount that takes into account that you already have the mitts, it'll all work out, I promise).
But if you know you're only ever going to want the mitts, I wanted to give you a heads up, because that's only going to be possible for a few more days!
*This is the polite version of me saying "Doing it the new way is the only thing that works for me. Doing it the old way is no longer possible. I understand if that means you don't buy the pattern! You need to do what works for you! But I must be quite firm about this, so please don't ask me to change it."
Mailing List
Want to hear when a new pattern comes out or something fun is going on? Sign up below!
Patreon
Want to support the content I create, get nifty bonus material for some of my favorite patterns, or get every new release delivered right to your inbox? Head over to patreon and sign up!
Search
Archives