Blocking
I spent the weekend blocking the socks for the book.  Well, not the whole weekend, it doesn't exactly involve a lot of active work, mostly five minutes of soaking and stretching followed by a few hours of waiting for things to dry.  Sheri at The Loopy Ewe was kind enough to send me a pair of her lovely sock blockers in medium, as the ones I had were an extra large and so not quite right for this project.  Almost all of the socks are here, and blocking takes a while when you've got this many socks, so it seemed a good thing to get started on.  'Block socks' was one of those things that had been on my mental to-do list for the last few weeks.  I figured it would be just another mindless chore.  I had no idea it would be fun!
Each time a sock has arrived from one of the (wickedly smart, marvelously talented, and ridiculously generous) sample knitters, I've done a little happy dance, decided that this one is my very favorite sock ever, and tucked it away safe and sound in its folder to keep it out of harm's (read kitten's) way.  I've not really looked at them again after that.
To block them, I got them all out at once.  Seeing them all in one spot (especially as the pile of neatly blocked ones grew) was amazing.  I know it's not cool to be too pleased with yourself, but I really do love these.  I can't wait to show them to you!  I've gotten the ok to share the sneakiest of sneak peeks.  I figure this isn't giving anything much away, as you all likely knew the socks had heels and soles and were made of yarn (beautiful, rich, glowing yarn).
Speaking of which, I've got a bit of a progress report.  All the patterns are done, and all the text is done.  All that's left is tech editing, layout, and photography, all of which are being done by others.  With even the tiniest bit of luck, the book should be out before Christmas.   Fingers crossed!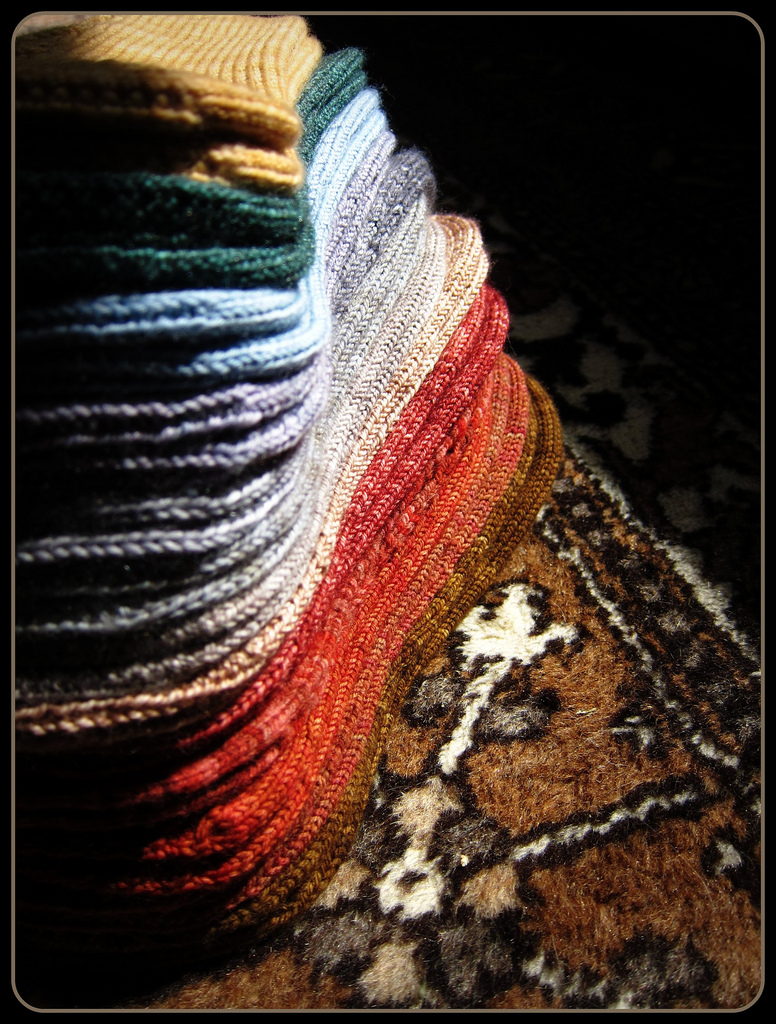 Mailing List
Want to hear when a new pattern comes out or something fun is going on? Sign up below!
Patreon
Want to support the content I create, get nifty bonus material for some of my favorite patterns, or get every new release delivered right to your inbox? Head over to patreon and sign up!
Search
Archives