Bits and Pieces
Having the furnace on is lovely.  It is definitely warmer with the furnace on, but it's not exactly warm.  We have an old house (built in 1920), and it has the original windows and absolutely no insulation in the walls.  We love it, it's beautiful, but it is more than a bit drafty.  We also have an old furnace.  It's not quite as old as the house, but is still rather elderly as these things go.  The combination of old furnace and drafty house means the gas bill gets rather staggering if we set the heat above about 58.  So we spend the winter well wrapped up.  Now please don't worry that this is any sort of a hardship.  We're both wired for the cold and are likely to start cracking the windows if it gets much warmer than that.  We're totally fine.
The only time it's a problem is if I have to sit still for a long time.  Say, to work on the computer.  Or knit.  Or read.  The obvious solution is to have lots of little bits of wooliness about to wrap up in if I happen to be sitting still for a while or sitting somewhere exceptionally drafty.  I'm almost always wearing woolly socks, and I've got fingerless mitts scattered all over the house.  I also have a little mini scarf/neck warmer thing I made with some of my earliest handspun, and I love it dearly.  Last night, instead of, say, working on any of the zillion other things I really should be knitting, I cast on for another one.  Now the yarn I'm using is like my second handspun ever.  I know it's more or less crap.  I did it on a lousy toy spindle, and I had no idea what I was doing (not that I know much now, but I know enough to know this was not done well).  I'm pretending the whole project is an experiment in making the best of a yarn with some…erm…challenging characteristics.  It's bulky, there's not much of it, and it changes in thickness rather dramatically from one spot to the next.  But it is soft, and it's one of the very few blue things I like (the roving was the colorway Superstition and came from etsy seller Fiber Optic).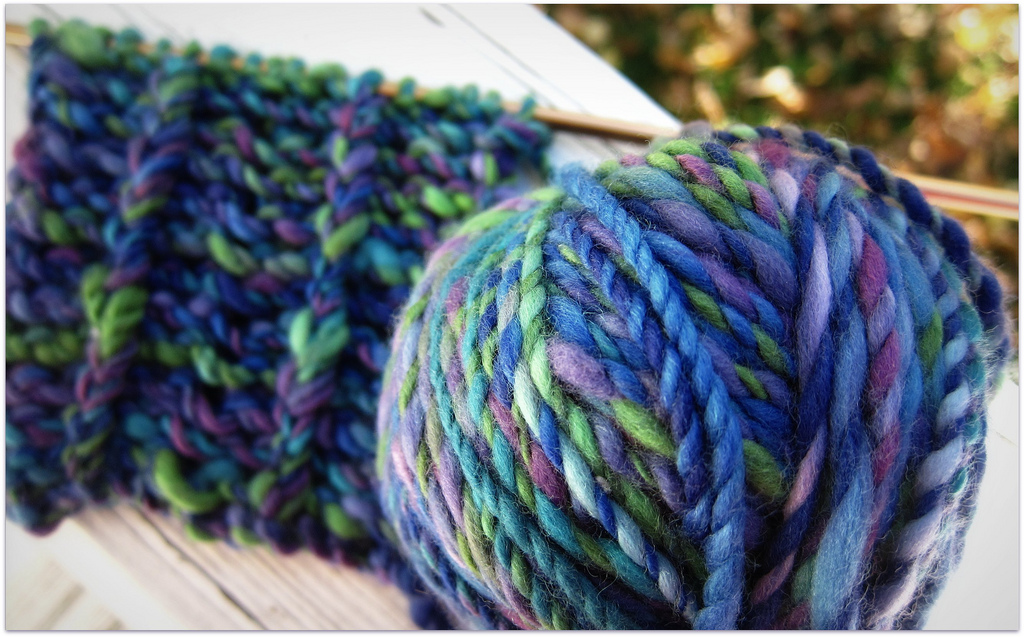 And thanks to everyone who likes my I'm-sick-and-can't-be-bothered-to-do-anything-hard socks.  While they're super simple to make, they're oddly challenging to write up.  I'll probably do it eventually if enough people are interested, but it will have to be some time early next year at the soonest.  There are just too many other things going on to get it done any sooner.  The next thing I finish will be Heather's sock (likely done tonight).  Then my friend's hat.  And I may need to make an extra tentacle for another project.  Then I've got some birthday socks I really should make some progress on if they're to be for this birthday.  I think I really need to institute a moratorium on casting on until some of the current projects are done.  I'm not usually prone to such scattered knitting, but lately I've been helpless to resist.
Mailing List
Want to hear when a new pattern comes out or something fun is going on? Sign up below!
Patreon
Want to support the content I create, get nifty bonus material for some of my favorite patterns, or get every new release delivered right to your inbox? Head over to patreon and sign up!
Search
Archives