TNNA Recap
So, as promised, a recap of TNNA.  It will, alas, have to be a bit brief.  I seem to have managed to pick up some sort of cold bug while there and am trying to take it easy today in the hopes of fending it off quickly.
So, first, what the heck is TNNA?  It stands for The National Needlearts Association.  They hold several tradeshows every year.  The summer one happens in Columbus, Ohio, and it focuses on yarn and knitting.  It's not a fiber festival like Rheinbeck or Maryland Sheep and Wool.  It's only open to folks in the industry.  If you sell yarn, or knitting needles, or (just for example) books, you go to TNNA and set up a booth.  Then store owners from around the world come and look and see what you have to offer and place orders. If you want more details, the lovely Jaala at knitcircus has provided lots of info in this week's issue.
Next up, what the heck was I doing there?  This part's longer.  Do you remember back in March of last year when I mentioned I'd gone off on a trip to work on future books?  I realize now that I didn't go into a lot of details.  I was there as part of Cat Bordhi's Visionary Authors group.  Cat has spent the last eight years encouraging people to self publish books they're passionate about.  The results have been sort of spectacular (the books on that page are just some of the titles that have come about because of this project).  I'm still sort of wondering just how I managed to convince her to let me come play.
Now bear with me for just a bit longer, I promise I'm getting to the point.  One of the tricky parts about self publishing is letting stores know about your project, and then getting it to them.  If you don't want the books filling up your garage till the end of time, and you don't want to get to know your local post office very very well, you need a distributor.  A distributor stores your books, sells them to stores, ships them out, and then sends you checks.  It's an excellent arrangement.  The Visionary Authors generally use Unicorn Books as our distributor.  Unicorn, being the biggest seller of knitting books in the industry, has a huge booth at TNNA.  This year, because they like the Visionary Authors (and because they sell a lot of our books), they got us two booths across from their giant island of books.
That's what I was there for.  We spent Friday setting it up.  We had books and samples from lots of our projects.  There were old favorites (like Cat's books, and Sandra McIver's Knit, Swirl, and JC Briar's Charts Made Simple) and brand new projects (like Charles Gandy's The Embellished Sock, and Chrissy Gardiner's Indie Socks, and um, mine).  I completely neglected to take photos of the booth until we were just about to start tearing it down (they don't really allow photos on the show floor), so you'll have to forgive things looking a bit scattered, but this should give you an idea of what the booth looked like.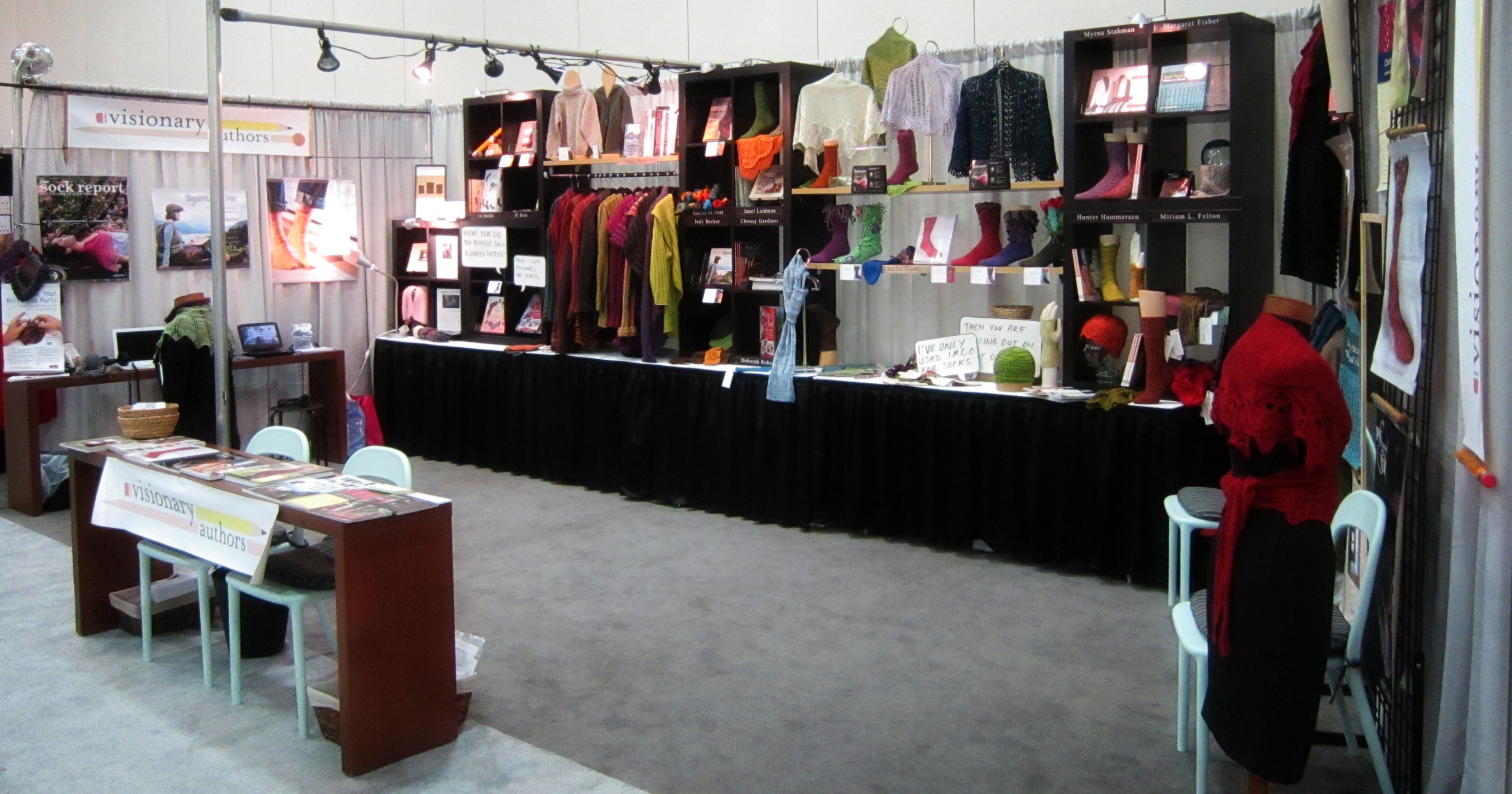 And this over here is the little section full of my goodies.  Again, it's the end of the show and things are a wee bit rumpled, so if you could pretend it's a tiny bit tidier that would be great.
So that's where I hung out this weekend, except that during the show, it was filled with people.  Lots and lots of people.  Yarn store owner type people looking for books to carry in their shops.  Which was sort of the point, and was of course marvelous (though perhaps the one person who brought the cold germ with him or her might possibly have just lingered in the aisle instead of shaking hands…that would have been ok, but everybody else was spectacular).
And do you know what I heard, over and over?  I heard yarn store owners say that someone had brought The Knitter's Curiosity Cabinet to knit night, and that people loved it, so they were here to order it.  So to all of you who were brave enough to preorder it (and trust met to get it to you) and excited enough by it to take it to your local yarn stores and show it off, thank you.  You guys rock.
It seems to have been more or less the most effective marketing ever.  You know how I know?  Because Unicorn posts a list of the bestsellers for the show.  Now this will totally sound immodest.  But you know what, at this point, I don't care.  The Knitter's Curiosity Cabinet made the top ten.  Out of the thousands of books that Unicorn carries, mine was number 6.  The things I said when I found out were not modest, nor were they decorous or seemly or even terribly ladylike.  They were, however, extremely heartfelt.  There may have been a tiny Snoopy dance of glee.
And with that, I think I need to end for today.  Brevity is apparently not my strong suit, and I really do need a restorative cup of tea and possibly a nap.  And with any luck, I'll be all caught up and back up to speed by tomorrow.
Mailing List
Want to hear when a new pattern comes out or something fun is going on? Sign up below!
Patreon
Want to support the content I create, get nifty bonus material for some of my favorite patterns, or get every new release delivered right to your inbox? Head over to patreon and sign up!
Search
Archives