Sock Yarn Studio Review (plus Giveaway)
Am I the only one to procrastinate with housework?  I swear my house is never cleaner and my dinners are never more delicious than when I have some sort of deadline looming.  A few weekends ago, when I should have been doing any of a host of things more immediate and pressing, I somehow decided to organize my stash.  This was egregious procrastination by housework.  It wasn't even something like dishes or laundry that really does need to get done on a regular basis.  The stash could have stayed a mess for another 6 months and no one would have called the health inspector on me.  It was really quite shameless.  But, in the process, I did learn two things.
First, I have a *lot* of sock yarn.  No, really, an awful lot.  It is by far the most common weight of yarn in the stash.  Second, most of it is simply not destined to become socks.  You see, I'm sort of obnoxiously picky about what I'll make into socks.  Goldilocks has nothing on me.  Of the three, 30-liter buckets of sock-ish yarn in the primary stash (I have primary stash, secondary stash, and backup stash), only one is destined to become socks.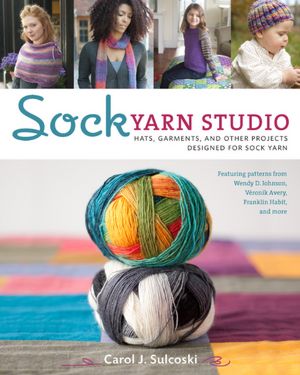 I don't think I'm alone in this.  Surely I'm not the only one with a bit (or let's be honest, a lot) of sock yarn that isn't going to become socks.  Which is why I'm sure that Carol Sulcoski's newest book, Sock Yarn Studio:  Hats, Garments, and other projects designed for Sock Yarn is going to be wildly popular.
The book starts off with an introduction to sock yarn with a special focus on the various ways yarn can be dyed (solid, multi, patterning, striping) and how this will effect your knitting.  This is something Carol can speak to with some authority, given that she's also written Knitting Socks with Handpainted Yarn.  This material is well worth reading and will help you feel confident when working from your stash (or making a selection at your local yarn store).
But of course the heart of a book like this is the patterns, and here you're in for an even bigger treat.  There are nearly thirty patterns, divided into one, two, and three (or more) skein projects.  This organization is genius because it lets you easily find just the sort of project you're looking for to use up that special skein.  The patterns are impressively diverse.  There are things you might expect like hats, gloves, scarves, and cowls.  But there are also shawls, sweaters, tank tops, pillows, and even a blanket.  The techniques are as diverse as the project and include lace, cables, fair isle, entrelac, and steeking.  The patterns have all the things you've come to expect from Carol's work, clear instructions, easy-to-read charts, lovely photos.  But there are also lots of helpful sidebars to guide you over any tricky bits (or point you towards more information if you've fallen in love with a technique and want to know more).
I think at this point it might be best for me to just hush and show you the pretty pictures.  This hat is from the one skein section and is the project I was lucky enough to contribute to the book, Vert: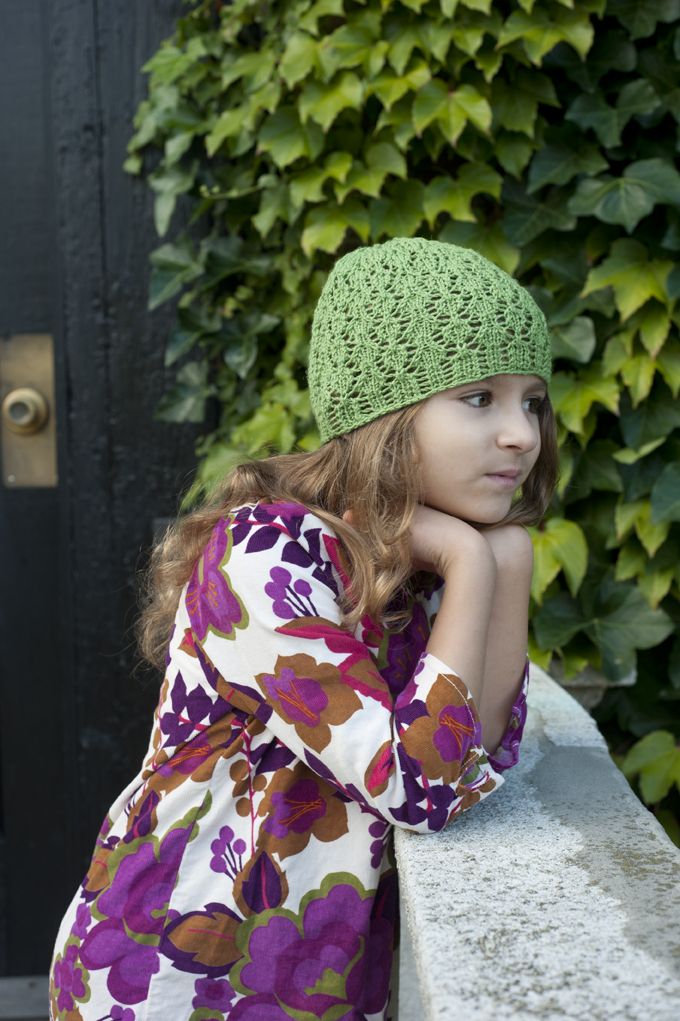 These Roxy Legwarmers are from the two skein section and may just be the cutest legwarmers ever: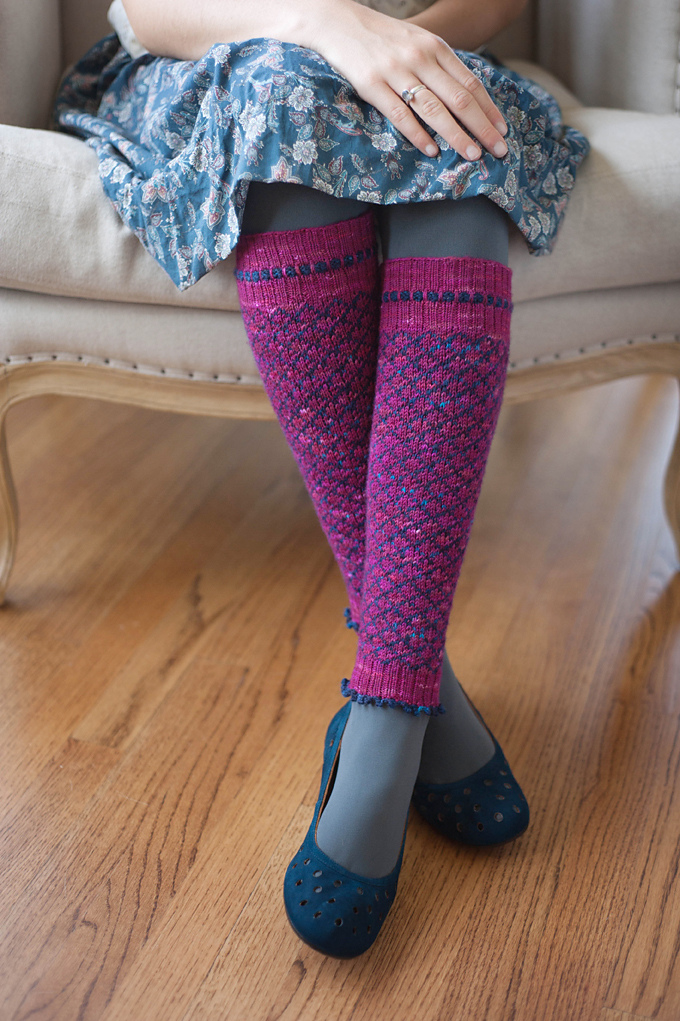 And from the three skein section, this lovely Bliss Capelet looks like the perfect thing to snuggle up with as fall really settles in to stay: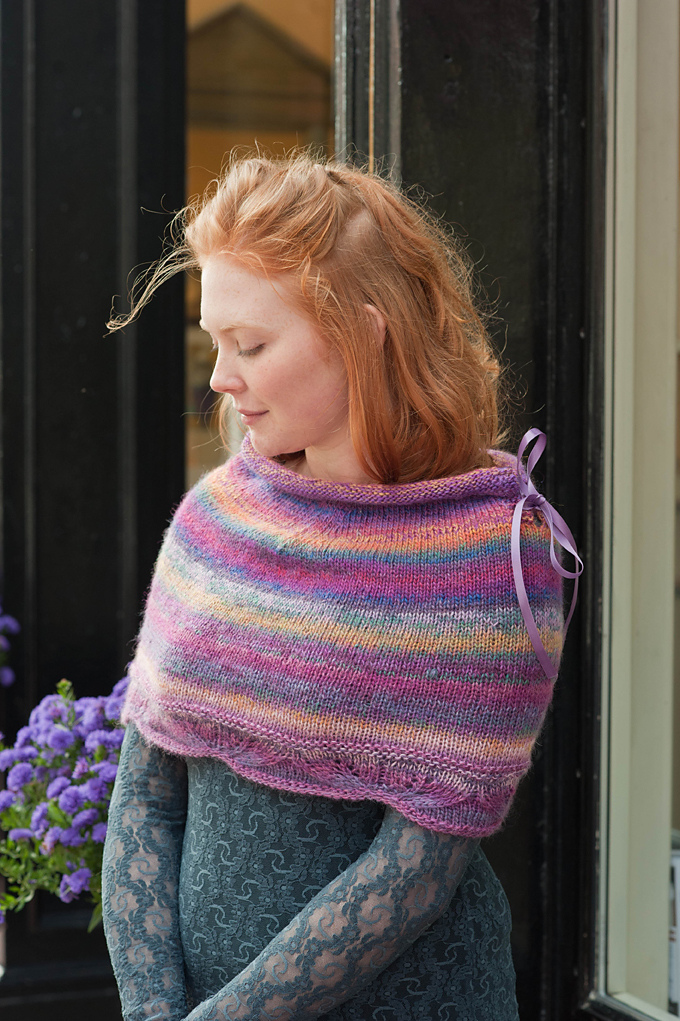 This is only a tiny sample of the projects though, so you totally owe it to yourself to head over to the book's Ravelry page and check the others out.
And, as a little encouragement to do just that, I've got a present for one of you.  I've got an extra copy of the book, and a skein of the Spud & Chloë Fine yarn in Cricket I used for Vert.  Just leave a comment here telling me which of the projects is your favorite, and I'll pick a winner later this week.  I'll leave comments open through Thursday, October 25th, so you've got a bit of time to make up your mind!
Oh, and lest anyone be concerned, the photos are all ©2012 Lark Crafts and used here with permission.
Mailing List
Want to hear when a new pattern comes out or something fun is going on? Sign up below!
Patreon
Want to support the content I create, get nifty bonus material for some of my favorite patterns, or get every new release delivered right to your inbox? Head over to patreon and sign up!
Search
Archives