In which the lighting is bad, but the yarn is good
Wednesday I got up early, dropped The Boy off at that pesky work thing, and ventured west.  A few hours later, I found myself in front of Webs.  Now, I've shopped on Webs' site and listened to their podcast for years.  One of my first thoughts upon realizing we were headed to Boston was hmmm, that's not far from Webs.  I was rather looking forward to going, and I was not disappointed.
Now, that's not to say it was quite like I expected.  I think I assumed it was something like the world's biggest, coziest yarn store with a bit of an overlay of fairy dust and magic.  Employees would all jet around on segways, possibly while wearing tiaras.  Any sock you brought in the door would somehow be four inches farther along by the time you left.  Yarn would wind itself into perfect cakes the instant you bought it, tangles would not exist, and having once been in the store, you'd never again be able to lose your place on a complicated chart. These may have been slightly unreasonable expectations.  The store isn't super high on the cozy factor (it might be a bit too big to pull off cozy), but wow is it well stocked.  It's very likely the biggest yarn store I've ever been in.  There is a front room (bigger than my house) that looks like a blown up version of your regular yarn store (yarn on show in cubbies and shelves, displays of buttons and notions, racks of needles).
Then there's a back room, which looks rather more like a warehouse or the self serve portion of an Ikea.  Not picturesque, but full to the brim of yarn at ridiculously low prices.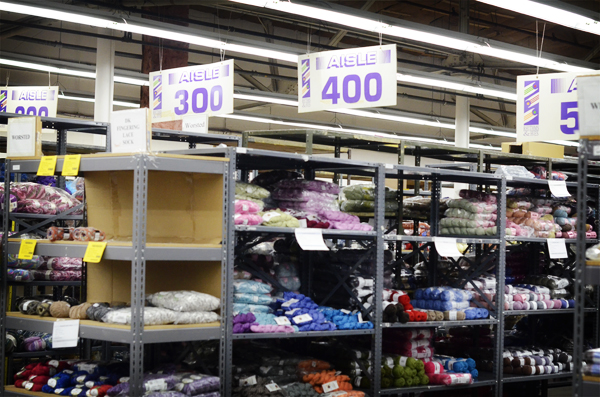 I may have indulged a bit.  Just a bit mind you.  It would be hard not to.  Truth be told, I'm not really even sorry.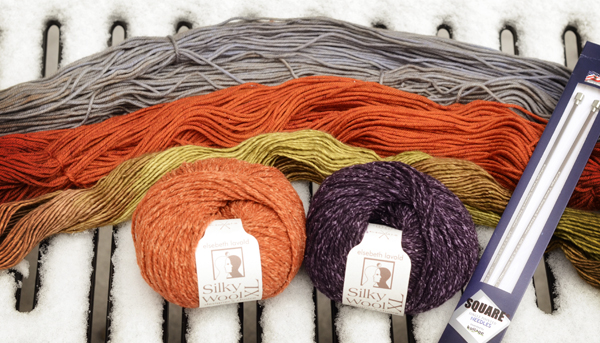 That's Elsebeth Lavold's Silky Wool XL (four each of purple and orange, destined to become socks for The Boy and me), Louisa Harding's Grace Wool Multy in a lovely sage/brown mix (three skeins, I feel a cowl coming on), Baah's Shasta in a freaky bright orange, it's a bit blown out here alas (two skeins for socks), and Dream in Color's Classy in a lovely slate gray (again two skeins, not sure what for quite yet).  Plus some Kollage straights (I'm working on upgrading my straights, I may have to get a bunch of sizes if I like these as much as I think I will). Now if you'll excuse me, I have a yarn hangover I need to sleep off.
Mailing List
Want to hear when a new pattern comes out or something fun is going on? Sign up below!
Patreon
Want to support the content I create, get nifty bonus material for some of my favorite patterns, or get every new release delivered right to your inbox? Head over to patreon and sign up!
Search
Archives