Sheep-y (review and giveaway)
When I set out to take this picture, it took me several minutes to assemble all the various bits.  I knew where the camera was, and I knew where the wee gray basket was (in the pile of photo props on the third shelf of the yarn closet, of course, where else would it be).  But one of the tins had moved to the drawer beside the bed.  The other was in the kitchen.  The third was in the bathroom.  And the lip balms were hanging out in my purse and desk drawer.  This is actually a very good sign.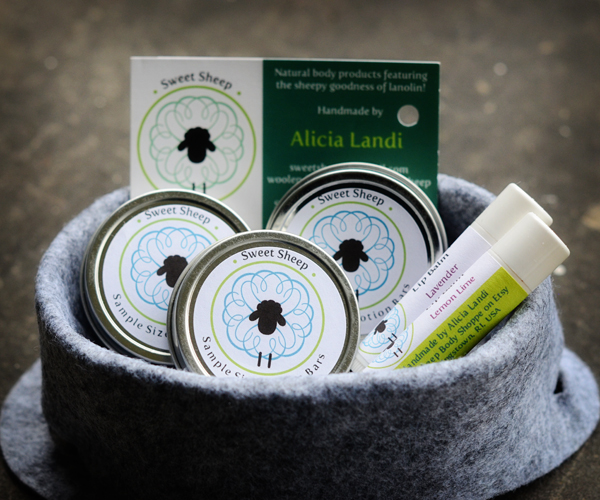 When Alicia Landi first wrote to ask if I'd like to take a look at her body bars and lip balms, I was a tiny bit hesitant.  I tend to be a bit particular about those sorts of things.  Some might say obnoxiously picky.  But I prefer particular.  It makes me sound ever so much more reasonable.  You see, I don't like most smelly things.  Or rather, I don't like smelly things that smell like floral potions…I don't mind smelly things that smell like actual flowers…or better yet, plants…or best of all, plants you eat.  But we chatted, and it seems Alicia feels much the same way as I do about these things, so we decided to try.
But I still had secret concerns.  Because in addition to having feelings about how things should smell, I also have feelings about how both body bars and lip balms should behave.  I actually want them to do opposite things.  I want my lip balms to go on and stay on.  I want to still feel it on there half an hour later, doing its job, keeping me all soft and smooth.  But for lotion, I want it to go on, sink in, and disappear.  I want to have the lovely soft skin feeling, but without the sense that there is something sitting on top of my skin.  I totally realize that these are contradicting goals, and I sort of don't expect them to actually work out.
But with Alicia's goodies, it totally did.  The lip balm lasts beautifully (and I say this as a lip biter, which I'm sure you are not, so it will likely work even better for you).  The body bars soak right in and leave me feeling soft but not sticky.  And both smell delicious while I'm using them, but don't have a strong lingering fragrance.  That's pretty much exactly what I'm looking for.  Add in the fact that they're both made with lanolin (hence the adorable sheep on the logo), and I'm smitten.
Alicia would like to send one of you a body bar and a lip balm of your own.  I tried the unscented (which has just the faintest hint of honey about it, I'm guessing that's from the beeswax, and I very much like it), the lavender, and the spearmint body bars, and the lavender and lemon lime lip balms (I told you I liked plants you could eat).  But because scents are such a personal thing, Alicia's going to let you pick your own.  Head over to the Sweet Sheep Shop and check out all the options (I suspect a bar of the black tea will be in my future).  Leave a comment here letting me know which one you'd like (and maybe either tell me I'm bonkers to be so picky or reassure me that you're picky too), and someone will get a delightful surprise in the mail!
Comments left between now and the end of the day (eastern time) Tuesday, October 7th, 2014 will be entered to win.  I'll pick a winner, contact them to get their addresses, and arrange to get the goodies to them.  If you're leaving a comment, be sure to use a real email address so I can contact you if you've won (I won't do anything with those email addresses besides notify the winner).  If I do get in touch with you, I need to hear back from you within 72 hours or I will pick a new winner and contact them.  And, because Alicia is very nice indeed, this is open to folks anywhere in the world.
Mailing List
Want to hear when a new pattern comes out or something fun is going on? Sign up below!
Patreon
Want to support the content I create, get nifty bonus material for some of my favorite patterns, or get every new release delivered right to your inbox? Head over to patreon and sign up!
Search
Archives