Increase Decrease (review & giveaway)
So that secret suspicion you had?  That feeling that maybe TNNA was an awful lot like a birthday party with lots of goody bags for everyone to take home?  Yeah, there's actually some truth to that!  One of the things that came home with me was a stack of lovely books to review and give away.  And today we're starting with Judith Durant's marvelous Increase Decrease: 99 Step-by-Step Methods.
The short version of the review is 'oh my woolly goodness, if you like to experiment with your knitting instead of just following instructions, go get this right now.'  I have more to say, but really, this is a nifty book, and I suspect you're going want it on your shelf.
So, do you remember how, some time early in your knitting career, you learned to yarn over, ssk, and k2tog, and all of a sudden you felt like the world was yours?  You were no longer confined to straight lines, you could make things swoop this way and that at will (or, if you were like me, sometimes not at will).  You had a new superpower and all was right with the world.
Then, somewhere along the line, you started wanting to tweak those increases and decreases.  You wanted stitches you could work on the purl side.  Or that you could work in a column of twisted stitches.  Or that were a bit showier (or a bit more invisible).  So you learned a few new tricks, or maybe a pattern taught you something fun somewhere along the way.  But I bet you always suspected there were even more options.
Well, you were right!  Judith Durant has gathered together a lovely pile of increases and decreases, provided clear and careful photos of each, and aranged them in a delightfully tidy fashion.  The result is a fabulously useful little reference guide.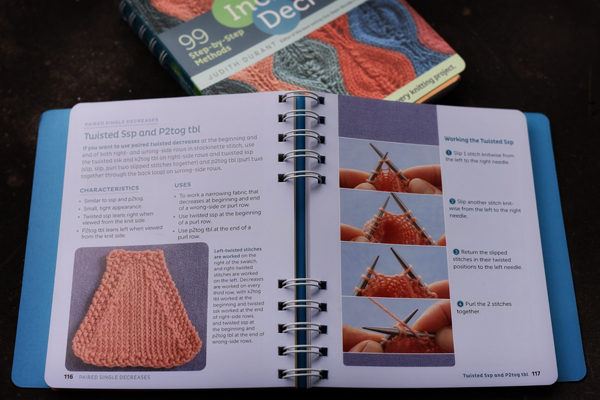 The thing that makes Increase Decrease so helpful is its organization.  Judith shows you how to work each stitch on both the right side and the wrong side of your fabric and, when appropriate, shows you how to work both left-leaning and right-leaning versions of the stitch.  So you get a right-leaning knit decrease, a left-leaning knit decrease, a right-leaning purl decrease, and a left-leaning purl decrease, all presented one after the other so you understand the relationship between them.  Then she does the same for twisted versions of all those stitches, and for lifted increases, and make one increases, and for oodles of other increases and decreases.  Grouping them like this helps you develop a better understanding of how your knitting actually works, which makes you a more confident and resourceful knitter.
And of course it's not just single increases and decreases (where you create one new stitch or turn two stitches into one).  She's got options for twos and threes and more.  The section on working increases and decreases while maintaining larger stitch patterns clarifies a subject an awful lot of folks seem to dread, and the section on decreasing a two-color circular pattern is a special treat (I swear any of the swatches she shows there could be turned into adorable hats).  This really is a marvelously thorough guide.
And while it doesn't cover every conceivable combination (twisted centered double decreases are the one thing I really missed), it gives you the pieces to put together the things it doesn't cover.  You could easily spend an hour or so walking through all the stitches in one section (say, the lifted increases or the double decreases) and come away a stronger knitter.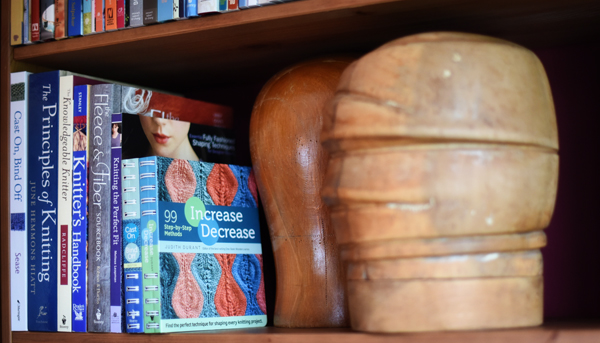 This is going to have a permanent place on my technique shelf.  It will live right next to Cast On Bind Off, which is another offering by the same publisher in the same handy spiral bound format.  (I dearly hope they do a whole series like this, perhaps cables should be next!)
And I've got an extra copy to send to one of you to add to your shelf.  Just leave a comment telling me where you are on your increase/decrease adventure.  Are you happy with a little handful of techniques?  Are you ready to learn a few more?  Or do you get an unreasonable amount of glee from picking exactly the right decrease for a given situation?
Comments left between now and the end of the day Saturday, July 18 will be entered to win a copy of the book.  I'll pick a winner, contact them to get their addresses, and arrange to send yarn their way.  Be sure to use a real email address so I can contact you if you've won (I won't do anything with those email addresses besides notify the winner).  If I do email you, I need to hear back from you within 72 hours or I will pick a new winner and contact them.  Sorry, but I can only ship physical prizes to US addresses.
The image of the book's cover at the top of the post belongs to Storey Publishing and is used with their permission.
Mailing List
Want to hear when a new pattern comes out or something fun is going on? Sign up below!
Patreon
Want to support the content I create, get nifty bonus material for some of my favorite patterns, or get every new release delivered right to your inbox? Head over to patreon and sign up!
Search
Archives