Shopping list
Ok, the wee tiny owl (the temptation to call him Owlfred is very nearly overwhelming) is just about ready to come out (as always, if you want to be sure you hear when he does, make sure you're on the mailing list).  But before he does, I wanted to spend a little time doing a supply rundown so you can have some ideas about what you will want to have on hand if you want to make one for yourself.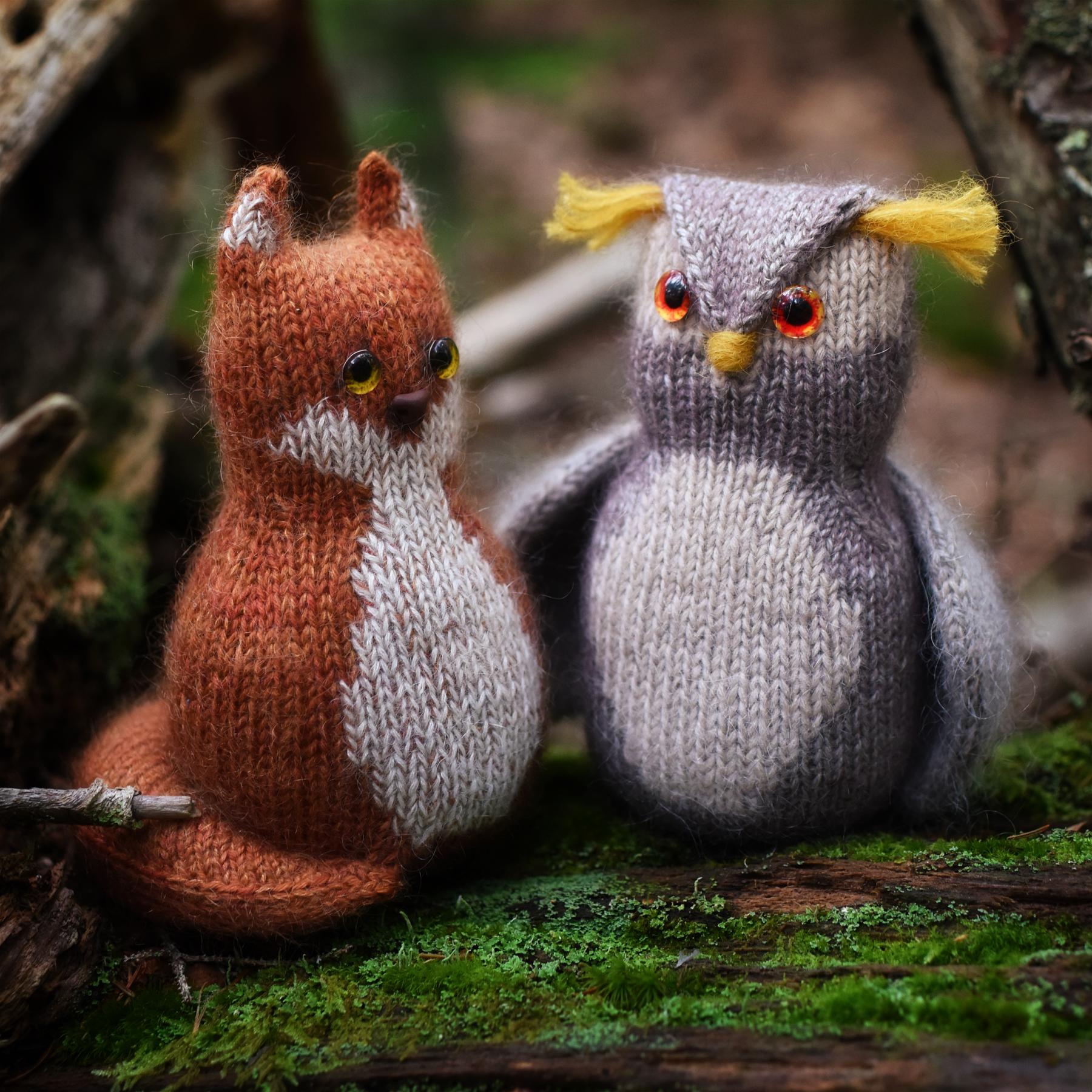 Now first, don't get overwhelmed.  All you really need is yarn, needles, and something to stuff it with.  All the other things are optional.  But I know some of you like to prepare, so I wanted to run through it all just to be thorough. Let's break this down by categories.
Yarn
For the body, head, and wings, I used a strand of fingering-weight wool yarn held alongside a strand of lace-weight silk and mohair yarn.  You don't have to use two yarns together, I just liked the fuzzy effect and subtle color variation I got from pairing them up like this. You could absolutely use a fatter yarn for a bigger owl (in fingering yarn, mine is about 5.5 inches tall), or use a fuzzy yarn and so get that fluffy texture with out having to double up your yarn. And you can absolutely use different colors of yarn on the wings and body. I used less than 100 yards of each of these yarns.
I also used a doubled up strand of lace-weight silk and mohair yarn to add on the belly and face.  You may want more strands (or a thicker yarn) for your embroidery if you're using fatter yarn for your knitting. I used less than 100 yards of this yarn.
Finally I used a few scraps of a nice fuzzy contrasting yarn for the beak and ear tufts. I used less than 10 yards of this yarn.
The gray owl uses Seven Sisters Arts Apex in Natural. On the body, it's held double with Berroco Aerial in color 3416. On the wings it's held double with KnitPicks Aloft in color P865. The face and belly are embroidered with KnitPicks Aloft in the color P865.
The brown owl uses Seven Sisters Arts Meridian in the color Vireo. On the body, it's held double with Biches & Bûches Le Petit Silk & Mohair in Gray Brown. On the wings, it's held double with Lang Lace in the color 0094. On both owls, the beak and tufts are made with Rowan Alpaca Classic in the color 00113.
Sneaking in with the yarn info for the fox too, since the rest of this is the same between the two patterns.
The brown fox uses Seven Sisters Arts Meridian in the color Bronze, the red fox uses the same yarn in the color Curry. On both foxes, it's held double with Berroco Aerial in the color 3433. The face and belly and ears are embroidered with Lang Lace in the color 0094.
I highly recommend checking out your scraps bin, especially for the tiny bits.
Tools
You don't need anything weird!  You'll want whatever needles let you work in the round over a small number of stitches.  For me that's dpns, but you can also use circulars if you prefer. If you like using a stitch marker to keep track of the beginning of your round, you'll want one of those too.
You'll need a needle to weave in your ends and do some duplicate stitch (I like blunt ones for this). It's optional, but I find it helpful to have something to use as a darning egg when I'm duplicate stitching. I've used lightbulbs, vitamin bottles, easter eggs, and of course actual darning eggs in the past. I strongly strongly suspect you've got something sitting around the house that will work great (and it's optional, so do not freak out if you don't happen to have something).
And finally, you'll want a few bits of scrap yarn to hold stitches while you're off doing other things and scissors to trim your ends when you're all finished.
Stuffing
There are a frankly staggering number of different things you can fill your owl with, and you should totally use whatever you like best.
I used weighted plastic pellets for mine because I wanted him to be heavy and substantial (and I feel like the plastic pellets help him stand up better on his own). I like this brand (amazon links are affiliate links, which is one of those goofy things I'm required by law to say, so sorry about being a weirdo). One bag will easily fill several critters. Though if you don't want to use quite as many pellets, you can totally do what I did and take up some of the space in the body with a plastic easter egg (which was also super handy as a darning egg when I was embroidering). Again, it's totally totally optional, do not freak out if you don't have on hand, you don't need it if you don't want to use it.
You can also use regular polyester stuffing or wool roving if you want a softer, more snuggly buddy. My preference is for wool over polyester because I think it doesn't poke through the fabric quite as much, though again, I'm a huge fan of using what you have on hand, so if you've got an old pillow you're throwing out, feel free to tear it apart and use it.
If you use all natural yarns and other materials (absolutely no metal or plastic), you could also fill with this with dried rice or beans or lentils and use it as a microwaveable handwarmer.  As always, use a bit of common sense (watch it while you're microwaving it, start with a short amount of time so it doesn't get too hot), but it totally works. I found this post with some useful info for what you can use as filling if you want to try this.
You can also use a bit of lavender or catnip and end up with something that smells good to you or your furry overlords (this is a good time to mention that animals are occasionally shockingly destructive, and you should always keep an eye on your pets if you give them any sort of knitted toy and take it away from them if it gets damaged, eating yarn is no good for anyone).
Eyes & Noses

I'll start by saying adding eyes at all is totally optional. These look adorable with just the knitted bits, no eyes needed, so if you're feeling stressed about them, you can absolutely skip them!
That said, if you want to add them, you have choices.  If you're giving this to young children or pets, the safest choice is to leave the eyes off or embroider them, either with yarn or embroidery floss, so that's what I'd recommend. If you really want to use eyes, the next safest choice is safety eyes. You can find those online or at big craft stores. Be sure to read and follow the directions that come with your safety eyes.
If you're not giving this to a child or an animal and are instead making it just for your own amusement or that of other adults (cough, that's me, cough), you can use fancy, glue in eyes.  These are completely unsuitable for children or pets and also completely gorgeous.  I found my eyes and noses on etsy from a seller called The Eye Lady. I indulged in a small pile of them, and I love them dearly (mine are the 8mm and 10mm sizes). Though there are less fancy versions available on amazon if you're so inclined (and the variety packs can be really nice for figuring out which size you like best before you buy the fancy ones). You'll need a tiny dab of a strong glue to hold them in place (one more time, just for anyone who missed it the first time, glue in eyes are absolutely not safe for children or pets, so only use them if you're making this as a decoration, not a toy).
One more time, just in case you're feeling nervous, you do not need any of this extra stuff.  All you really need is your basic knitting supplies that you need with most every project (yarn, needles, basic notions to manage your ends) and something to fill them with.  I'm just going over the extra stuff in case you like to be super duper prepared!
So go, find your yarns, and get ready, because this little buddy should be out next week!
Mailing List
Want to hear when a new pattern comes out or something fun is going on? Sign up below!
Patreon
Want to support the content I create, get nifty bonus material for some of my favorite patterns, or get every new release delivered right to your inbox? Head over to patreon and sign up!
Search
Archives