Short form, long form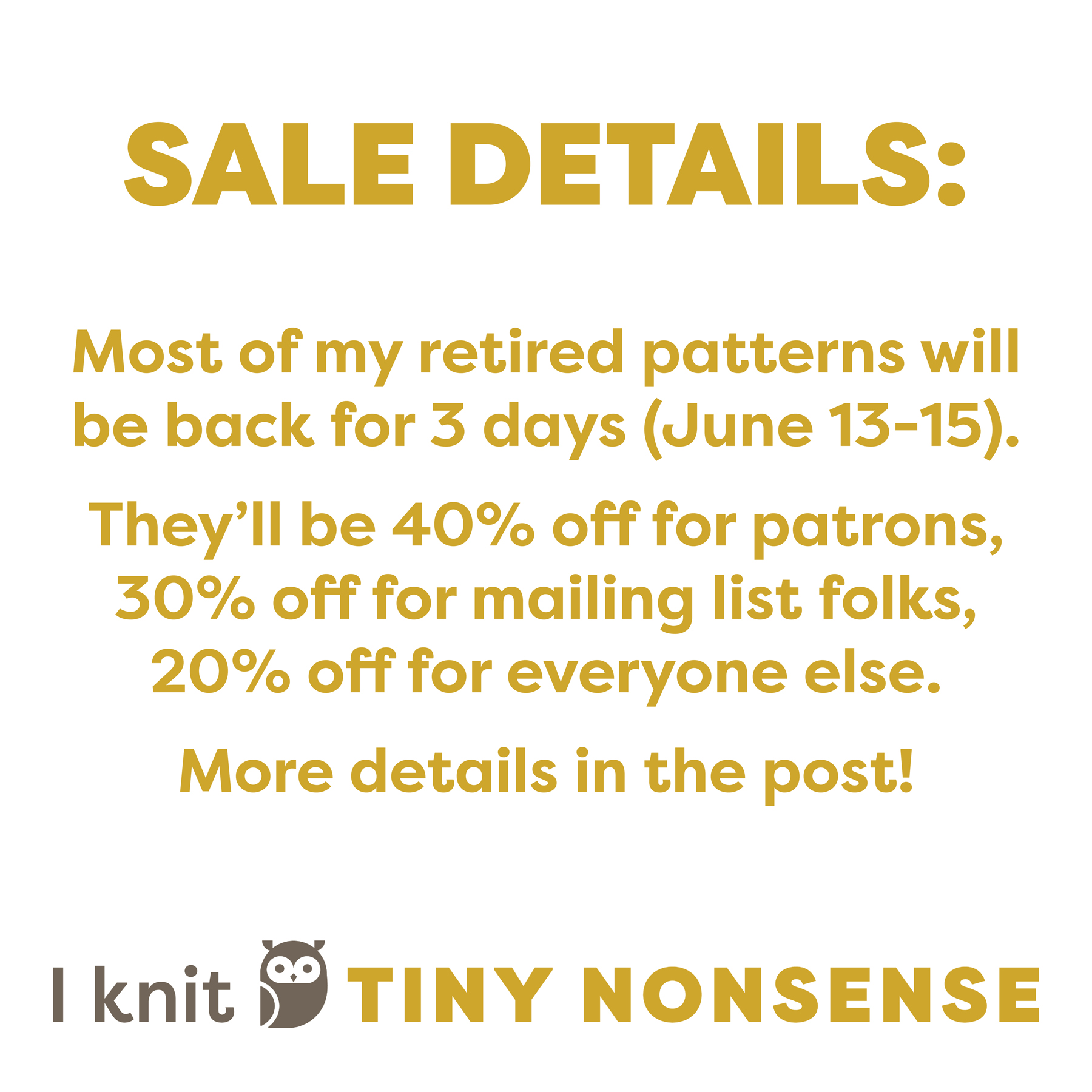 Many of the retired patterns are coming back for a few days, but before they do, I wanted to run down all the details so you can plan (and so I can feel like I've preemptively answered any questions).
Short version (this should cover like 90% of everyone's questions):
– Many of my retired patterns will be available from Tuesday, June 13 2023-Thursday, June 15, 2023.
– They will be available on both ravelry (you can browse the old patterns there now if you're so inclined) and payhip.
– When the sale starts, I'll share a code for 20% off the retired patterns. Mailing list folks will get a code for 30% off, patrons for 40%, so keep an eye on your inbox if you're on either of those!
Long version (because I have the precise flavor of Spicy Brain where I hate the thought of someone misunderstanding something, so I tend to over explain, but wow do I not think most of you want this level of detail):
– Why am I doing this? Bringing patterns back for a few days, once or twice a year is how I strike a balance between that thing where I found trying to keep a massive back catalog up to date unspeakably, paralyzingly overwhelming (and so I wanted to take everything down forever) and that thing where some folks just wake up one day and realize their life is not complete without a knitted peach (and so someone somewhere wants me to keep everything up forever). Having a smaller catalog definitely makes me feel better, so I'm not going back, but this is a good compromise!⁠
– Why are only some patterns available? I've been writing patterns since 2009, and I learned a bunch of stuff along the way. I'm ok bringing back patterns where my only real complaint is cosmetic (like where I don't love the photos or I wish I'd been better at layout), but some of the earliest ones are a little too rough to see the light of day, even for something like this, so they are staying hidden away. A few others have rights issues (like if they were in someone else's books), so I don't have the ability to make them available.
– What's up with the bigger discounts? I always do a bigger discount for folks who let me send them email/like to hang out together on patreon. They put up with more of my nonsense, so it seems only fair! Folks on the mailing list will get a code for 30% off sent to them when the sale starts. If you're on the mailing list before the message goes out, you'll get it. Alas, there's no way to see messages sent before you signed up, so you will need to be on the list by the time the message goes out in order to get it. Patrons will get a code for 40% off (plus a little something else nifty if I can get all the pieces worked out, which I'm pretty sure I can) sent to them when the sale starts. Patreon does let you see posts from before you joined, so you'll be able to see that, even if you sign up after the post went up.
– Did you forget about time zones? Nope! Turning the patterns on and off is a super manual process and involves making changes on hundreds and hundreds of individual pattern pages on multiple websites (that's a big part of what I meant when I said managing a huge back catalog involved a shocking amount of admin work). So I'll spend Monday turning them on, and Friday turning them off. Which means 'Tuesday-Thursday' is really 'some unknown point on Monday-some unknown point on Friday,' and also that 'through Thursday' should work, no mater your time zone (because I won't start taking them down until Thursday is finished everywhere).
Mailing List
Want to hear when a new pattern comes out or something fun is going on? Sign up below!
Patreon
Want to support the content I create, get nifty bonus material for some of my favorite patterns, or get every new release delivered right to your inbox? Head over to patreon and sign up!
Search
Archives