Retreat, Mind the Loot
The goal of this retreat is for people who are working on self publishing knitting books to get together and help each other.  Well no, it's a bit broader than that.  We've got a few things that aren't exactly books, and a few things that aren't exactly knitting.  But the gist of it is 'fiber' and 'stuff that until recently was done only by big publishers (or maybe not even done at all) but is now being done by individuals.'  The technology is changing so fast that trying to pin it down more precisely than that gets tricky.  If you want to see the list of projects we've got out now, you can always look over here.
With a focus like that, you can likely guess that we're a pro yarn bunch.  Very pro yarn.  Part of the fun every morning was looking over to your neighbor's knitting bag and seeing what was on the needles that day.  So you can imagine the amount of gleeful squeaking when it turned out that several yarn companies had graciously sent us some of their yarn for us to get to know.  I'm going to ask that you lean in the 'refined delight' direction rather than in the 'shameless scramble' direction as you imagine, ok?  I promise it was all very decorous.  There was sharing and playing nicely and being generous.  There were also squeals of delight, but there's no shame in that.  I walked away with several treasures.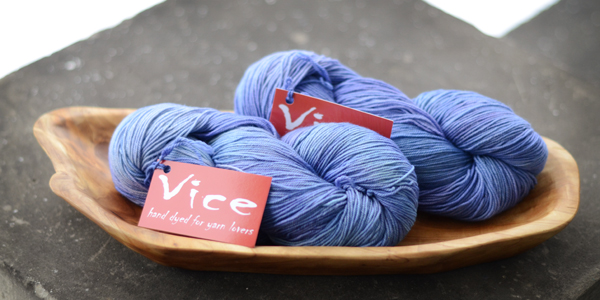 The first is Vice's Carnal in the color Waterlily.  Now you guys know just how much I love Vice.  It's in the next book, it's on my needles right this minute, and it may well have taken the coveted favorite fat sock yarn spot in my personal yarn hierarchy.  This color is that weird 80s periwinkle shade re-imagined and made 1000 times more awesome.  It somehow both reminds me of the colors of my childhood and feels completely modern at the same time.  I adore it.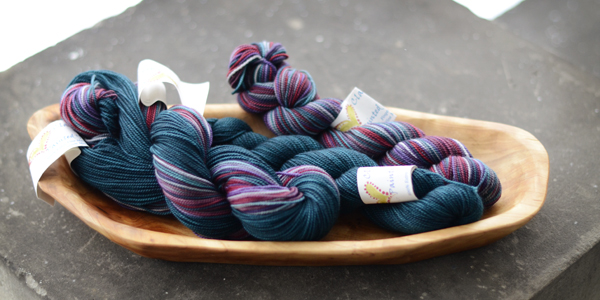 Next up is ClaudiaHand Painted Yarns Fingering Weight in Prussian Soldiers (that's the solid) and Giraffe (the multi…no idea about the name, there's no brown or orange to be seen).  Now if you've been here for a while, you know I can be, um, color challenged.  I tend to lean towards the semi solids more than the multis.  But, and this is a big but, when I can find a multi that plays well with a semi solid, I feel so much more confident.  It leads to playing.  And I think something fun will happen here, look how well those two work together!  I'll update you when it gets on the needles.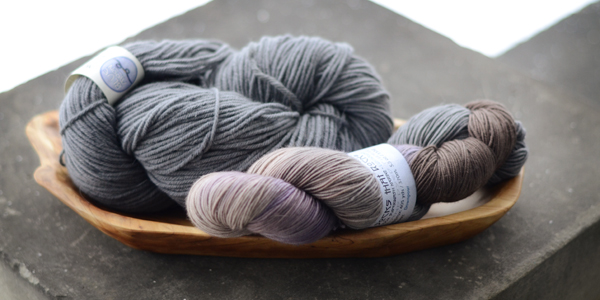 And last but never least, Blue Moon Fiber Arts Mopsy in Deep Unrelenting Gray and Socks that Rock Lightweight in Downpour.  You know gray is near and dear to my heart.  These are both absolutely my colors.  They leapt right out of the pile and twined themselves around my neck and whispered in my ear that they were mine and they would be coming home with me.  I don't disagree with talking yarn (it leads to unsightly arguments), so here they are home with me.  I'm making plans already.
Mailing List
Want to hear when a new pattern comes out or something fun is going on? Sign up below!
Patreon
Want to support the content I create, get nifty bonus material for some of my favorite patterns, or get every new release delivered right to your inbox? Head over to patreon and sign up!
Search
Archives