The Proper Tools (with Eucalan Giveaway)
This Friday and Saturday, I'll be off clambering over buildings, perching innocent friends on precarious railings, and spending way too much time lint rollering other people.  In other words, it's the photoshoot for KCC3.  That means the last few days have been a giant blocking extravaganza here at  Chez Violence.
Just because I'm currently going a bit crazy doesn't mean you should suffer though.  In fact, I've actually got a little treat for you.  Read on for a giveaway of one of my favorite blocking goodies.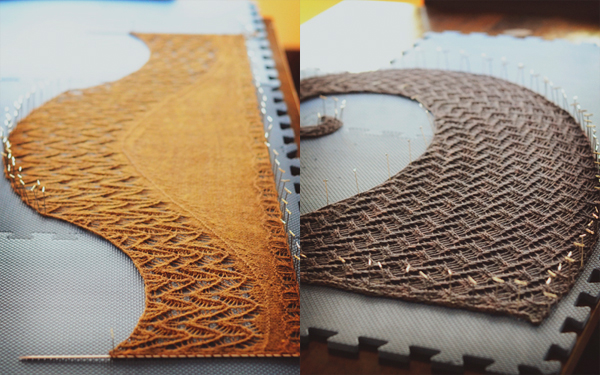 (Knitting pictures kept intentionally tiny because while I love you all, I don't want to give away all my secrets just yet.  I'm sure you understand!)
So all this blocking has left me really smitten with three blocking tools.  The first is my blocking mats, which I have talked about before.  I have these, and I love them because they're both cheaper and bigger than the ones sold specifically for knitting.  I was able to block both of these shawls at the same time on just one set of six tiles.  I've had mine for over a year now, and they've held up quite well.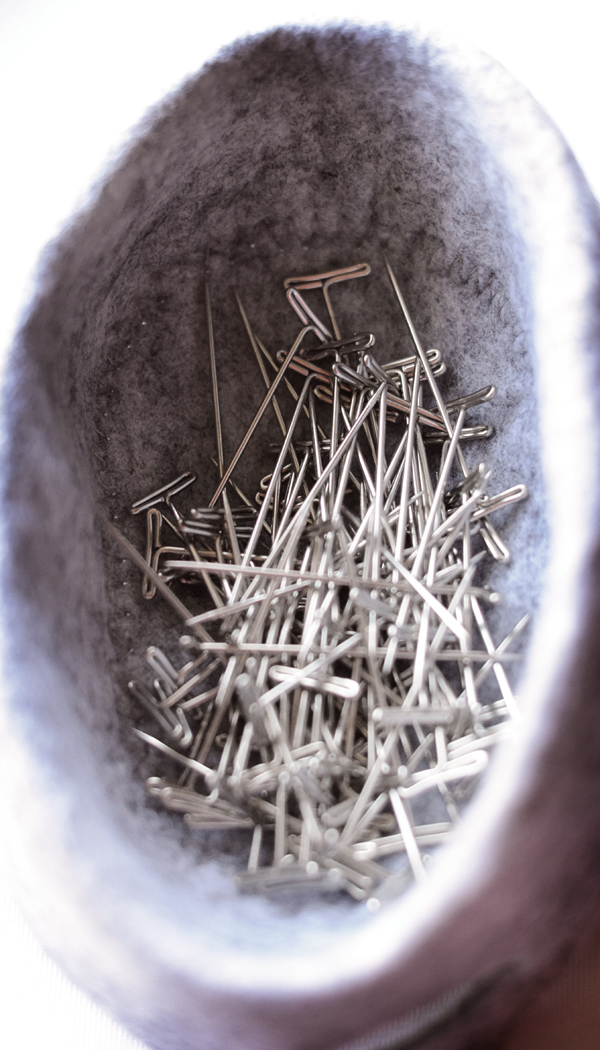 The second is t-pins.  These are a new addition to my blocking arsenal.  I had been using regular sewing pins, but I never quite had enough, so I thought I'd augment my stash and give t-pins a shot.  Holy smokes are they ever better.  They're much stiffer and sturdier, so you can put a good bit more force on them.  They're also a tiny bit blunter, so you (or at least I) don't stab yourself quite as much as you reach for the next one.  I'm completely taken with them, and I've ordered two more boxes (these are the ones I have), because the two shawls you see here used every single pin from the first two boxes.
My third blocking friend is a lovely bottle of some sort of yummy smelling wool wash.  This time, that wool wash is Eucalan in their new Wrapture scent (which they were kind enough to send me to try out).  Now some folks will say this is more of a luxury than a necessity.  I suppose the good smell part might possibly be considered a luxury, but I'm not sure the wash part is.  I don't know about you, but I don't always manage to wash my hands before I sit down to knit.  And I've been known to wad my works in progress up and shove them in all sorts of places (cupholders, purses, movie theater seats) that might not be the cleanest spots around.  By the time a project (especially a big project) is done, it's sometimes ready for a bath.  And even if your project is not quite dirty (because I'm assuming you guys are all much more tidy than I am), pretty much every project will benefit from a nice wash to get any leftovers from the spinning/dyeing process all whisked away before you start using it.  Eucalan's no-rinse formula is marvelous for that.
As for the yummy smelling bit, I know that will be a matter of personal preference.  I'll be totally honest and say that I was a bit leery when I heard this new scent was jasmine based.  I tend to wrinkle my nose and make funny faces at a lot of floral scents.  But I found myself pleasantly surprised.  It smells like the actual flower, not like your great aunt Mildred's perfume (which I'm guessing is because Eucalan uses essential oils, not synthetic fragrances).  I'm not quite sure it will replace the Eucalyptus scent as my personal favorite, but it is a lovely addition to the line up.
The nice folks at Eucalan have three bottles of their new Wrapture scent to send off to three of you.  If you think one of them should find you, just leave a message telling me what you'd most like your freshly-washed woolens to smell like.  You can leave a comment through Sunday night, and I'll announce a winner on Monday!
Meanwhile, if you'd all do your best to make sure the weather is photoshoot-suitable (cool, overcast, not too windy) in these parts tomorrow and Saturday, I'd very much appreciate it!
Mailing List
Want to hear when a new pattern comes out or something fun is going on? Sign up below!
Patreon
Want to support the content I create, get nifty bonus material for some of my favorite patterns, or get every new release delivered right to your inbox? Head over to patreon and sign up!
Search
Archives