The Reference Shelf (review and giveaway)
Remember when you first started knitting?  You probably had a ball of yarn, a pair of needles, a pattern, and maybe some sort of basic guide (online or on paper) that walked you through a few simple stitches.  Then, once you realized you liked this tying fancy knots thing, you started acquiring stuff.  Yarn and needles sure, but also patterns.  I'm guessing you eventually got around to having lots and lots and lots of patterns.  The next step, at least for me, was to begin acquiring what I always think of as The Reference Shelf (I hear the capital letters in my head, and, if you're prone to acquiring these sorts of books, you probably do, too).  These are the books you turn to when you want to know a host of different ways to make a buttonhole or how to do that fiddly decrease on the wrong side of your work or which cast on to use or what to expect from a particular fiber blend.  They are the books that deepen your knowledge of a subject in a way that individual patterns or even pattern collections really aren't trying to do.  They are the books that you go to when you really want to know how knitting works, rather than just make an awesome hat.
And now, Lara Neel has created one of these reference books.  It's called Sock Architecture: Heels, Toes, & Techniques for Knitting Awesome Socks, and, if you're the type of knitter who wants to understand your socks better, it deserves a place on your own personal Reference Shelf.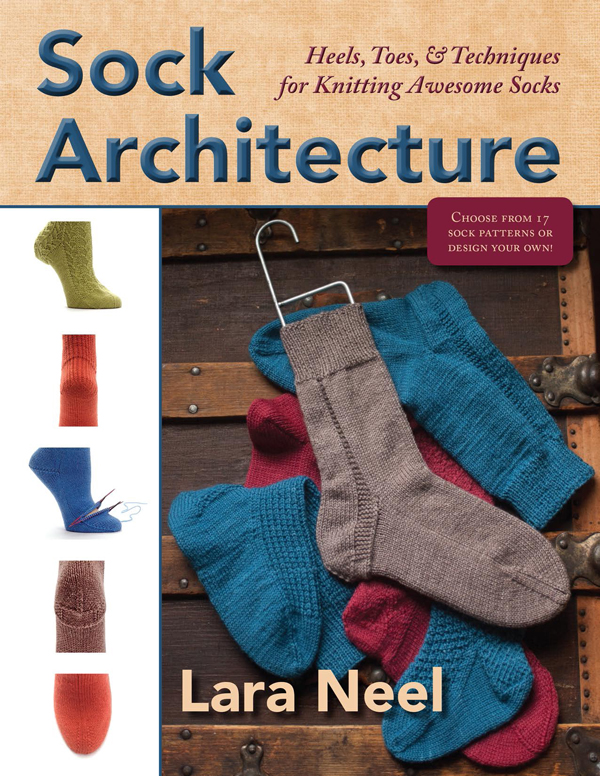 In Sock Architecture, Lara starts by walking you through sock history and anatomy.  Read this carefully, and you'll know what the heck people mean when they say "high arches" or "square toes" or any of the other mysterious things they say about their feet, how to measure your feet to see where they fall in the spectrum, and what to do with that information.
Next she gives you detailed instructions for dozens of different heels and toes (of course for both top-down and toe-up socks).  This section makes the book a real treasure.  Sure, you can poke around on your own and find different heels and toes.  But Sock Architecture brings a huge number of them together in one place, clearly and consistently explained, with pictures of what they look like, and information about why you might pick one over the other.  There isn't anything else out there that does that.  If you're interested in experimenting to make your socks fit really well, then this is just the resource you've been looking for.
Finally, to round things out, Lara gives you 17 patterns on which to try out your new techniques.  I will mention that this is a reference book, and the patterns are presented accordingly.  That means clear, sharp photos that show off the relevant features of the socks (rather than evocative photos of beautiful girls lounging on picturesque stone walls with misty fields in the background…and oh yeah they have on some cute socks).  But really, in this context, that's exactly what you want.
Reading this book, and playing with these variations for toes and heels, will make you a better sock knitter.  You'll find yourself ready to make socks that really fit, whether that means modifying existing patterns to incorporate these techniques or designing your own socks from scratch.
And Lara wants to help one of you get started right away!  She's offering a free electronic copy of the book to one of you.  If you think it should be you, leave a comment telling me what fit issue gives you the most trouble with socks.  Do you wonder how tall you should make your heel flap?  Do you never quite like the way a standard toe fits you?  Are you just hesitant to deviate from the pattern at all?  There's no right answer, just tell me what your experience has been.
Comments left between now and the end of the day (eastern time) Tuesday, September 23, 2014 will be entered to win.  I'll pick a winner, contact them to get their addresses, and arrange to get the book to them.  If you're leaving a comment, be sure to use a real email address so I can contact you if you've won (I won't do anything with those email addresses besides notify the winner).  If I do get in touch with you, I need to hear back from you within 72 hours or I will pick a new winner and contact them.
Mailing List
Want to hear when a new pattern comes out or something fun is going on? Sign up below!
Patreon
Want to support the content I create, get nifty bonus material for some of my favorite patterns, or get every new release delivered right to your inbox? Head over to patreon and sign up!
Search
Archives