Goldilocks and the ever-increasing number of pompoms
So you might remember a while ago I went and got Very Excited About Pompoms.  As often happens when I get excited about something, I got some tools (I'm a very firm believer in having good tools).
I found myself in possession of both the large and small pompom makers from Clover (as always, amazon links are affiliate links).  They work great…they totally make tidy pompoms with relatively little swearing.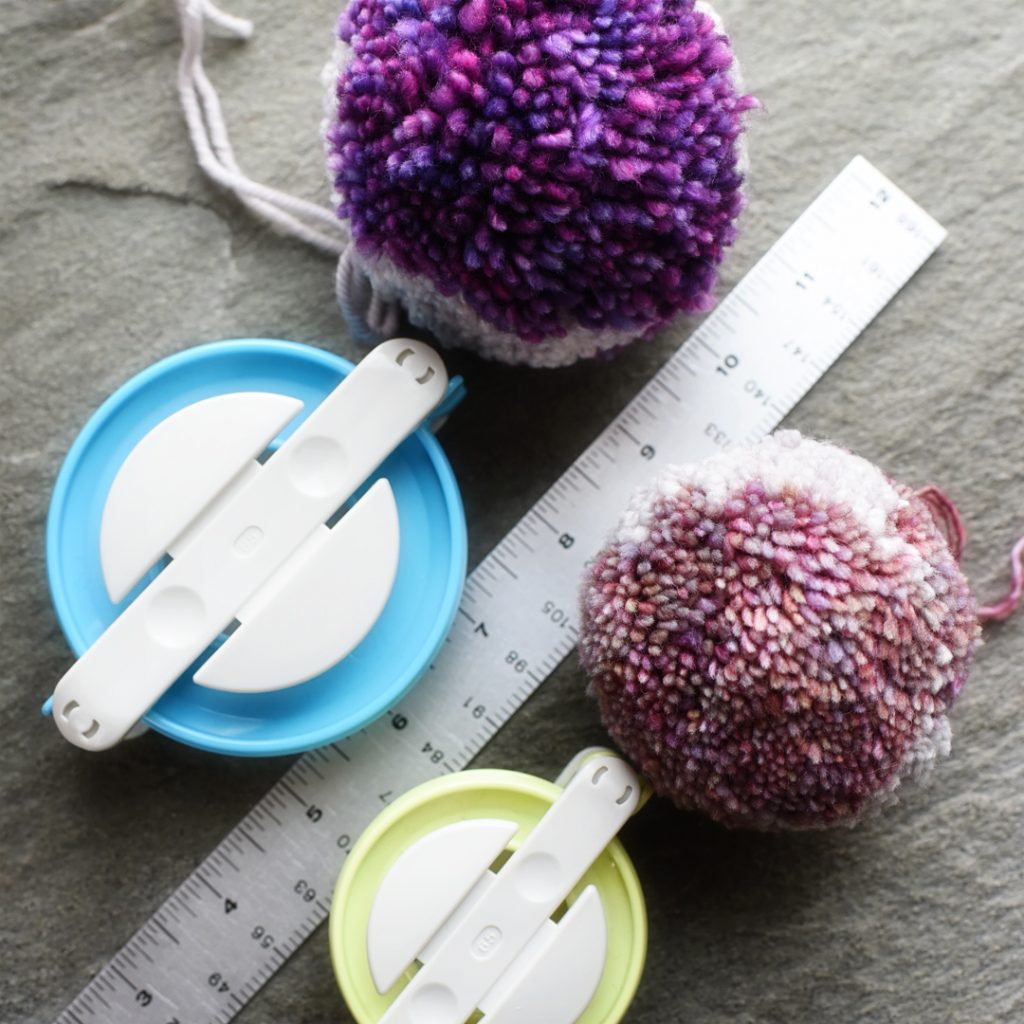 But here's the thing…the pompoms that the large set makes are, well…large.  Rather larger than I can sport on the top of my hat and still consider myself a proper grown up.  And the ones the small set makes are, alas, a bit too small.  What I needed was something in between.
Well, if you look closely at middle of the white part of the makers, you'll see some little numbers.  Those give the diameter of the pompom maker in millimeters.  So the ones in that top picture are 85, 65, 45, and 35 mm across.  And what I really seemed to want was a 55 mm size.
And yes, you totally could make a larger pompom and trim it down, but that takes a surprising amount of extra yarn, and it relies on my ability to evenly trim down the thing and maintain the sphere.  That would do away with the 'relatively little swearing' benefit I mentioned above.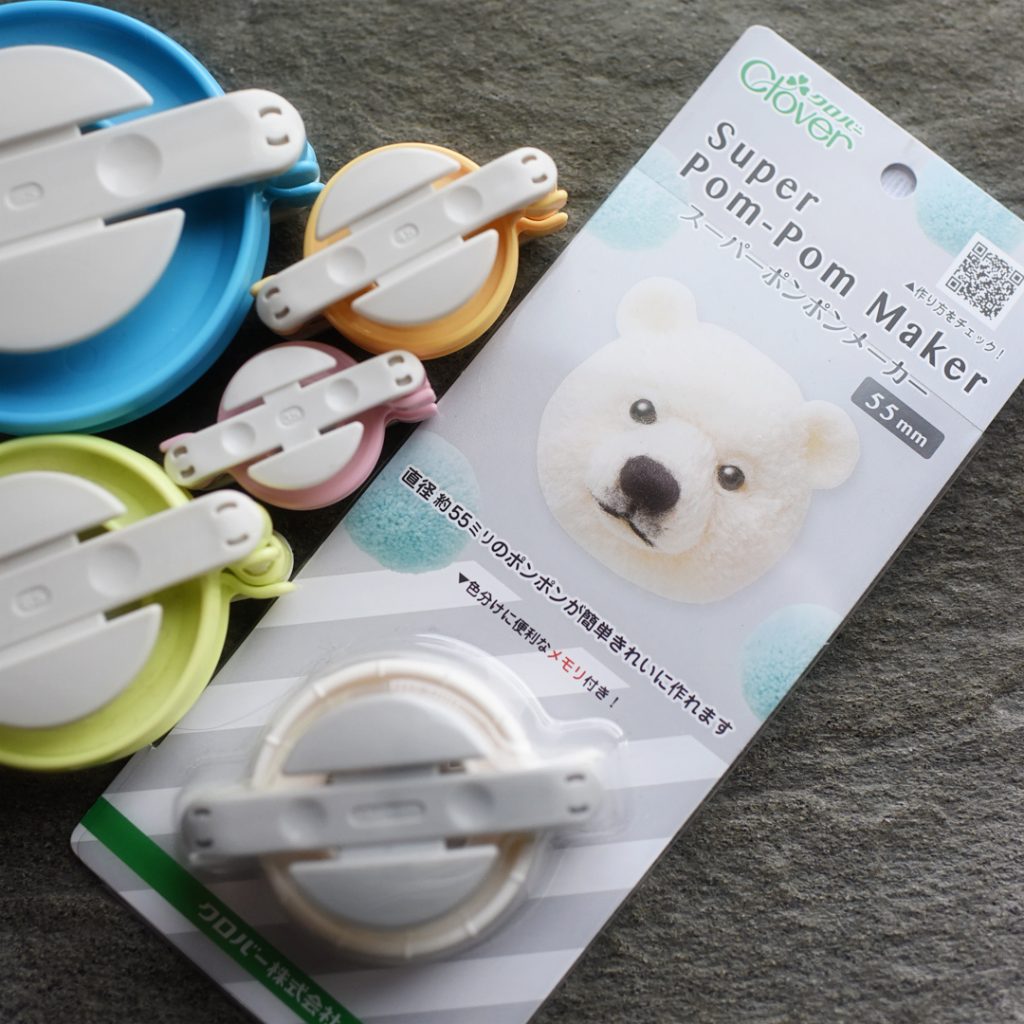 So instead I did a bit of googling, and behold, such a creature totally exists.  Now, I'm not at all sure why, but it seems like Clover only makes this size for the Japanese market.  But that's fine with me, amazon sends it to me just the same!The model number seems to be Clover 58-641 if you want to try and track down your own.  I found mine here, but as of when I'm writing this, that listing is sold out…it also seems to come in this kit that includes some needle felting supplies.  There's a different brand's set here that includes a 55mm size and looks remarkably similar. I don't have these exact ones, but they do have that size if you want it right this very second.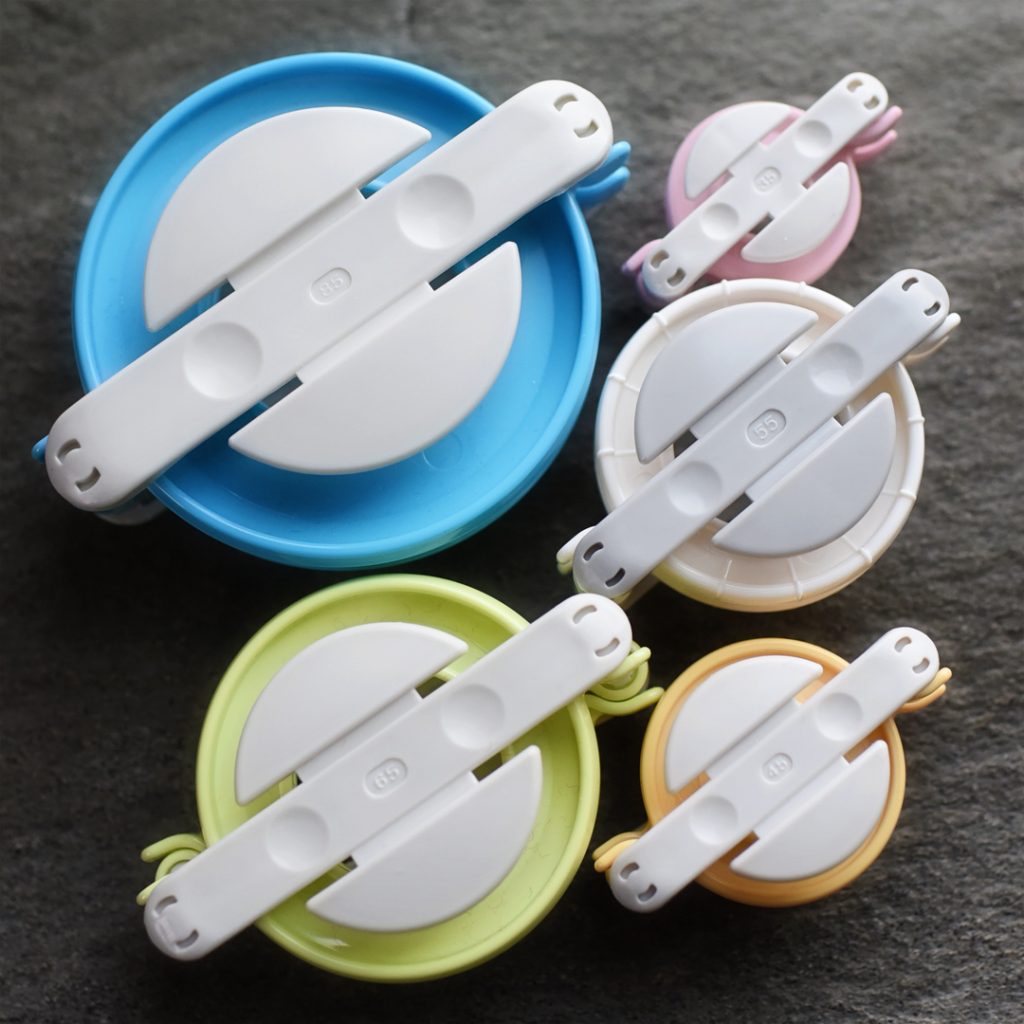 It is almost the same as my other ones, just with the addition of ridge lines dividing the circle into 30° sections.  This is genius, and I suspect I'll be drawing similar lines on my other makers.  They come in handy for making multi colored pompoms or getting all crazy with the cheeze whiz and making flowers or ridiculously adorable little animal faces.  Not that I'd be into that sort of thing.  Nope, not at all.  I'm totally a grownup and would never be that distracted by shameless cuteness.
And the pompom festivities are not over.  I believe I've found the best way ever to attach a pompom to a hat so it stays on firmly (and isn't floppy), but can be removed whenever you're not feeling the pompom magic.  I need to do a bit more testing (and take a lot of pictures), but that's totally coming up in the near future!
Mailing List
Want to hear when a new pattern comes out or something fun is going on? Sign up below!
Patreon
Want to support the content I create, get nifty bonus material for some of my favorite patterns, or get every new release delivered right to your inbox? Head over to patreon and sign up!
Search
Archives