Scavenger Hunt
I know a bunch of you will cast on for these right away when they come out tomorrow, so I want to send you on a scavenger hunt today so you'll be all set.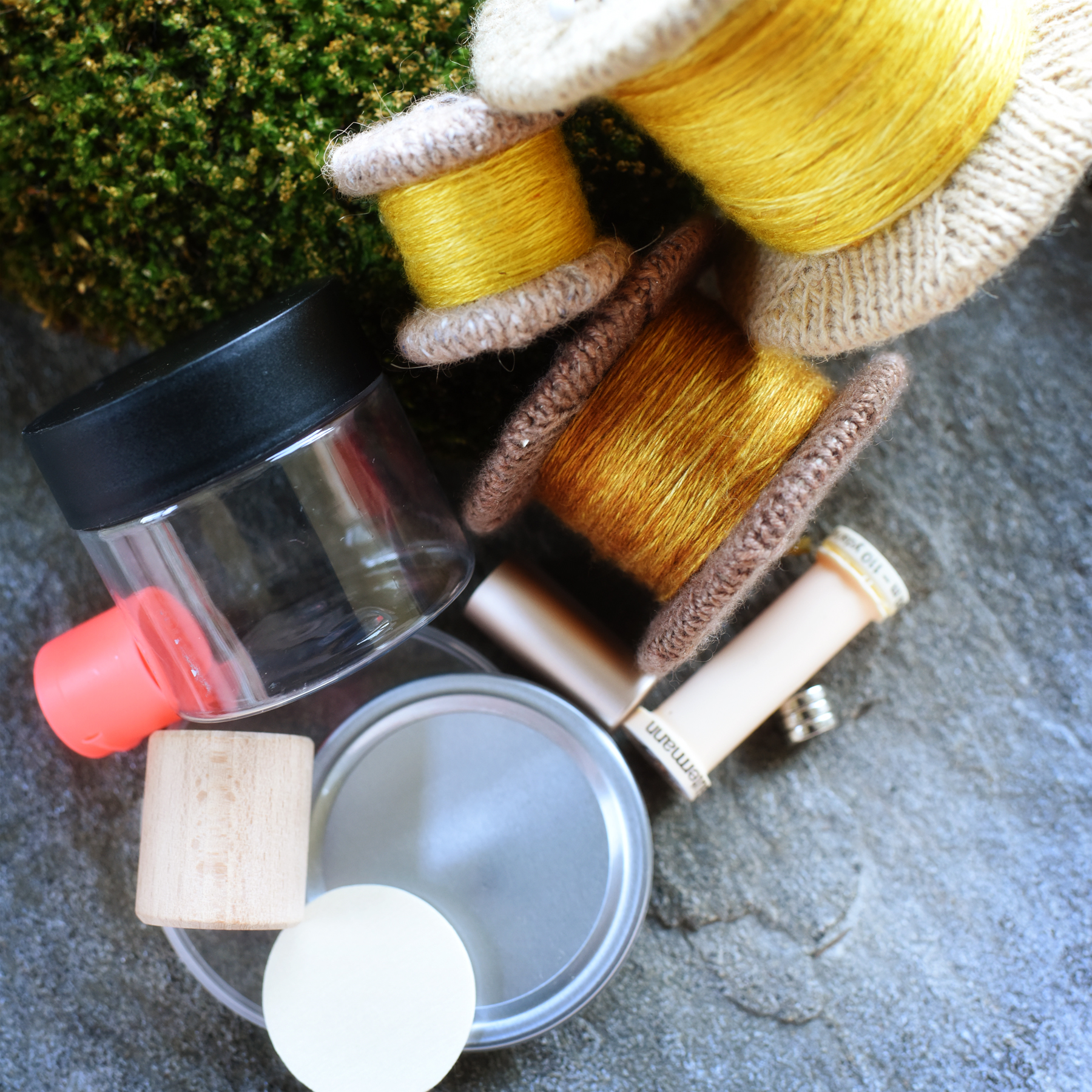 The spools need something inside to give them shape. Which sounds a bit vague, but I promise it's not hard! You probably have exactly what you needed kicking around in your kitchen, bathroom, garage, junk drawer, or recycling bin.
You'll need two round, flat, waterproof things of the same size to use as the top and bottom of the spool plus something cylindrical and waterproof to use in the middle.
For the flat things, I love the seals off of canning jars (the flat metal circles that you're supposed to use once then throw away). I've also used the lids and bottoms off pringles cans, the lids of jam jars, coins, washers, flat wooden discs, or circles cut out of something like a takeout or yogurt container.
For the middle, again, lids are your friend. I've used the lids off bath and skincare products, a container candy came in, an empty lipstick tube, an empty spool of thread, an empty lip balm container, the cap off a used up marker, and a block.
Seriously, look at lids and tiny containers. Then if you don't have those, look for anything flat and plastic that you can cut with scissors. Do I just have a bin of nice sturdy lids and empty containers I save for stuff like this? Yes. But also you will probably throw something away this week that would work perfectly, so I promise, it's easy to find something.
The last thing you might want is a couple of small, strong magnets. If you want to turn your spool into a pin tray, use something magnets stick to as the top and bottom of your spool (canning lids are perfect, so are most metal food lids like the ones on jam), stick a few magnets on before you close up your fabric, and you'll have a nifty little pin tray when you're done (as always, if you use magnets, keep it away from pets & kids, magnets are dangerous if swallowed).
The pattern comes out tomorrow. It'll be a patreon exclusive for a while, and anyone on my patreon (at any level) will get it free as part of their membership. Head over here if you want to join!
Mailing List
Want to hear when a new pattern comes out or something fun is going on? Sign up below!
Patreon
Want to support the content I create, get nifty bonus material for some of my favorite patterns, or get every new release delivered right to your inbox? Head over to patreon and sign up!
Search
Archives