The Plan
Ok, so I have a plan. But because it's me, and because I over explain basically everything, I want to spell out all the details. We'll start short for anyone who wants the quick version, but there are more details below!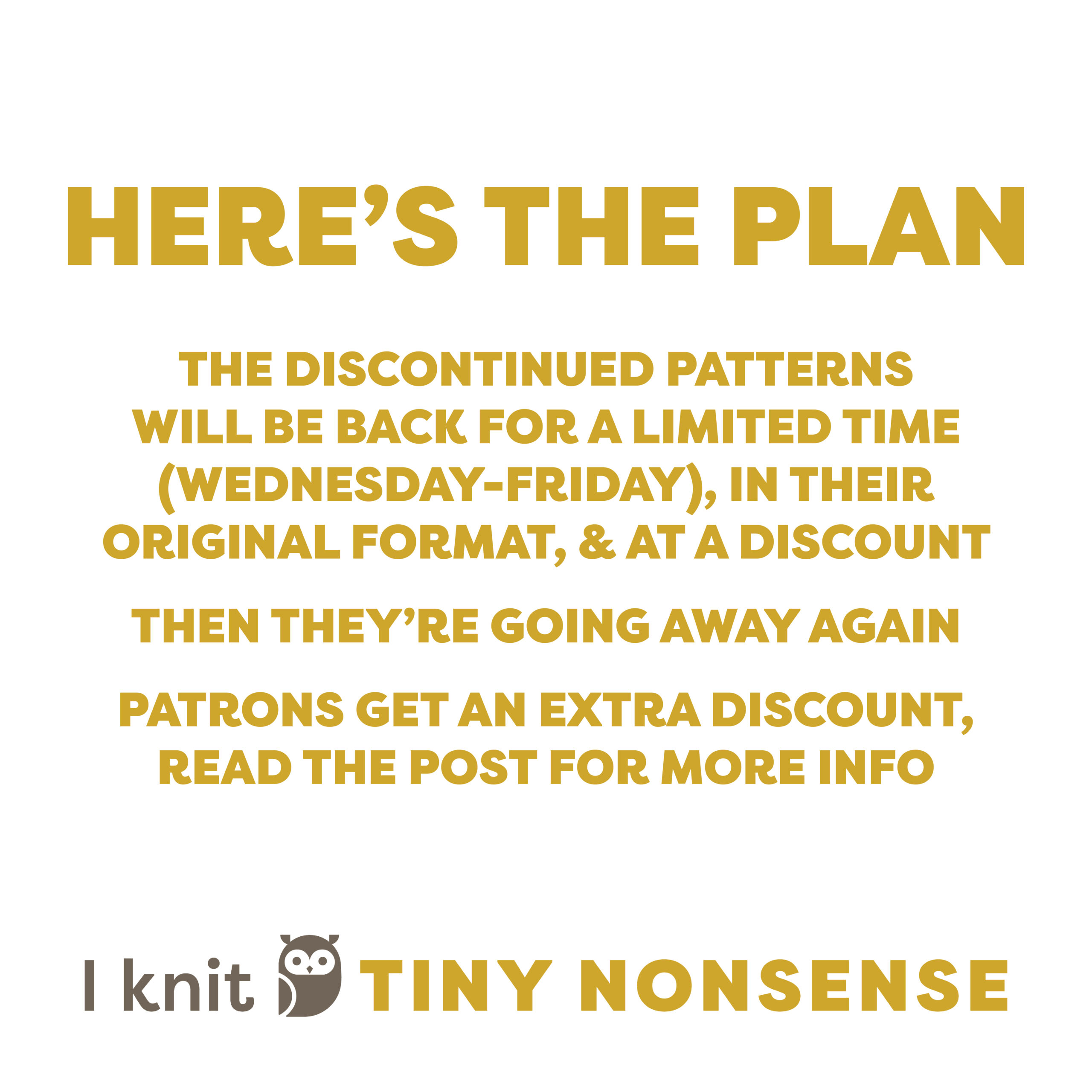 Short version
• Many of my discontinued books and patterns will be available on ravelry and payhip Wednesday-Friday this week. They'll go away again after the sale.
• They'll be in their original format (the way they were when I took them down this summer).
• Individual patterns will be $7 (usually $10), books $17 (usually $19.95-$21.95).
• The prices will be adjusted on the listings, you won't need a code.
• Patreon folks (at any level) get a code for an extra 20% off! If you're already a patron, check your inbox. If you want to join now, you can still get the code, check out Tuesday's patreon post to find it.
• If you want an email reminder when the sale starts, you can join the mailing list.
Long version
Over the last few months, enough folks told me that they missed my patterns that I decided to occasionally bring them back for a few days. I planned to do that this summer. But over the last few weeks, a bunch of folks sent me very nice messages saying they wanted to make things for the holidays. So I thought maybe I'd do it now, instead of waiting till summer.
But then I worried that people would get mad at me? Like they'd think I was being sneaky or shitty or manipulative? And yell at me about it? But then I realized that giving more space to the imaginary mean people in my head than to the nice people who actually exist and wrote to me was…not great. So I asked you folks about it, and you were universally amazing. So I decided to do it.
I need to keep the admin as manageable as possible (that's why I discontinued the patterns in the first place), so I'm structuring the sale a little different than usual. I'll be suspending my shops today so I can set things up (so don't worry if you can't buy things today). I'll flip the shops back on and start the sale tonight when I finish work. The sale will be live until I suspend the shops again when I get up Saturday. Then I'll get things back to normal Monday. So technically it'll run from some time Tuesday to some time Friday, I can't tell you exactly when on those days, so if you just plan on Wednesday-Friday, you'll be fine (and won't have to worry about time zones).
Setting up and ending a sale like this up is an astonishingly manual process, and doing it this way lets me do the sale, but also still have some time off over the holiday, and I'm just going to assume everyone is cool with that!
Mailing List
Want to hear when a new pattern comes out or something fun is going on? Sign up below!
Patreon
Want to support the content I create, get nifty bonus material for some of my favorite patterns, or get every new release delivered right to your inbox? Head over to patreon and sign up!
Search
Archives