Looking for something?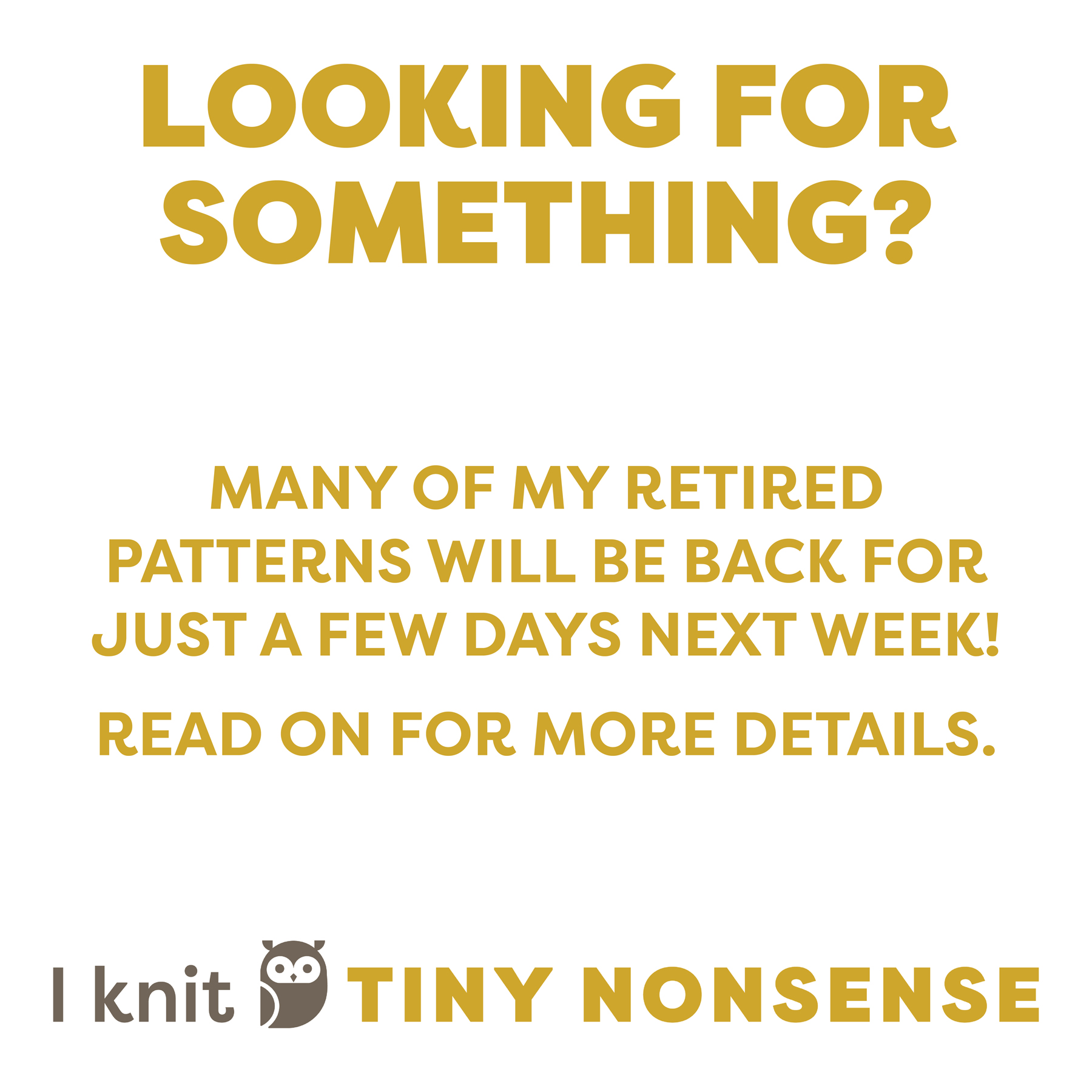 Short version first:
Many of my retired patterns will be back for a Just A Few Days next week. So if there's something you've been missing, this is your chance to grab it. You can keep an eye out here on the blog or on instagram (if you trust them to actually show you the stuff I post in a timely fashion), but the safer bet is to have me email you. You can do that by being on either the mailing list or the patreon. You can sign up with the buttons below (and as always, folks on either of those will get a little something extra when everything goes live).
Long version next:
Last summer I retired most of my patterns, in large part because the admin work of having such a big back catalog was overwhelming. A handful have come back and a few more may come back later. But I'm really happy with the smaller catalog, so most are gone for good.
However, I hear from lots of folks who really want some of the earlier patterns, and I want to help, so I've found a compromise. Twice a year (generally in early summer and then again in late fall around Thanksgiving), I'll make many of the retired patterns available for just a few days.
It is not every single pattern, but it is a whole bunch of them (a little over 200, though alas, no, I will not be making a list).
I'll post the official start & end times in a couple of days, but the plan is Tuesday June 13-Thursday June 15 (it's a very manual process requiring me to do something to several hundred pattern listings on multiple websites, so that really means 'I'll turn them on over the course of the day Monday and off over the course of the day Friday').
I'll post about it here when they're up, but as always, folks who let me send them email will find something extra in their inboxes. If you want that to be you, you can make that happen above.
In the meantime, you can browse the back catalog over on ravelry if you're so inclined! (Note, I know not everyone can use ravelry, which is why the patterns themselves will be available on both payhip and ravelry when they go live. But I don't actually have a way to show you the retired ones anywhere other than ravelry [sort of like how most online stores do not have a way to show you stuff they used to have available in the past but now no longer carry]. And trying make something to do that would take literally weeks of tedious website work [which is exactly the sort of admin drudgery I took the patterns down to avoid] and so is not something I can reasonably do for retired patterns that I'm only bring back a few days a year because folks asked for them. But again, when they're for sale, they'll be in both places, and they'll be there for several days, so you won't be rushed!)
If there's something you especially want to see come back, leave it in a comment on the post about this over on instagram and I'll see what I can do. I can't promise (there are a few things that are just too old and I can't in good conscience bring them back, even for something like this), but I bet we can get most of the favorites back for a few days!
Mailing List
Want to hear when a new pattern comes out or something fun is going on? Sign up below!
Patreon
Want to support the content I create, get nifty bonus material for some of my favorite patterns, or get every new release delivered right to your inbox? Head over to patreon and sign up!
Search
Archives